Word association: Corey Evans from Saturday's EYBL Hampton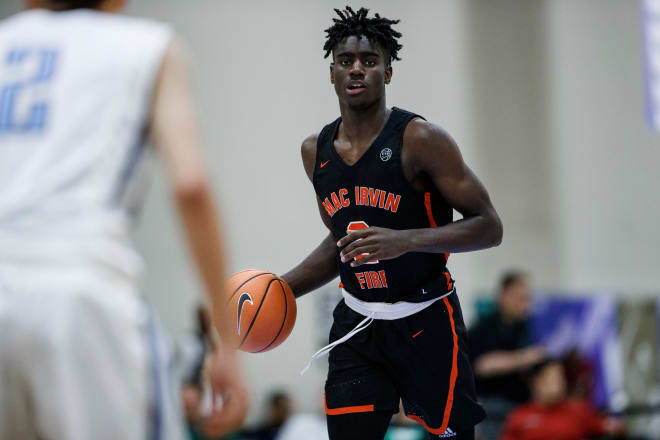 HAMPTON, Va. – The final leg of the Nike EYBL tipped off on Saturday as the swoosh's best hit the floor at the Boo Williams Sportsplex. As we recap all that took place, we immediately recall a term or phrase the perfectly correlates with each of the standouts from Hampton.
TWO-WAY PRODUCER
Too many times when we go about evaluating a prospect, we rely heavily on what they can do on the offensive end and we forget that there are two sides to the court. Kahlil Whitney is the type of prospect that competes just as hard on the offensive end as he does on the defensive side. That was clear on Saturday evening. Boasting tremendous swagger but with the talent to match, whenever I think of Whitney, I remind myself of just how dominant of a two-way threat he has become. A 6-foot-5 wing with a plus-five wingspan, tremendous instincts, a killer motor and a much-improved perimeter game, Whitney is trending toward a five-star rating.
VERSATILE
Back in 2006, John Calipari led his Memphis squad to the Elite Eight off of the back of Rodney Carney. Twelve years later, the now acting head coach at Kentucky may have his next long, versatile, athletic and rather skilled jumbo wing in DJ Jeffries. A top-50 small forward prospect in the 2019 class, Jeffries is the embodiment of versatile. He was absolutely sensational on Saturday morning, scoring 23 points while tossing in a handful of assists and rebounds.
WHO IS THAT?
Every time I looked over, I had to ask myself, "Who is that!?" That would be J'Wan Roberts, a soon-to-be breakout from the state of Texas who holds offers from just North Texas, UTRGV, Houston Baptist, and St. John's. Finding 6-foot-8 forwards that can run the floor, finish in traffic, rebound and defend away from the rim, Roberts fits the mold of a high-major prospect.The Virgin Islands native knocked down eight of his 12 shots from the floor, while remaining a presence on the glass and as a backline defender. It would not be a surprise to see the local Big 12 programs become involved soon.
REBOUNDING MONSTER
Stewart was thwarted in the early part of his day before coming on strong facing off against second-ranked junior James Wiseman. When it comes to the looks test, no one passes it quicker than the Rochester native but it is his hands that make him stand out further. Stewart finished with 17 points and nine rebounds, and defines what it means to compete. A glass cleaner at its finest, Stewart is nearing a cut list as Texas, Notre Dame, Louisville, Villanova, Duke and Michigan State are just a few that are hoping to make it.
JUNKYARD DOG
Committed to Memphis, Dandridge is what it means to be a junkyard dog. He doesn't need a play to be called for him but can still finish with a double-double. There is nothing sexy about the 6-foot-8 brute force but there is some appeal to the consistent rebounding and second chance points that the Memphis native produces, all of which should translate well to his next stop just a few miles down from the road from his Memphis East High's campus.
WARRIOR
When we talk about multi-positional prospects that can defend all across the floor, there might not be a better embodiment of it than Isaac Okoro. Extremely well built and with the motor to match, Okoro's willingness and capability to defend the two through four without giving up an inch speaks volumes about his value at the next level and beyond. At this stage, he is reminiscent of former five-star wing and now Detroit Pistons' Stanley Johnson. As luck would have it, Okoro was competing against the same travel unit that Johnson once suited up for in the Oakland Soldiers. He was a catalyst for his AOT unit's comeback win as he remains an SEC priority this spring.
HUMAN POGO STICK
It was another New York native that wowed the NBA masses at the combine a year ago and while Hamidou Diallo may be a bit taller, the athleticism in Jalen Lecque remains just the same. A human pogo stick comes to mind immediately when tasked to describe the New York Rens product as he attempted to throw down some of the more impressive finishes on Saturday that, if caught on film, will rack up a six figure hits on YouTube. While his jump shot remains a work in progress as he is more of a drive first producer, Lecque is still a two-way threat that does not lack for toughness or instincts. A potential reclassification could take place but either way, Lecque remains the best of the best when speaking on the athleticism tangible.
MICROWAVE
He might not look the part but pound for pound, Sharife Cooper has silently put together one of the more productive seasons on the Nike EYBL circuit this spring. Just as Vinnie Johnson did in representing the microwave scoring label, Cooper can do just the same as he finished with 31 points during his morning affair. He has major wiggle off of the bounce and has begun to fill out, and added strength that has enabled for Cooper to play and produce more frequently through contact. A top-50 guard in the 2020 class, Cooper can convert from all three levels and continues to cement his standing as an upper echelon scorer in America.
SHOOTER
The names of Justin Moore, Justin Webster, Jaden Shackelford and Joe Girard sit atop the best shooter's list but John Christofilis, despite being just a member of the 2021 class, made an argument to not just be among it, but rather atop it. The Seattle native was absolutely on fire to kick off his Saturday afternoon affair, knocking down four perimeter jumpers and rattling out a number of others that would have fallen had the bolts in the rim not have been so tight. Already holding an offer from Washington, the Seattle Rotary product will be one to keep tabs on in the years ahead, especially keeping in mind the need for shot makers that possess size in the backcourt.