Evans Seven: Who will stand out at next year's NBA Scouting Combine?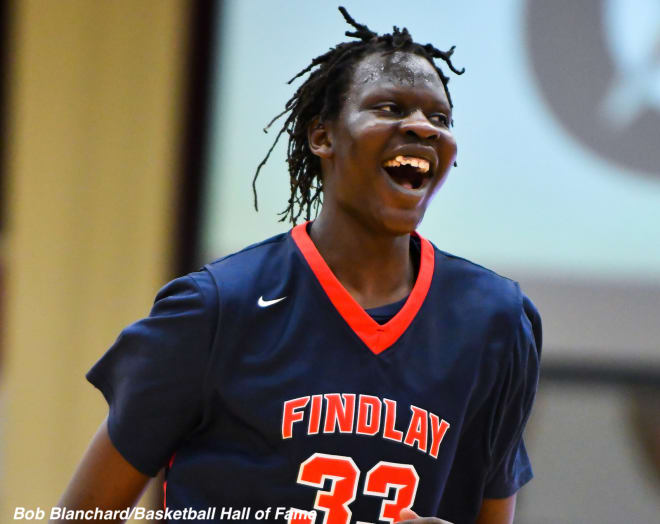 Who said North Carolina can't produce one-and-done talent? Sure, there was Tony Bradley last year, but Little has the chance to become the highest draft selection out of UNC since Harrison Barnes, just as he is the first top-five prospect to commit to the Tar Heels since the Iowa native did in the fall of 2009.

Little will wow NBA personnel as he was last measured in October at the USA Basketball training camp at 6-foot-6 with a 7-foot-1 wingspan.

The Jacksonville native is a very outgoing, charismatic 18-year-old who should impress during in-person meetings. While he would likely sit out the scrimmage portion of the combine, he should kill the measurement and agility testings, further legitimizing his chances of a high selection in next year's NBA Draft as long as his season in Chapel Hill goes as planned.

Hunter made the surprising decision to remain in Charlottesville without even testing the NBA waters. Hunter was focused on regaining his health after missing his team's NCAA Tournament contest due to a broken wrist.

Next year, things could be a lot different and with the Cavaliers bringing back the majority of their production, Hunter could evolve into the primary focal point of opposing teams' scouting reports. A 6-foot-7 forward that has done a fine job of adding muscle and strength during his time at UVA, Hunter is a very polished kid that should impress many NBA franchises during in-person meetings next spring.

Turning 21 this fall, the time is now for Hunter to take the next step. Thanks to his ability to create his own shot, defend three positions, and rebound, the Virginia product should have no issues earning a combine invite and turning it into a few days well spent bettering his stock as a potential lottery selection.
Perhaps the top prospect to return to the college game this spring, Gafford should thrive at the NBA Draft Combine. He could decide to play in the scrimmage portion of it and if he would, Gafford's motor and ability to exchange ends of the floor would be exceptional.

The knock on the Arkansas standout is whether he can defend away from the basket as he has more of an upright posture. Also, questions linger regarding whether he can stay out of foul trouble as he averaged just under 23 minutes and 3.3 fouls per contest. That should not be an issue in the scrimmage setting and neither should the measurables that he possesses. Standing over 6-foot-9 and with a 7-foot-1 wingspan, Gafford is the ideal rim-running center that could annihilate the handful of agility drills.

The eyebrow-raising numbers posted by Bamba last week? Expect for Bol to cause a similar reaction as the Oregon-bound prospect is one of the most unique players to have graced a high school floor in recent memory.

He does have to get stronger, but the height, length and standing reach out the son of the late Manute Bol will be astounding. The most recent numbers that we have on Bol state that is stands over 7-foot-3 with a 7-foot-8 wingspan, added on to his 9-foot-7 standing reach, the latter being the same number that Bamba posted in Chicago that wowed NBA personnel. Toss in the fact that Bol made 48 percent of his 45 perimeter tries compared to Bamba converting zero during their respective senior summers on the Nike EYBL circuit, and the future Oregon standout should have no issues leaving an even larger imprint on those in attendance at next year's combine.

Could Maryland have another potential one-and-done talent on its hands? Bruno Fernando is still on the fence, but Smith will have an even greater opportunity next year.

While seen as more of an upside prospect, Smith could take advantage of the fact that the NBA skews toward the younger players with greater potential. Smith has been compared to Myles Turner, as both are 6-foot-10 with 7-2 wingpans.
Nicknamed Sticks, the five-star prospect made eight of his 18 perimeter attempts at the famed Nike Peach Jam last year, displaying an already versatile skillset. The Terps are a sleeper in the Big Ten next year and with Smith's ability to knock down perimeter jumpers, rebound and block shots, he should be looked upon as one of the more tantalizing prospects headed to college this fall and someone that could have his coming out party at next year's combine.

Prospects that can guard up to four positions, extend the defense with the perimeter jumper and also create for others, is something that is hard to find. Foster encapsulates all of that within his game and while he had tested the NBA waters this spring, the 6-foot-6 forward will return to SMU this fall for his senior campaign.

He will have to test out properly on the medical portion as he was sidelined for half of his junior year thanks to a torn ACL. However, just as Kevin Hervey did this month by proving he belonged among the best following his own ACL injury a year ago, Foster can do the same next year.

A 37-percent perimeter shooter that finished with five assists in four of his games last season, the SMU standout also boasts a plus-six wingspan. He should impress with the physical measurements next spring and also during the scrimmage portion of the combine where he is regarded as a competitive, hard-playing and athletic wing that can play all across the floor and push his draft stock solely into the first round of the 2019 NBA Draft.
A one-time Mississippi State commit that decided to enroll at Georgia State, Simonds could be the next small school prospect to blow up at the NBA Draft Combine. While he doesn't have the best of measurables, standing around 6-foot-3 with a comparable wingspan, Simonds still should open some eyes during the agility and scrimmage portions of the combine. Wired to score and compete, Simonds is a hard-playing guard that will thrive during 5-on-5 play.

Likely one of the few that might be invited to the combine from the non-power conference platform, expect for Simonds to play with an even bigger chip on his shoulder to prove that he belongs. He does need to shoot it better as his three-point numbers went down considerably last season, but explosive and tough-nosed guards remain as valuable as ever.

The potential for Simonds to sneak into the tail end of the first round is attainable and a strong showing in Chicago could give Georgia State its second such selection within the past five years, the first being RJ Hunter's slide into the 28th pick of the 2015 NBA Draft.