Wall makes the call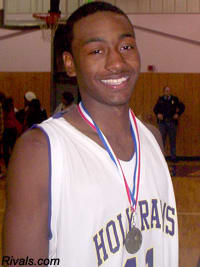 The recruiting process has been excruciating for
John Wall
, but late Monday night the 6-foot-4, 184-pound point guard from Raleigh (N.C.) Word of God Christian Academy decided he will play college basketball at
Kentucky
.
Wall is Rivals.com's No. 1 prospect in the nation, and he has been for more than a year.
"In the end, I just felt I wanted to play for Coach Cal," Wall said. "Coaches give different visions of what they can do for you when they talk to you. And all of those are impressive, but my long relationship with Coach Cal and what he can do for me in his program was the main thing."
There was concern in Wall's camp, primarily from advisor Brian Clifton, because Kentucky had already signed a quality point guard in five-star prospect
Eric Bledsoe
. Regardless of that fact, the Dribble Drive offense Calipari employs can accommodate two primary ballhandlers.
Wall actually relishes the opportunity to compete for his position.
"Being able to play against Eric (Bledsoe) is a big plus," he said. "I told Brian and my mom that I've always had to fight for my position. That's what I had to do when I first played for Brian. I'm used to fighting. It's another challenge for me to come to Kentucky and fight for my position."
Clifton said his belief in Wall outweighed his concerns about the situation with the Wildcats.
"I believe in John as a person, forget about as a basketball player," Clifton said. "If he believes in the situation then I trust him and respect him. If he believes he can do it, that's all I need to hear."
Admitting that he took about as long as he could to make a decision, Wall acknowledged that his personal confusion and his desire to have everyone around him on the same page contributed to the lengthy decision-making process.
"I liked
Memphis
when Coach Cal was there, but the situation really opened up when he went to Kentucky," Wall said. "I had to look at the situation there and the people there. Plus I loved the other coaches and what they had to say to me.
"It came down to where my heart was, though. Every time I talked about schools, Coach Cal was the first thing that I always talked about."
"Coach [Frank] Haith (of Miami) has been great. He did a great job recruiting me," Wall said. "And then the two coaches at Duke and Florida came in late, but made up a lot of ground in recruiting me. But mainly, it was Kentucky and Miami."
Wall is expected to receive his standardized test results next week, and he is hopeful that he scored a qualifying mark. At this point, it is also unclear if Bledsoe and Cousins have met the necessary requirements to play next season.
If all three players qualify, it could make the group one of the best - if not the best - recruiting classes off all time.
John Wall scouting report:
Blazingly fast with the basketball, Wall is an impeccable ballhandler with court savvy. The right-hander has a penchant for beating defenders with his left hand and can then counter with a terrific left-to-right, behind-the-back dribble. Finding teammates on the move is his forte, but he is also an excellent finisher at the rim. His jumper is still a work in progress, but it is good enough to keep the defense honest.