USA BBall: Projecting the U16 National Team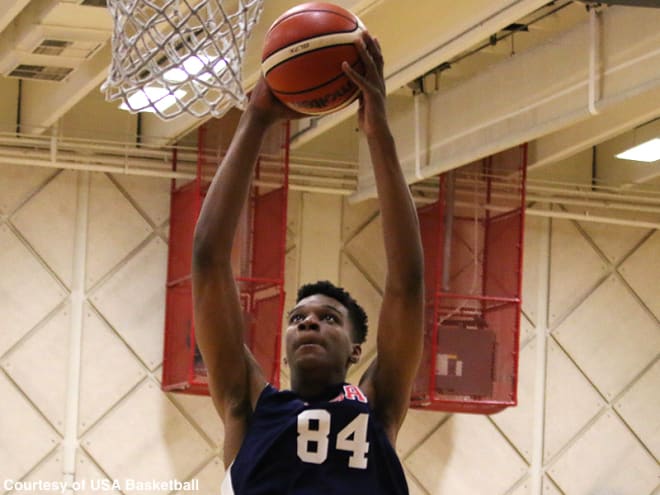 COLORADO SPRINGS – USA Basketball announced Sunday that it had cut down the participants at the U16 National Team tryouts to a final group of 16. After spending most of the weekend in Colorado Springs and viewing four sessions of tryouts, I've got the 12 I would pick based off their play in an effort to build the most well-balanced team.
MORE USA BBALL: Fresh faces at USA Basketball
THE STARTING FIVE
Why keep him?: It was a tough decision between Carey and fellow top five 2019 classmate James Wiseman for my starting center. I leaned toward Carey because of his strength and because this team will need a post man with touch and power.

Recruitment: UCLA and Oklahoma State are his most recent offers. Miami, Florida, Florida State and Louisville are among the others involved.

Why keep him?: A skilled forward who can shoot and run in transition, Todd is on a very short list of players who are in the hunt to debut at No. 1 when we rank 2020 for the first time after the summer. I like his touch, his versatility and I think international basketball will suit his game.

Recruitment: Already has offers from Kansas, Virginia, Virginia Tech, Baylor, Wake Forest, Maryland, Miami and others.
Why keep him?: The more I watch Moore, how good of a teammate he is just sticks out again and again. He does all the little things, is very tough and is a good transition scorer and defender who rebounds bigger than his size.

Recruitment: Offers from North Carolina, N.C. State, Wake Forest, Virginia Tech, Florida State, Tennessee and others.

Why keep him?: First of all, Hampton looked to me like as pure a scorer as there was in camp. Though he's a point guard, his size and scoring allow him to slide over and play as a two. Plus, it would give the U16 team some flexibility in the backcourt with him as a secondary playmaker.

Recruitment: Baylor, Kansas, Texas, Texas A&M, Texas Tech, SMU and others have already offered.

Why keep him?: Suggs is a stud point guard who puts pressure on defenders with his physical and athletic drives. He makes good passes in transition and I think he showed the ability to be a big-time defender at the point guard position.

Recruitment: Minnesota, Iowa State, Iowa, Marquette, Baylor, Georgia Tech and UNLV have made early offers.

WISEMAN HIGHLIGHTS RESERVES
Ok, now let's take a look at the seven players I would pick as reserves.
* Headlining my list of reserves is James Wiseman. A top five prospect in the class of 2019, Wiseman may have the most long-term potential of anybody at the tryouts and he could easily be a starter. It would be a real surprise to see him left off of the team. According to USA Basketball, he's now pushing 7-foot with a 7-foot-4 wingspan, so he has size and length, and is a high level athlete on top of that.
* For my next true big man I'm going with 2019 four-star Eric Dixon. He's a widebodied and tough back-to-the-basket scorer and has some Lonnie Baxter to his game.
* Based on what I saw, I also like 2019 five-star Romeo Weems and potential 2020 five-star Scott Barnes for this group. Weems is physically tough, plays much bigger than his 6-foot-6 size and is a no-nonsense guy. Barnes is more of a lean playmaker and while his release point is a little low, he is a good shooter with some time and space. I would want these guys because they can both play either the small or power forward positions.
* For off the bench scoring punch, Jalen Green makes a lot of sense on this team. The 2020 wing is a pure scorer who has no fear of letting open shots fly and he's a transition finisher. He would be instant offense and could certainly push to start.
* With my last two spots I am taking point guards Jeremy Roach and Nico Mannion, both from the class of 2020. Roach has toughness, athleticism and is a very aggressive on-the-ball defender. As for Mannion, the tryouts were a bit short on shooters and he was as good as anybody in attendance from deep while I was there. Like the previously mentioned Hampton, he could easily slide over and play some as a two-guard.