USA BBall: Seven fresh faces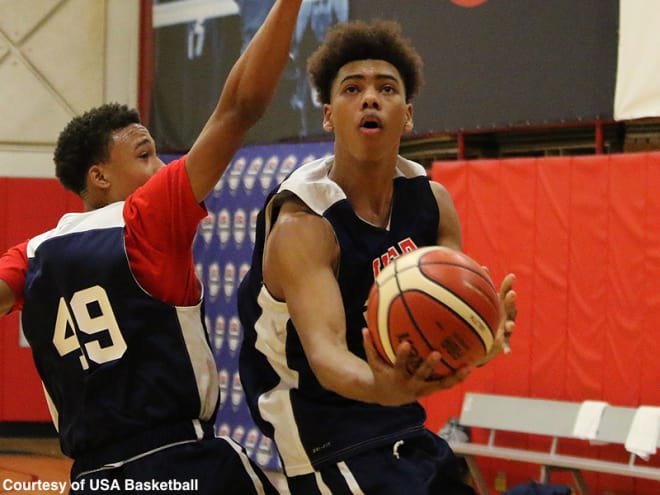 COLORADO SPRINGS -- The USA Basketball U16 National Team tryouts offer a great chance to discover young talent like 2020 scorer Jaden Springer. Through three sessions, here are seven relatively new to the scene faces that recruiting fans will need to get familiar with.

Recruitment: Already has offers from Florida, Ohio State, Wake Forest, Seton Hall, Rutgers, St. John's and Texas A&M.

What you need to know: Abdur-Rahim is already known a bit and his father Shareef Abdur-Rahim was a heck of a player in his day. He's a smooth wing who is a confident jump shooter and has the strength to play some as a faceup four man in a small lineup.

Recruitment: Already has offers from Kansas, Oklahoma, California, Texas A&M and Rutgers.

What you need to know: Brown is a long and lean combo forward who can really run the floor. He plays above the rim, is a very instinctive rebounder and has good touch around the rim. His defensive energy has been terrific.

Recruitment: Early offer from St. Jospeh's.

What you need to know: As a freshman, Collier was a bit overlooked playing on a team with five-stars like Mohamed Bamba and Cameron Reddish. At USA Basketball he's been a bouncy combo forward with some touch and a terrific motor.

Recruitment: Offer from Nevada in basketball, Illinois, UCLA, Arizona, Oklahoma and others have reportedly offered for football.

What you need to know: Harris hasn't gotten to participate a lot because of an injury but he's a big time athlete with toughness and a near 7'1" wingspan. He's gotten a lot of early attention as a defensive end prospect, but if he wants to go basketball he could end up a high major recruit as well.

Recruitment: Early offers from Cincinnati, Louisville and Xavier.

What you need to know: USA Basketball has been our first real extended look at Johnson. He's a strong two guard with a good looking jump shot -- especially from the corners. Can handle some in transition, mature player.

Recruitment: Offers from Virginia and Miami.

What you need to know: Roach is a tough and explosive point guard. He gets to the rim, pushes things in transition and is a good decision maker. He's just as good defensively as he is with the ball in his hand.

Recruitment: Auburn has offered.

What you need to know: The youngest player in camp, Springer is still only 14 years old. He's bouncy with a strong frame that allows him to finish through contact surprisingly well for such a young player. Has the tools to be a high level scorer.