UA Finals: Team Charlotte takes crown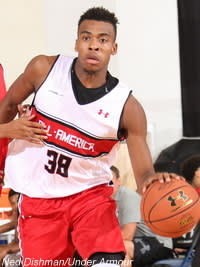 Alexander scored 14 points, grabbed three rebounds in Team Charlotte's 56-46 win over Canada Elite. Alexander also had two assists, zero turnovers and made all nine of his free throw attempts.
Joshua Howard
added 13 points and three rebounds and rising sophomore point guard
Devon Dotson
added eight points.
Dotson drew the tough assignment of defending Canada Elite point guard Godwin Boahen, who can heat up from deep as quickly as a microwave heats food, and held him to just 12 points. Dotson also showed great poise in this championship atmosphere making the right passes on offense.
Defense was the theme for Team Charlotte all week in The Finals and the championship game was no different. They do a great job of crowding the lanes and getting up in you. Team Charlotte players cut off the baseline, take charges and get teams out of their comfort zones. A key for Team Charlotte against Canada Elite was keeping five-star big man
Thon Maker
out of his favorite spots to receive the ball and score.
Maker was held to 11 points on just six shot attempts, all in the paint, and found himself crowded and harassed all game. Team Charlotte did a good job of fronting the post and playing on the backside with help. That's wasn't something new for the No. 6 ranked player in the Rivals150 to overcome, but Saturday in Suwanee, Boahen,
Marcus Ottey
and
Justin Jackson
were held to a combined 24 points by Team Charlotte's smothering defense.

In the 16U Championship game, the Indy Hoosiers took control from the opening tip, running out to a 21-5 lead before the Florida Vipers realized the game had started. The Vipers, in their first season in the UAA, settled down and fought their way back into it with an 23-9 run to close the half to cut the deficit to two points.
Jordan Wright
put on his hard hat and did the dirty work for the Florida Vipers inside, scoring all 18 of his points on put backs, layups or free throws. He also grabbed 10 rebounds to lead the Vipers in both scoring and rebounds in their 59-54 victory. Shooting guard
Anthony Polite
added 11 points and combo forward
RaiQuan Gray
had 10.

Neither team shot the ball particularly well in the first half, including at the rim. WeR1 was a woeful 17 percent from the floor but only trailed 20-12 at halftime because Sports U was only slightly better shooting the ball.
That changed in the second half.
Sports U opened the second half with better ball movement, made the extra pass and took better shots while going on a 7-0 run to push their lead to 15. It took WeR1 3:15 to score. Sports U then started a 13-2 run that put the game away early in the second quarter leaving some to wonder if this would turn into a running clock game -- it did not.

Mading was listed at 6-foot-10 and he does appear to have grown taller and added some weight. The rising junior has needed to add strength but the weight gain appears to be related to inactivity while injured. Mading hit 2-of-4 three-pointers off the catch and showed improved ball handling while putting the ball on the deck and getting to the basket in straight line drives from the three-point line. He does need to improve his free throw shooting. Mading did a good job getting to the line but made less than 70 percent of his free throws. He long, lean and athletic. Though nothing has been officially announced, it appears that Mading will enroll at Brewster Academy in Wolfeboro, New Hampshire.
Team Belief is using the 6-foot-8 Eggleston at point guard and the experiment has its moments. Eggleston is a capable ball handler in the open court, throws crisp passes and always seems to have his head up, but his decision making at full speed needs improvement. Also in need of improvement is his jump shot. Eggleston missed all five of his three-point attempts and only connected on one shot more than 12-feet from the basket. He is athletic, will attack the rim, rebound and is unselfish; so if Eggleston improves his jump shot that could return him to four-star status regardless of position.
Game Elite combo guard
Darius Perry
was on fire against Team Belief connecting on 12-of-16 shot attempts from all over the court. Although the 6-foot-2, 165 pound Perry lacks great size, he is able to overcome that with his quickness. Perry moves his feet well, keeping opposing ball handlers in front of him, and he is willing to take charges. He has the makings of a good college point guard.