Top 40 big man Zeke Nnaji makes his pick, what's the impact?
EARLY SIGNING PERIOD: Winners and losers

CONFERENCE REPORT CARDS: ACC | Big 12 | Big Ten | Pac-12 | SEC

One of the top available prospects in the class of 2019, big man Zeke Nnaji made his college choice on Friday.
The 6-foot-10 power forward at Lakeville (Minn.) Hopkins announced that he will play his college ball at Arizona.
The No. 37 ranked player in the class of 2019, Nnaji took unofficial and official visits to Tucson after the summer and got a great feel for the program.
"We went to the Red and Blue Game and the fan atmosphere was good and I really liked being able to see how the team plays," Nnaji told Rivals.com earlier this month. "I have a good relationship with all the coaches there, and it was just nice to see more of the campus life and talk to the players."
WHAT NNAJI MEANS TO ARIZONA

By adding Nnaji, Sean Miller and the Wildcats now hold the top recruiting class in America as they nudge ahead of Pac-12 rival USC.
But, Nnaji means more than just a top class, it gives the Wildcats the skilled, mobile and versatile frontcourt player that they currently lack.
Nnaji moves with great fluidity, he can stretch defenses all the way out to the three-point line and he's an excellent rebounder. He's not yet a big-time shot-blocker, but he's become much more adept at protecting the rim over the last year.
Nnaji joins five-star wing Josh Green, five-star guard Nico Mannion, four-star wing Terry Armstrong and three-star big man Christian Koloko in the Wildcats top ranked 2019 recruiting class.

WHAT'S THE IMPACT ON NNAJI'S OTHER FINALISTS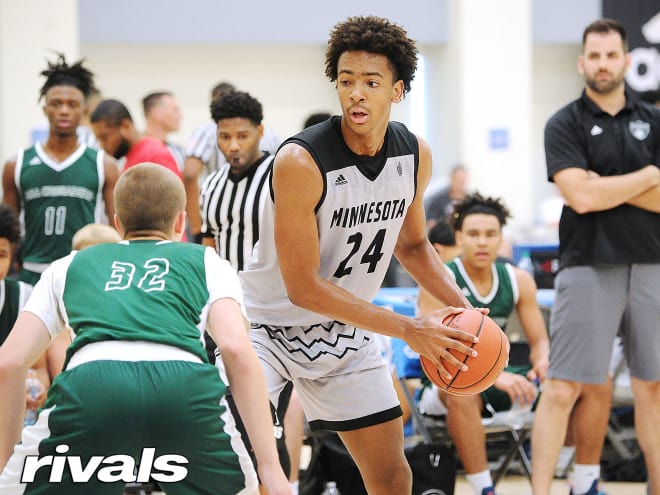 While Arizona is celebrating a big win, Nnaji's other finalists -- Baylor, Kansas, North Carolina, Purdue and UCLA -- are left scrambling to find a replacement. How much does him picking Arizona sting them?

BAYLOR
Sting factor: 5
Baylor only signed three-star wing Jordan Turner during the fall, but it hadn't been considered too serious of a competitor for Nnaji down the stretch. However, coupled with missing on five-star Oscar Tshiebwe earlier in the fall, there aren't many targets left for the Bears. Could they make things happen with somebody like Canadian four-star Tyrese Samuel?

KANSAS
Sting factor: 8
This one hurts for the Jayhawks. They missed on five-star big man Jeremiah Robinson-Earl and with Nnaji going elsewhere and the uncertain status of sophomore big man Silvio De Sousa, they are still in need of a mobile big man. Five-star forward Matthew Hurt remains the top priority and they are still very much in the mix with top 35 wing Cassius Stanley. Look for them to see if they can get seriously involved with five-star big man Precious Achiuwa, but outside of him, there aren't many viable bigs available that are Kansas good.

NORTH CAROLINA
Sting factor: 7
North Carolina didn't jump in until late with Nnaji but made a strong run getting him to visit unofficially after he had taken all five of his official visits. Like Kansas, they also missed on Robinson-Earl and other targets. There aren't many, if any, other big men targets out there that they could use to replace Nnaji. Like Kansas, UNC is also working hard with Matthew Hurt but it looks like it may be 2019's top point guard Cole Anthony or bust at this point for the Heels.

PURDUE
Sting factor: 8
Other than perhaps Kansas, nobody is feeling the sting of Nnaji's decision more than Purdue. Of his finalists, it probably recruited him the longest and it had open minutes in the frontcourt. Missing on him and four-star Malik Hall is going to be a tough pill to swallow. Exactly where it turns now is a pretty big question. Expect Purdue to comb over the prep school ranks and possibly look into graduate transfers in the spring.

UCLA