Report Card: Breaking down the early signings in the ACC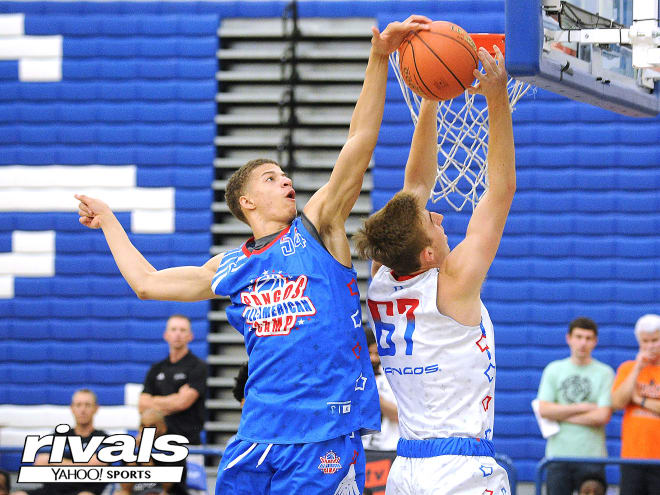 HEAD OF THE CLASS
Louisville is too good of a job and has too much history for the program to just totally fall off. However, after a few years of tough headlines off the floor and the dismissal of Rick Pitino, it would have been understanding if new coach Chris Mack had a difficult year or two on the recruiting trail. The understanding isn't needed as Mack and his staff currently have the third-ranked class nationally. It's true that the number of players they've signed has helped the overall ranking, but it's a great class to build on. Wing Samuell Williamson is a top-35 player and looks to be the jewel of the class.

BEST SURPRISE
Florida State landed a signature from top-40 wing Patrick Williams and given that he's a year young for the senior class, has tremendous size and is rapidly improving, he may still be a bit undervalued. Leonard Hamilton and the Seminoles had to have been plenty surprised when both North Carolina and Duke chose to take a pass on recruiting Williams. The Tobacco Road bluebloods' indifference with Williams helped to clear a path to Tallahassee.
WORST SURPRISE
Duke (No. 15) and North Carolina (No. 19) each have a class that ranks in the top 20 nationally and both the Blue Devils (Wendell Moore) and Tar Heels (Armando Bacot) have landed a five-star prospect in the early period. However, it's been surprising to see both of them coming up short on players that they were presumed to have led on or who had openly called one or the other their dream school. Neither of these programs is in any danger of falling off, but by their lofty standards there have been "struggles".


NEXT SEMESTER
All eyes are on Cole Anthony and whether or not Roy Wlliams and North Carolina can close on the nation's top point guard. The Heels have been the rumored leader behind the scenes for a while now and have already hosted him for an official visit. They could really use a playmaker who can log big minutes next season and he's perfect. Their competition is Georgetown, Miami, Notre Dame, Oregon and Wake Forest.
REPORT CARD
Boston College: C+
It's a top-50 class nationally that is heavy on perimeter and wing players. Could Jay Heath end up being an under-the-radar find who puts up big numbers like Ky Bowman has?
Clemson: B-
Five-star Josiah James broke Clemson's heart when he left the state for Tennessee, but Brad Brownell and company bounced back nicely with Rivals150 guards Al-Amir Dawes and Chase Hunter.
Duke: B+
At the end of the day, the Blue Devils have still landed a five-star in Wendell Moore and a top-50 shooter in Boogie Ellis. Most programs would be back-flipping over those two but to truly get excited and boost their grade they have to land a low post difference maker.
Florida State: B+
The 12th-ranked class nationally, the Seminoles' class features a potential star in Patrick Williams and a skilled big man, Balsa Koprivica, who has huge upside.
Georgia Tech: C-
The hope is that JUCO forward David Didenko is an under-the-radar find as a floor spacing four-man. But, the Jackets need more athleticism and impact perimeter players.
Louisville: A
Again, it's a top-five class that has been put together under less-than-ideal circumstances for a first-year head coach.
Miami: B
The Hurricanes have signed a pair of four-star prospects in high-scoring guard Isaiah Wong and promising upside forward Anthony Walker. They are holding out hope for top-ranked Vernon Carey, Jr.
NC State: C+
The Pack only have one commitment to date, but five-star combo guard Jalen Lecque is arguably the most athletic backcourt player in America.
North Carolina: B+
Five-star Armando Bacot should be a fit for the Heels' big man-friendly system while guard Jeremiah Francis is a bit of a mystery due to injury.
Pittsburgh: Incomplete
After doing terrific work in the spring to cobble together a solid 2018 class, Jeff Capel and the Panthers are 0-for-2019 so far.
Syracuse: B
The Orange's class may be sneaky good. The star is Canadian wing Quincy Guerrier, who is likely moving to 2018 in order to enroll at semester, but Brycen Goodine is a high-scoring ball-handler.
Virginia: B
This is a Tony Bennett kind of class. Casey Morsell is a tough, in-your-face defender while Kadin Shedrick is a big man that has skill but needs time to get stronger.
Virginia Tech: B+
The Hokies have to replace a lot of talent after this season and they've landed three Rivals150 prospects headlined by Anthony Harris, who they beat out Duke to land.
Wake Forest: C+
Ismael Massoud has upside as a floor-stretching combo forward while Jahcobi Neath and Ody Oguama are relatively under-the-radar finds.