NBPA Top 100: Word association from Thursday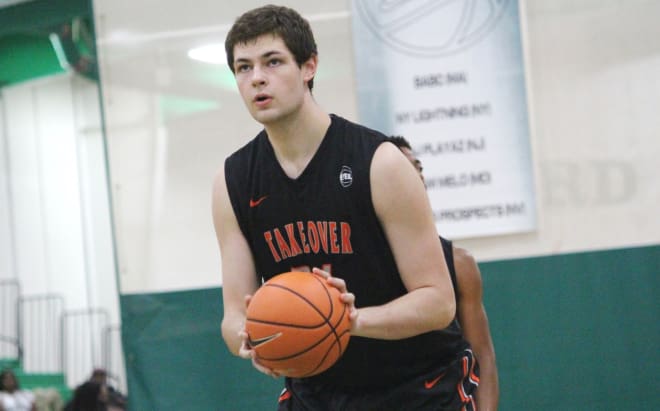 SKILLED
After spending some time at the under-18 USA Basketball trials last week, Dickinson was back in Virginia, showcasing his entire repertoire on Thursday. While he may lack for athleticism, the overall skillset out of the 7-footer is something else. A big that knows how to post and then repost, score over either should, and pass out of the double team has become a dying breed. Maybe Dickinson is here to infuse some talent into the throwback center position. The lefty is arguably the most skilled low post high school center prospect since Jahlil Okafor and he made his case that much stronger on Thursday.
ATHLETIC
To say that Lecque is an athlete would be one of the bigger understatements found here at Rivals.com. While the New Yorker's jumper remains his primary drawback, Lecque more than makes up for things with his toughness, competitive drive and abilities at the basket. Lecque threw down some of the most impressive dunks that forced an onslaught of mixtape videographers to line up for each of his contests hoping for the next jaw-dropper. Debate remains about Lecque and his college enrollment year but what isn't is just how athletic he is.
ENERGY
Lewis has been talked about for more than three years now and what makes the five-star prospect such a special commodity is just how hard he plays. With elite instincts and the willingness to play out of his area, there isn't a piece of action that Lewis shouldn't be discounted from. He recently narrowed his list to a group of seven and his future college will add a culture-setting competitor who has energy for days. The intangibles and versatility remain as Lewis is going to win a lot of games in college because of the energy that he provides.
VERSATILE
We profiled Williams on Thursday, recapping the recent surge in his recruitment, attention that is well warranted due to the plethora of tasks that he can complete. Sporting a college-ready body, length and a fine feel for the game, there isn't a better term to slap onto Williams than versatile. He can create for others and himself, defend multiple positions and finish through contact at the basket. Basically, the entire ACC has made Williams a priority where he has the makings of a do-it-all performer.
BUCKETS
There might not a better scorer in high school basketball than Edwards. The Peach State native set the Under Armour circuit on fire with his bucket-getting abilities and he has done it again in Charlottesville. Engrained to score, there isn't a shot that Edwards cannot hit. He understands how to create the proper spacing for his shots and comprehends where his spots are on the floor. A super underrated athlete that can fill it up in every which way possible, Edwards sets the bar when it comes to putting the basketball through the hoop as Florida State remains the top contender for his college pledge.
CONFIDENCE
With swagger for days, Bishop has been one of the breakthrough performers thus far in Charlottesville. Wired to compete, there isn't anyone opposing him that he will back down from. While he didn't have his best on tap for his Thursday evening affair, he did make a few plays that really makes you ponder just how productive he can be as he continues to prove his critics wrong. He is just beginning to get 'it' as he sports the heavily lauded 3-and-D label about to him. Whether he has made his last few shots or not, that next shot of his is going up with loads of confidence behind it.
SMART
London boasts many dimensions within his game that should make him a very productive college player. The lefty plays angles extremely well from off the perimeter as he rarely ever forces the issue, but has ability to make plays out of the high ball screen. An underrated prospect from the West Coast that is also a heavily coveted football target, too, London will visit Virginia on Monday. His play does much of the talking and his witty abilities on the hardwood should transition nicely to the next level.