NBPA Top 100: Kira Lewis talks recruiting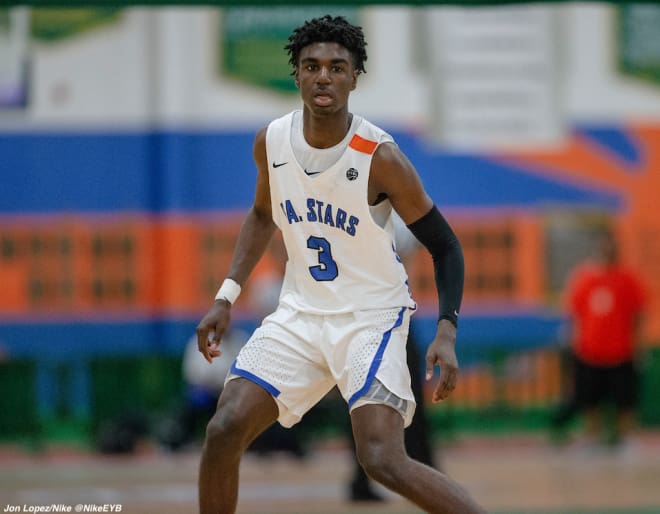 CHARLOTTESVILLE, Va. -- Players like four-star combo guard Kira Lewis aren't used to getting cut. However, it happened a few weeks ago when Lewis didn't make USA Basketball's 18U squad, now he's at the NBPA Top 100 Camp with a new outlook on things.
Rather than complain about not making the team, the explosive 6-foot-2 guard from Alabama who has offers from Alabama, Auburn, Georgia, Indiana, Kansas, Louisville and Tennessee among others is focused on getting better from the experience and it showed with his Wednesday play in Charlottesville.

"There was great talent at USA Basketball and I understand everybody can't make it," said Lewis. "But getting cut from it adds fuel to my fire to get better each and every day and just try to go back and make it again."
MORE: NBPA Eric Bossi's Wednesday observations | NBPA What Corey Evans liked

IN HIS OWN WORDS...
Kentucky hasn't offered yet, but Lewis was on campus in Lexington within the last week. He talked about that visit with John Calipari and some of the other schools involved.

Kentucky: "It went good, I got close with the coaches and got to see some of the players, see some of the campus and all of the tradition they have so it was a great visit. You see all of the legends that they've had that have gotten to where you are trying to get to and being in front of a guy like coach Cal and coach (Kenny) Payne, it doesn't get better than that."
Indiana: "I'm still trying to take a visit there. With all of these camps and everything it's hard to schedule. You can't take visits in July, so I'm trying to get all I can in during June. If I don't go in June then I'll definitely go when I can go (on visits) again. People love basketball at Indiana, the tradition they have it's just a great school. A great basketball school."
Alabama/Auburn: "They tell me that playing at home is a great achievement. It's different when you have a person from the hometown playing for your home state."
Tennessee: "It's a great school and they just got one of my good friends D.J. Burns to commit. They've been recruiting me real hard since earlier this year. Coach Rick Barnes is a great guy and a great coach."
Louisville: "When I was talking to coach (Chris) Mack he was just telling me that I'm a great player when he saw me in the live period and that I could help Louisville from the jump."
WHAT'S NEXT, RIVALS' REACTION...
Lewis said that he has an unofficial visit set for Georgia on June 17 and that he is also planning one for Alabama along with trying to get to Indiana before the end of the month.
The Crimson Tide appears to be in the best position at this point while Indiana has made a good push and Georgia could really help themselves with a strong visit. However, the potential game-changer here would be an offer from Kentucky. If the Wildcats end up offering during July, they would likely become the favorites to land Lewis.