NBPA Top 100: A slew of suitors emerge for Patrick Williams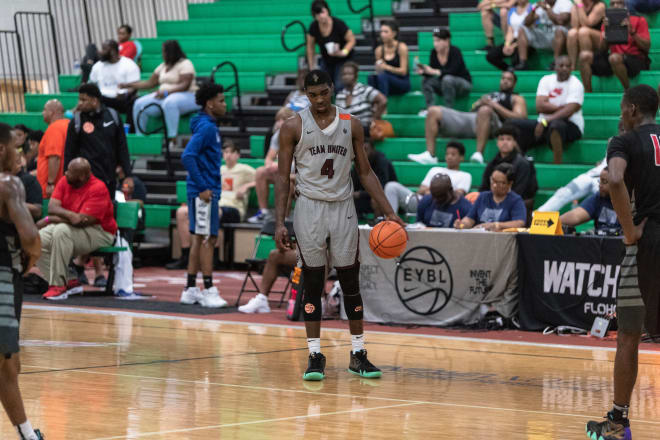 CHARLOTTESVILLE, Va. – The spring has treated top 75 wing Patrick Williams well, as he has blossomed into a must-get for some of the top programs along the East Coast. A man of few words, Williams lets his game do the talking, and a plethora of ACC and SEC powers have taken notice.
A 6-foot-6 wing that can play a plethora of positions and on either end, Williams isn't willing to show his hand on any programs emerging as favorites.
"Nobody has really separated themselves in my mind," he said. "I will be taking some visits. I am not sure when, but they will be coming up."
Williams has already taken unofficial visits to NC State, Wake Forest and Clemson, and all three of those ACC programs remain in the hunt, as do Virginia, Louisville and Tennessee.
IN HIS OWN WORDS
NC State: "It is beautiful all around. I went to a football game. The atmosphere there was good and just seeing the fans getting behind their sports.
"They said that they could use me in every way possible: pick and roll or I can be setting screens and popping. They just run a pro kind of style on offense, and defensively they kind of get after it."
Clemson: "They made a big impression. I got to see their facilities, what they are about and talk to their coaches."
Wake Forest: "I went down to their practice. Seeing their guys competing and practicing, and to see a couple of guys that are in the NBA Draft now, so to see them work and be vocal was good. So I know I need to work on that."
Ohio State: "I talk to them once every two or three days. We are consistent with it."
Tennessee: "I have learned a little bit about them. I have talked with Grant Williams, he is from Charlotte, as well. That is my guy, so we have been talking about Tennessee, the program, how it is up there, and he just said that he liked it a lot."
Louisville: "I talk to pretty much all of the coaches there. They tell me that I am a priority for them. I talk to Josh Nickelberry, too. He has been on me about them."
Virginia: "I haven't been watching UVA a lot but coming up, I am going to be watching a lot of film on them on their guys.
"It is nice here. The facilities are really nice. Tony Bennett has been big with support since my teammate just died, so the support has been there."
WHAT'S NEXT?
Williams will complete his time at the NBPA Top 100 Camp this week before finishing his travel career with the Team United 17-under squad next month.
While no official visits have been scheduled just yet, he does have a firm understanding of what he is looking for in a college.
"I am looking for the right atmosphere, previous players at my position and size that have done successful things at that school, the coach and how long they have been there and will stay, the players and type of kids they have, and a place that plays like I do," he said.
RIVALS' REACTION
Patrick Williams has emerged as a priority for some of the top programs along the East Coast, due to his versatility, ball skills, upside and present-day production. On the Nike EYBL circuit this spring, Williams has posted solid per game averages of 13.3 points and 5.3 rebounds, all while knocking in over 41 percent of his perimeter attempts.
Selecting a leader for Williams is a bit difficult as his recruitment should begin to play itself out in the coming months. Clemson, Virginia, Tennessee, Louisville, Ohio State, and Wake Forest remain heavily entrenched, though Virginia Tech, Florida and a slew of others remain in the picture, too.