NBPA Thursday: Eric Bossi's observations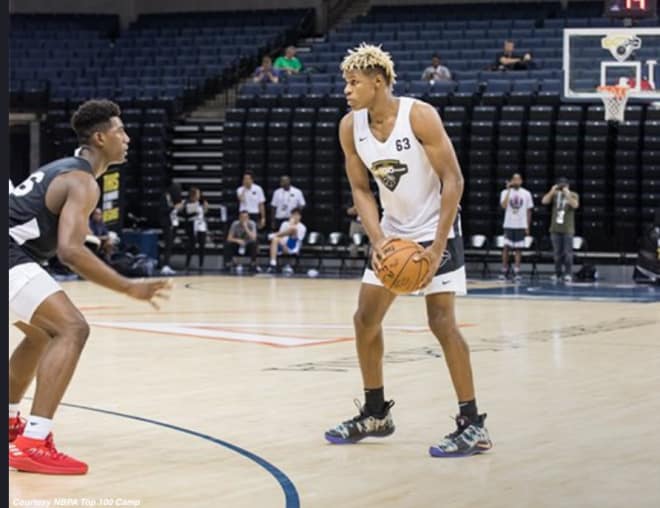 CHARLOTTESVILLE, Va. - The NBPA Top 100 Camp is now three sessions deep and though there is a bit of a top end talent void due to USA Basketball having events for their 17U and 18U teams this week, some of the nation's best are still stepping up. Inlcuded among them are top 40 Jahmius Ramsey.

JAHMIUS RAMSEY IS AT THE TOP OF DEFENSIVE HEAP
When I think about the top competitors and defensive players in the class of 2019, I don't get too far down either list before Jahmius Ramsey's name comes up. A native of Texas, he's the most competitive guard I've seen from that state since Marcus Smart was a five-star high schooler.
To have a guy as tenacious as Ramsey is handling the ball and keying the defense allows a team to play fast and others take his lead and play just as spirited. I can't help but think this guy is going to be a on and off the floor leader wherever he ends up. Oregon, Louisville, Kansas, Florida, Miami, Maryland, Indiana, Illinois, Virginia, Virginia Tech, Baylor, Texas A&M and Kansas State are among the many pressing up on him and like seemingly every kid in the class of 2019, Ramsey says he's looking to cut things after the summer.

GREG BROWN REMINDS ME OF FORMER FIVE-STAR BRANDON RUSH
I don't know if Greg Brown has any idea who former five-star prospect and Kansas star Brandon Rush is, but I sure remember Rush and Brown reminds me so much of him it's scary. They have similar size, similar athleticism and a similar amount of raw talent that will blossom with college coaching.
Brown is an elite level athlete, has length and is an elite finisher in transition. He is a good spot up jump shooter, handles the ball just enough to get where he needs to go and because of his size, quickness, athleticism and instincts he has all the tools to be an elite defensive player. His motor is top notch and he just makes things look easy.
Not surprisingly, Kansas is among those chasing Brown. Also in the mix are Memphis, Florida, Cal, Texas, Texas A&M, TCU, Oklahoma and others. By the end of the summer, look for him to be a priority for all of the big timers.

OSCAR TSHIEBWE IS A NEW AGE REGGIE EVANS
You want to talk dudes who play like full grown men? Me too. So let's talk four-star big man Oscar Tshiebwe. There simply isn't a player in the country with more desire to go and rebound the ball or more physical toughness and raw power in the lane.
After starring at Iowa, Reggie Evans made a 13 year career in the NBA with the exact same attributes and it's hard not to be reminded of Evans when watching Tshiebwe play.
West Virginia has been considered the heavy favorite on this one although new Pitt coach Jeff Capel is among those who is going to do what he can do give Bob Huggins a run.

WAHAB HAS RUGGED TOUGHNESS
If you are looking for a skilled, refined low post scorer then Qudus Wahab isn't your guy. But, if you are looking for a big and strong interior defender who runs the floor, plays tough in the lane and gets his money's worth on fouls, then Qudus Wahab is the guy for you.
In the last few weeks, Wahab seems to have taken a big step forward in his development and he's found ways to become a factor on offense through his work on the glass and running hard from rim to rim.
Louisville, LSU and UConn are among those who are new to the mix while others like Virginia Tech, VCU, Syracuse, UMass, Rutgers and Pitt have been hanging in there for a bit.

SOME QUICK HITTERS FROM THURSDAY'S ACTION
... Five-star Scottie Lewis was at it again on Thursday. Frankly, there were some worries about his progress as a prospect coming out of the high school season and through the first few legs of the travel season. However, at NBPA Top 100 Camp he's been able to play with the ball in his hands and he's looked totally rejuvenated as a slick passer, tough to cover driver, jump shooter and big time defensive player. I'm all in on more of this from Lewis who admitted that he didn't play up to par the past few months and it's clear he's worked to improve.
... There's still a lot to learn about players from the class of 2020, but there can't be many of them who have better hands that four-star power forward Day'Ron Sharpe from North Carolina. The young big man has absolute vice grips for hands. If he gets so much as a fingertip on the ball, just forget it, because it is his and his alone. Sharpe says he's open, but the early thinking is that North Carolina will be tough to beat here.

... Another guy who struggled earlier on the travel circuit was five-star big man Will Baker. The Texan has gotten his groove back at NBPA and a big reason has been finding a nice mix between launching his well developed jump shot and playing on the interior. When he hits a college weight room and embraces physicality even more, he's still got tremendous upside. UCLA and North Carolina look to be a little bit ahead of others like Kansas, Texas, Texas A&M and more.
... I'll say it again: The true diehard USC hoop fans out there should be really excited about the type of players coming into their program. The 2018 class looks like it will be a great one and assistant coach Eric Mobley's son Isaiah Mobley is once again proving to be a great pickup in 2019. Mobley is as skilled a four man as there is in camp.