LBJ Skills: What We Learned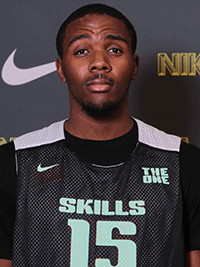 The 2013 edition of the LeBron James Skills Academy has come to a close and at 5 p.m. Wednesday, the first of July's three 96-hour open periods -- during which college coaches can evaluate players -- begins. Before we look at the open period, we look back at what we learned in Las Vegas, where top rising senior Cliff Alexander was among the biggest standouts.
Evolving game
Because he's got a habit of violently dunking the ball near the rim and is similar in overall size,
Cliff Alexander
draws comparisons to Amar'e Stoudemire. There are times when the near 6-foot-9, 240-pounder from Chicago (Ill.) Curie plays like a young version of Stoudemire and we could certainly see why many would make that comparison after watching him terrorize the rims at LeBron.
However explosive he might be, though, Alexander is not the same level of freak athlete that Stoudemire was as a senior-to-be in high school. But the more we watch the No. 4 player in the class of 2014, the more he reminds us of another pretty successful power forward at the same age.
With his long arms, body type and the way he rebounds and seals off defenders in the post, Alexander reminds Rivals.com more of a young Elton Brand. Not many got to see the 1996 version of Brand when he was manning the paint for Riverside Church, but the way Alexander buries defenders physically and uses his body to set up his offense is very similar to how Brand operated. Like Brand, Alexander's got a go-to move in his jump hook and he's very crafty with fakes and has much better touch to 12 feet than has been reported.
Overall, Alexander doesn't have quite the same developed skill and refined footwork that Brand did, but he's close enough. Whatever comparison you prefer, Alexander is more than just a guy who dunks on people, and anybody who has been watching closely should be noting major development in his game.
Tall wings rule the roost
All grassroots season long, we've written that the strength of the class of 2014 is in the abundance of tall and lengthy wings. The top shooting guards are in the 6-foot-4 to 6-foot-6 range instead of 6-foot-2 to 6-foot-4 and the top small forwards are 6-foot-6 to 6-foot-8 instead of in the 6-foot-5 range. At LeBron they stood out.
Ranked the highest of any rising senior wing in attendance at No. 7 in the class of 2014,
Rashad Vaughn
played up to his lofty status. The 6-foot-5 shooting guard from Minneapolis who will spend his senior season at Henderson (Nev.) Findlay Prep -- where will play alongside extremely talented, five-star, 6-foot-6 SF/SG
Kelly Oubre
-- scored in every way that you would want a wing to score. He shot from deep, he hit pull-up shots and he used his burst and power to get to the rim, jump stop and score with power.
Johnson is the most talented wing in the class and is rapidly becoming more of a threat to bury jumpers from deep. Morgan is making the transition from power forward but his scrappy style, elite first step and competitive nature allow him to stand out.
Hard-hat guys
One would think that the level of talent at a camp such as the LeBron James Skills Academy would breed serious competitive spirit. That doesn't always happen. Camp drags on, guys get hurt, others lose interest, which brings down the overall level of competition. That's why the guys who don't seem to ever let up are so important and they'll be coveted on the next level.
At the point guard position,
Ja'Quan Newton
never seems to let up on his opponents. He drags defenders all over the floor and never gives them a chance to breathe because of his crafty off-the-dribble game. A guy such as
Lourawls Nairn
isn't the greatest shooter in the world. But, his speed is a game-changer and his toughness and will on the defensive end rubs off on defenders.
Tyler Ulis
is another sub 6-footer whose toughness and consistent motor helps to make up for a lack of size. Then there's 6-foot-3
Robert Johnson
; a combo guard who can play the two and make shots, Johnson is constantly in attack mode and after making his debut in the rankings as a four-star his star continues to shine.
In the paint,
Angel Delgado
might have brought it stronger than anybody in camp. The 6-foot-8 power forward is pushing the national top 50 and made a strong play for it at LeBron. Much of it had to do with his never-ending supply of energy.
Abdul-Malik Abu
can always be relied upon to crash the glass, and while he's undersized for the post at 6-foot-4½,
Bonzie Colson
is certainly deserving of praise for his toughness and zest for competition.
Finally, it was effort and patience that allowed five-star
Kevon Looney
to leave his mark on camp. Looney didn't get many touches early, but he kept plugging away on the glass, making the most of his chances off the drive and contributed where he could. He didn't pout, he just played and eventually that allowed him to show why he's so highly regarded.

Click
Here
to view this Link.
[rl]