Just A Minute - Feeling Drafty Special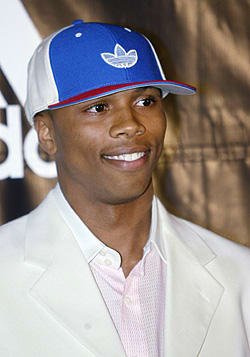 I, Justin Young, officially declare myself for the NBA Draft. I feel confident that my talents shown in the Sandy Plains Church League in Marietta, Ga., have solidified myself as one of the top 6-foot-2, 200-plus power forwards in the world. I have not hired an agent, thus retaining my eligibility for the early morning games on Saturday. I feel that the time is right for me and my family.
OK, well, that is a bit far fetched but I'm not entering the NBA Draft. My name wasn't one of the record number 94 players on the early entry list. But the reality of it all is this: some players who entered their names may be lining up next to me in a church league one day.
In what many believe is one of the deepest prep classes ever, it comes as no surprise that 13 high school players entered the draft. Here is a look at where they stand, according to our sources in and close to the league.
LaMarcus Aldridge
- He played the part of the incoming freshman, announcing he'd be in Austin for the fall semester as a student. But that may not happen after the 6-foot-11, 215-pound forward quietly sent his papers to the NBA offices, making his decision to "test the waters" of the draft official.
He has said that he just wanted to see where he stood in terms of his draft status and plans on suiting up for Rick Barnes when it is all said and done. The No. 16 player in the country is being projected as a late first rounder at the moment, but a back injury may sideline his chances for workouts in front of teams, thus putting his decision on hold for a while. He may be best served by waiting a year and trying the 2005 draft, which is already being dubbed by one scout as "a pool shallow enough for an ant to walk in."
Jermaine Bell
- The well-traveled big man (6-foot-11, 205-pounds) has had an interesting high school career. He was committed to St. Johns. Then he wasn't. Then he was. Then wasn't. So goes the story. And so goes his stops at several high schools. Rated the No. 98 in the class of 2004 by Rivals.com, Bell has talent but it isn't worthy of a draft pick. He has flirted with the idea of playing overseas for a living, and that reality may finally come to fruition for the New York native. Odds of being drafted: Slim to none.
Jackie Butler
- The former McDonalds All-American made a pit stop at Laurinburg (N.C.) Prep and Coastal Christian (Va.) Academy before pledging to play for Tennessee, but that won't happen. He's hired an agent and is ready to go forward into the working world of basketball. The 6-foot-10, 240-pounder has had an up and down career, with questions surrounding his work ethic and desire for the game.
Rivals.com had the opportunity to see Butler work out at the Adidas Superstar Weekend, and he looked to be in shape and played the part of a dedicated player. With his size and extended range, the idea of him being drafted in the second round isn't exactly out of the picture. He dictates his own future. Odds of him being drafted: Fair in the second round.
Dwight Howard
- It's hot in the South during July. The American public will pick a president in November. Dwight Howard will be a top two pick in June. All of those things are facts. The 6-foot-10, 225-pound power is the consensus No. 1 player in the nation and he has been one of the top players in the 2004 draft pool since last summer. He and UConn superstar
Emeka Okafor
will battle it out for the top spot.
Howard has done nothing to deter teams from taking him at the top, but scouts aren't putting their eggs in the LeBron James impact basket. Teams aren't anticipating Howard to come in and dominate right away like James or even Amare Stoudamire. But they do envision the Atlanta product making his presence known in a couple of years. Regardless, Howard is the best of the best in this group of 13 players.
Al Jefferson
- The 6-foot-9, 260-pound beast defines the power in power forward. Our No. 4 player in the country is jumping up the draft charts. His relentless work ethic and attention to rebounding has made him a must-see player during the next month for NBA decision-makers.
Jefferson has not signed with an agent, thus retaining his eligibility at Arkansas. But don't expect him to show up for practice with the Hogs. If he plays the way he did during the summer of 2003, "Big Al" will be making some big bucks. Don't be surprised to see his name called out during the final stages of the lottery. He's a top 20 pick at worst.
Shaun Livingston
- Those close to the draft say the 6-foot-7, 175-pound point guard from Peoria, Ill., is one of the best long-term players in this draft and perhaps the best long-term player overall. Several scouts have told us that the Duke signee could be the second coming of Magic Johnson in terms of basketball knowledge and pure passing skills.
Livingston's size, or lack thereof, has been and will be the biggest knock against him. But that won't deter teams from taking the nation's top prep playmaker with a top five pick. One NBA scout told us, "He'll be a NBA All-Star for 10 years of more. But it won't be right away. He'll have a lot to learn. Don't deny that. When it all comes together, though, watch out."
Robert Rothbart
Every draft has the occasional surprise. Rothbart was one of this year's head-scratch decisions. While the 7-foot, 215-pound center has solid upside, many believed his craft would be polished under Mike Davis at Indiana. That may still happen because teams just haven't seen Rothbart enough. In fact, many didn't even know who the Rivals.com No. 99 rated player in country was. Odds of being drafted: Somewhat slim, but with his size and ability to step out and knock down the mid range shot and deeper, it wouldn't be a surprise if a team took him in the second round.
Maurice Shaw
Another surprise was the entry of this 6-foot-9, 225-pound big man. His past is checkered with several moves, playing at five high schools in five years. Maine's Bridgton Academy was his last stop. This three-star prospect would be best served to test his professional endeavors with an international team or the NBDL, CBA or some kind of pro league stateside because he won't be drafted by a NBA team.
J.R. Smith
- After his showing at the McDonalds All-American game and the EA Sports Roundball Classic, the 6-foot-6, 220-pound shooting guard from New Jersey knew his timing was right in terms of his draft potential. Rated as the No. 8 player in the class of 2004 by Rivals.com, Smith is one of the top offensive threats in the high school ranks. He already has a great step back three-point shot, a move that many pros don't have. His athleticism may be second only to Josh Smith.
Some scouts have called him DeShawn Stevenson revisited. Some scouts have also said they want to see him in their own workouts before making judgments. Smith's name, however, is one of the hottest ones in the draft. He could be a lottery pick or he could slide to the bottom of the first round. Because he came onto the NBA scene so fast, Smith's workouts will dictate where he hears his name on draft day.
Josh Smith
- The Georgia native took his game to Oak Hill Academy, the basketball powerhouse nestled in the Virginia countryside, and came home with improvements in several facets of his game. The 6-foot-8, 220-pound small forward has honed his outside shooting touch and continues to add muscle to his frame. Rated as the No. 3 player in the class of 2004, Smith has the athleticism that will make NBA teams look closely.
Smith has seen his name move up and down the draft board since the start of the season. Once projected as a top three pick, questions surrounding his ballhandling, decision making and overall dedication to the game has had some teams think twice. One Western Conference scout said, "He has great tools but it's when he wants to use them that makes me wonder. But he's still a probable lottery pick because he is just so talented."
Robert Swift
- Swift is a true center. He knows that. And scouts love that. The 7-foot-1, 245-pound California prospect is a solid bodied player with room for more weight and muscle. He is a decent shot blocker and runs the floor well for his size. Scouts fell in love with him at the McDonalds All-American practices and saw his dedication to details.
The Rivals.com No. 14 player has been called "a better version of Chris Kaman" by one scout. Kaman, the starting center for the LA Clippers for the majority of the season, was drafted sixth overall last year. Use that as a measuring stick. There are still concerns about Swift's stamina and strength but an American center is hard to come by lately in terms of the draft. He is projected as a top 20 pick to early second round at the moment.
Sebastian Telfair
- The New York legend has been groomed for the NBA Draft long before anyone in this class. The 6-foot, 160-pound point guard has already inked a lucrative shoe deal with adidas and now his next step is signing with a team, showing that there is more to his game than just marketability.
The Rivals.com No. 6 player in the country has ridden a wild wave of question marks in terms of his pro potential. He is a pioneer in preps to pros because there has never been a player under 6-foot-5 drafted directly out of high school. Telfair will likely be the first. Scouts still question his shooting ability as well as his decision making with a 24 second clock. One scout said it best, "Find the best high school quarterback and give him Peyton Manning's playbook - audibles and everything - and throw him into the NFL. That is what Telfair is doing. He is taking on a big decision."
Telfair has been as high as late lottery and possibly as low as the second round. Teams have said his ability to put people in seats may be the deciding factor. Telfair has the ability to do such a thing much like his good friend, LeBron James.
Dorrell Wright
- Will he stay in or will he pull out and honor his commitment to DePaul? That will be the question surrounding him until June 17, the final date for early entry players to withdraw from the draft. Wright, a 6-foot-7, 210-pound small forward, is extremely athletic and will try to parlay that into a job with one of the 30 teams in the NBA. But sources close to the Blue Demons program are confident that the No. 12 rated player in the country by Rivals.com will be in Chicago next year.
Wright has said he'll withdraw if he isn't a top 20 pick. Several scouts said Wright is comparable to last year's prep-to-pros prospect, Travis Outlaw, who was drafted by the Portland Trailblazers with the 23rd overall pick. Wright could be in that same area. He's improved his game and become well-rounded at South Kent. Will that pay off in the end? He's one of the few bubble players in this pool. Odds of him staying in is a push.
So there you have it. Thirteen high school players putting their college dreams on hold. Some for a matter of weeks. Others, a matter of years. In a record year for early entries, there will be some success stories. But there will also be some unwise decisions. It is ultimately up to them to decide what direction they choose in their basketball lives. Players may be testing the waters of the draft pool, but sometimes they face their own drowning in the deep end of reality.
While the class of 2004 is loaded with talent, this may be the last time we see this big of a group in the draft. Sources close to the league have said a possible 20 year age limit may be in the works after this draft. But until then, Brandon Rush, Andray Blatche and Ricky Sanchez are three names to remember for the class of 2005. It never stops, does it?