From the road: Jayhawk Invite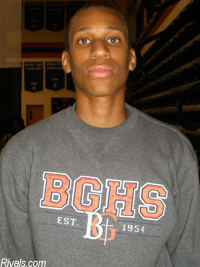 Rivals.com basketball recruiting analysts Jerry Meyer and Eric Bossi weigh in on four current topics.
Muhammad and Thomas dominate Sunday's action
Starting with Muhammad, the 6-foot-5 southpaw wing from Las Vegas (Nev.) Bishop Gorman was scintillating. He went for 30 points against SYF in the quarterfinals and 32 against the Texas Assault in the semifinals before finishing off the Colorado Hawks with his 36-point effort in the finale.
An explosive, straight up and down athlete, Muhammad was playing a man's game all day long. He posted strong, knocked home deep jumper after deep jumper off the catch and attacked on the dribble when he saw openings. Along the way he dominated the glass and made key defensive plays as well.
"Each team was guarding me a different way," said Muhammad. "So, I just took what they gave me and tried to keep my teammates involved."
The 36-point effort against the Colorado Hawks was just part of what turned into one of the spring's biggest highlights. Standing on the other side of the floor, Thomas was matching Muhammad's explosion with an impressive 35-point outburst.
A physical and athletic 6-foot-4 combo guard, Thomas was fighting back problems and exhaustion from carrying the Hawks offense. During the first half, he looked more to set up his teammates while adding 10 points of his own.
However, as his team fell behind by upwards of 20 points, Thomas stepped out of the phone booth and tried to go Superman on Dream Vision. At one point, Thomas drained five straight three-pointers in just over three minutes. In addition to the deep jumpers he raced to the rim for finishes and hit floaters from the mid-range as he pumped in 25 second-half points and brought the Hawks all the way back to within two points at the 1-minute mark.
"He was awesome out there," said Muhammad of Thomas. "This was my first time playing against him and I was really impressed. I can see why he's one of the top guys in his class."
[rl]