Five-star Porter dazzles in Kansas City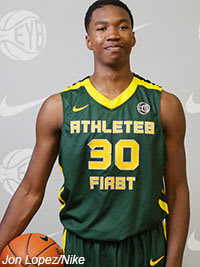 OVERLAND PARK, Kan. -- For the second-straight night, 2017 five-star wing
plays
First he thought about taking the shot, but he pulled back. Then he thought about driving left to the basket before pulling back again. Each jab step was a calculation; a signal to the depth in which the talented prospect had the game wrapped around his finger, and the packed Shawnee Mission South gymnasium full of many familiar faces anxiously awaited
his decision.
It didn't take long, though. Porter, the No. 2-ranked player in 2017, is too
good to sit there and wait. So when it was time, he let his first and only
3-point attempt of the game fly and no one was surprised by the result.
Swish.
"I'm confident in my jumper," the five-star prospect said. "Yeah, I'm pretty confident in my jumper."
That shot late in the second half was far from significant in the game -- Mokan Elite 17s easily handled SABO Gold 17s, 69-45
-- but it was a perfect example as to how dominant Porter was Friday night at the KC Hardwood Classic.
Following a stellar performance the night before, Porter dropped 26 points on
10-for-17 shooting, including 5-for-6 from the free throw line, with 11
rebounds. He made it look effortless, but it was an impressive performance.
"I'm really just playing within myself. I feel like I know what I can do and I don't feel like anybody can guard me one-on-one," Porter said. "And then I'm running the floor. Trae (Young) and the guards are finding me in transition and that's easy buckets as well so I'm really focused in."
For much of the night, Porter played above the rim. He caught multiple lobs with either one or both hands, and finished plays, either in the offense or in transition, with emphatic dunks. Although he has a smooth jump shot, which was on display Thursday, it wasn't needed on this night.
"I really just wanted to show that I've grown into a complete player," he noted.
PPorter just did that in front of a hefty audience of college coaches, headlined by
The plan is still the same. At the end of the summer, Porter will cut his list down to 10 with the hope of making his final decision by this time next year. And in the meantime, Porter will attended
"We love playing with each other," Porter said while Young stood nearby. "The chemistry is there, and we're best friends off the court as well. We really enjoy it."
As for them being a package deal?
"Yeah, hopefully," Porter admitted.
That's just one more thing to keep tabs on each time Porter is around because there is no telling what might happen next.
Earlier in the day, a strong contingent of coaches sat courtside to catch a glimpse of the 2016 prospect. So many of them had already offered. Many others were looking on with curious interest of the 6-foot-7 forward playing for Texas-based SABO. Unfortunately, the vast majority never saw the three-star prospect as an unspecified leg injury less than five minutes into his first game of the day sidelined him for the rest of the night.
Yes, Brown, who boosted his stock with high-major offers all summer by playing his game and proving he was more than just a post-up player, was disappointed, and understandably so.
"I'm glad everything happened," he said of his summer. "I'm blessed and thankful for it, but I really wish I could have finished it out this weekend."
It was far from an ideal situation, no doubt, but it didn't completely wash away the hard work that put him in that position. Brown, the San Antonio native, still holds a solid list of offers and said
"I'm looking for a school that's the best fit for me, has good academics, and will help me improve my game even more," he said.
Brown will evaluate his options, shorten his list, and schedule visits in the coming weeks. He enters that process without any favorites or sure-visits in mind, while also understanding it might have been completely different if he had been able to play.




It was definitely a surprise to see



Jericole Hellemens. At 6-foot-3, Thatch, who holds an offer from Missouri, is rather developed physically with a strong frame, which he uses well at times to take the ball to hole, and has the ability to knock down open shots from the outside. Hellems, on the other hand, does well using his 6-foot-6 frame with long arms to get shots up over defenders and score. Both did fairly well against the zone of Howard Pulley 16s, and could get some looks from programs if they continue to improve.