Eric Bossi's Las Vegas blog: Saturday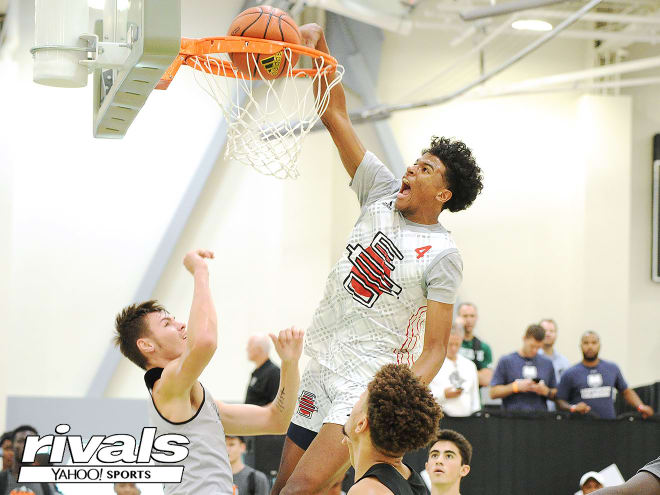 K.D. JOHNSON HAS BIG UPSIDE
Our Dan McDonald has been a big advocate of 2020 four-star point guard K.D. Johnson and after watching him I can see why.
A big time athlete with all kinds of speed to burn, Johnson is very slippery off the dribble, plays the game fast and has big upside. I don't know if he shoots it quite as well, but he reminds a lot of 2019 point guard Tyrell Jones who I spent time watching yesterday. Basically, if you want to play fast on offense and really heat up opponents with ball pressure on the defensive end, then he's your guy.
The lone high major in the gym watching him was Auburn and Johnson told me that the Tigers have offered, that he's been on campus and that he's planning to head over again sometime after the summer. Seton Hall has also offered as have James Madison, North Florida and Presbyterian. Others he said are monitoring him include Georgia, Florida, Charleston, Georgia Tech, USC, West Virginia and Illinois.

UTAH ADDS 2020 GUARD
Earlier today Utah added a commitment from combo guard Mason Falslev. I had hoped to take a good look at him for the Exum Elite 16U team this evening but he suffered a knee injury early today.
My understanding is that he's a tough as nails kid who brings a football mentality to the floor. He can play the one or the two and he's a tough and physical defender who gets others involved. I'll be hoping to catch him somewhere down the road, and sooner than later.

DAY'RON SHARPE IS A MONSTER
After a drive across the city of Las Vegas I've made my way to the way Southwest corner of town to watch 16U games at the Fab 48. I walked in to see 2020 five-star Cade Cunningham of Drive Nation taking on North Carolina commit Day'Ron Sharpe of Garner Roads.
We've written plenty about Cunningham during this evaluation period and as usual, he was serving as a high level playmaking wing with tremendous size and skill. In fact, he's almost too trusting of his teammates to make a play and I wouldn't mind seeing him force the issue a little more offensively from time to time.
On the other side, Day'Ron Sharpe is a monster. With an assistant from UNC watching, he played grown man basketball around the rim. Pound for pound he has as good of hands as anybody in the country and the transformation that he's gone through physically even since I first saw him in April is something else. Looks like he's stretched out to about 6-foot-9 now and he's really adding strength. Super pickup for the Heels.

Garner Roads got the win and 2021 shooting guard Carson McCorkle also played really well making one tough shot after another. He's got a crisp jumper and works really hard off the ball to free himself. Clemson, Wake Forest, Florida, Wichita State, NC State, Iowa, Georgia Tech and South Carolina are among his early offers.
Another who caught my eye was Michael Jefferson of Drive Nation. A 6-foot-6'ish shooter with confidence and a quick trigger, he also made a few nice moves off of the dribble.
In addition to an assistant from North Carolina who was watching Sharpe, I spotted head coaches from Iowa, TCU and Oklahoma State to go along with assistants from Wake Forest, Purdue, UCLA, Clemson, Michigan, Butler, Wichita State, Texas A&M, Duke, Baylor, Virginia, USC, Louisiana Lafayette, Colorado, Air Force and Cal.

TARI EASON HAS BEEN A NICE FIND THIS MONTH
My coworker Corey Evans wrote about 2020 combo forward Tari Eason in Los Angeles last week and I can see why. The athletic, 6-foot-7 junior to be for Team Bradley Northwest has size, length and a nonstop motor.
The guy just makes things happen on both ends and though he sometimes makes mistakes or silly plays, he almost always does something right after it to make up for it.
Eason told me that his lone offer is from Washington State -- he mentioned Oregon State, Montana and Arizona State have showed interest -- and I think he'll get some more Pac 12 offers before it is all said and done. I would also say that it's a safe bet he enters the national rankings for 2020 when we next update in late August or early September.

FALL VISITS COMING FOR DALEN TERRY
In my opinion, one of the spring and summer's breakout players from the class of 2020 is 6-foot-5 point guard Dalen Terry of the Compton Magic's 16U squad.
You just don't find many young players with his size, feel for the game and ability to legitimately play the point guard and elevate the play of those around him. And that's when Terry is at his best. Yes, he can score and will develop that part of his game, but when he's finding teammates, getting into the lane and generally creating chaos there isn't much anybody can do with him.
Terry told me that he's now got offers from Utah, Arizona State, Grand Canyon, UNLV, Cal, USC and Nevada and he feels like the summer has been a good one for him.
"It's been better than I expected it to be, one of the best I've had" said Terry, "I feel like I'm getting known by people outside of Arizona now and all across the country I'm getting attention and I feel like I'm in a good position."
Terry's recruitment is still in the infancy stages and given that he's just getting ready to start his junior year there is no rush to make any kind of decision. However, he did say that he's looking into taking unofficial visits to Arizona State, Arizona, Texas, USC and Cal at some point in the next few months.

INDIANA ELITE DUO IMPRESSES
Indiana Elite's summer run at Rebound Hoops came to an end at the hands of the Team Bradley Northwest Panthers a few minutes ago, but I enjoyed watching their style of play. In particular during the last game I liked Alex Hemenway and Cobie Barnes.
Hemenway is a nice shooter, has feel for the game and plays with a lot of confidence. Belmont, Evansville (head coach Walter McCarty was on hand), Northern Kentucky, Bradley and others are involved and he looks like a nice fit on the mid to upper mid major level because of his jump shot.
Barnes is a bit bigger at about 6-foot-5 and does a little more getting to the lane. He's got a good body to build on and like Hemenway is a nice looking mid level prospect. IUPUI, Belmont, Indiana State, Miami (Ohio) and Evansville are among those involved.

FULLER EYEING A CUT TO LIST, SETTING VISITS
It's been a long summer for all of us and I can't blame P.J. Fuller for sitting out the Team Bradley Northwest Panthers Saturday win against Indiana Elite to get his body right. I'm ready to sit some games out myself.
In all seriousness, though, Fuller has already put in plenty of work this summer. One of the most heavily recruited players on the West Coast, the explosive guard added offers from programs like Florida, Minnesota, Houston, Oregon, Miami, Texas Tech, Iowa State and Washington State during July. That's on top of offers he's long held from places like Arizona, Texas A&M, TCU, Florida State, Oregon State, Washington, Cal, Arizona State, UNLV and a few more.
The next step is to cut things down and set up some visits. An exact number isn't determined yet but one program that will for sure get a visit is TCU.
"TCU will for sure get a visit," said Fuller. "There's a pre existing relationship with assistant coach Corey Barker that goes back to before basketball. My mom and I will sit down and figure the rest out in a few weeks after I get home."

JOHNNY JUZANG NEARING COMPLETION OF MONSTER SUMMER
Two more games. That's all 2020's No. 25 ranked player Johnny Juzang has left of what has been a strong summer for him individually and from a team standpoint as a member of the summer's most successful team, the Compton Magic.
Playing on a loaded team has allowed Juzang to expand his game, he told me.
"I've definitely learned this summer," said Juzang. "Offensively, in high school I'm used to being on the ball so I've really had to learn to move without the ball. I'm figuring out how to create and make an impact off the ball and improving all around."
What has stood out to me about Juzang this summer is his defense. Anybody who has seen him play knows that he has a pretty skilled and polished offensive game, but he's worked to be a strong two way player.
"Defensively I feel like I've really gotten better," said Juzang. "On a loaded team like this if you want to play you have to defend. I really put a lot of focus on it."
So far, Juzang has seen USC and UCLA unofficially and he took a trip to Kansas during the winter for their game with West Virginia. Those three have all offered scholarships and others like Cal, Marquette, Utah, San Diego State, Arizona State, TCU, Georgetown, Washington, Miami and more have all offered at one point or another.
Right now, the priority for Juzang is two more wins and another title with the Compton Magic. Next, he'll look to get some rest and then he'll start looking into taking some unofficial visits to start his junior year.

JALEN GREEN AND EBO CRUISING AT LAS VEGAS FINALS
The top player in 2020, shooting guard Jalen Green's services haven't really needed this morning as his EBO team is delivering a pretty thorough (46-12) beating to the Las Vegas Knicks -- who feature Rivals150 big man Orlando Robinson among others.

Led by Green and UCLA committed four-star small forward Jaime Jacquez, EBO came out with great energy, hit a bunch of shots and they've never let up. I'll have to save the next game to do a bit more evaluating unless something crazy happens here in the next few minuts.
I've seen head coaches from Louisville, Colorado and UNLV in the gym so far this morning along with assistants from programs like Kansas, Memphis, Fresno State, Oregon State, Maryland, UCLA, UC Riverside, USC, Colgate and some others. This is just me speculating here, but I would look for Memphis to be a very serious competitor for Green.