Las Vegas Wednesday: McDaniels impresses, Bronny James draws attention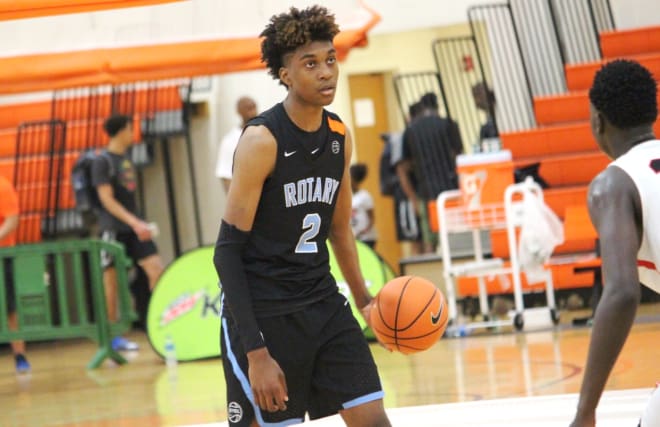 LAS VEGAS – The first day of the final live period rolled into the city of Las Vegas on Wednesday. The MADE Summer Showcase was the place to be as Jaden McDaniels displayed his entire arsenal, Al-Amir Dawes bolstered his national standing and the Bronny James show kicked off.
MORE: Bossi's Las Vegas blog

MCDANIELS SHOOTS FOR NO. 1
We are still several months away from putting to bed the 2019 Rivals150, but with the rise that Jaden McDaniels has made and his fit in today's positionless game of basketball cannot be overstated, which makes his argument as the best prospect in the 2019 class become louder by the day.
A 6-foot-9 forward that can handle, shoot, pass, rebound and defend, the sky is the limit for McDaniels. The talent has never been a question with the five-star prospect, but it has been more about his outgoing demeanor on the floor, a sign that others have taken as a streaky motor, and his strength, or lack thereof. McDaniels played the hardest I've seen him play on Wednesday. He defended different positions, finished through contact, ripped down rebounds in traffic and converted on a number of feathery jumpers to the perimeter.
On hand for McDaniels were head coaches from Arizona, San Diego State, Washington and Memphis, to go along with assistants from UCLA, Oregon and Kentucky. Memphis is a new one now in pursuit as Penny Hardaway has not shied away from pursuing the nation's best; an offer has yet to be handed out, but toss the Tigers now into the mix for the five-star. Things are still building as McDaniels is one of the most wanted recruits in America, a prospect that could go down as the best in 2019.
DAWES BECOMES A WANTED MAN
In a rather depleted year for point guard prospects, Al-Amir Dawes has rightfully seen his stock improve in recent weeks and Wednesday, he stole the show. A tough-minded guard that brings some Jersey toughness to the court, Dawes' IQ for the game and his floor-setting skills sets him apart from his competition, of which is a good reason behind why a slew of high-major programs have begun to place a greater priority on him.
At best on the attack, Dawes ramped up the intensity of his team's contest with the imaginary bow-and-arrow that he slung towards his opponent's bench following the step back three that he hit. He will never be one to shy away from the spotlight, but it is also nice to see Dawes become more efficient with the ball, whether it is creating for himself or his teammates.
On Wednesday, head coaches from La Salle and Rutgers were on hand, as were assistants from Xavier, UConn and Clemson. Clemson and UConn seem to have gained greater traction compared to others as a handful of visits will be scheduled once he returns home from the CP3 Camp at the end of next week
MOUNTAIN STARS HAVE STAYING POWER
The talk of the spring was that of Mady Sissoko's potential in the frontcourt. The rising junior made his way into the Rivals150 earlier this month thanks to his fear tactics, imposing figure, rebounding and finishing skills. While there is great value in Sissoko, his teammates with the Utah Mountain Stars deserve some praise, too.
Josh Jackson, one of the best shooters that I have seen this summer, impressed with his ability to get into open pockets in the half-court offense, attack the closeout, and most of all, make shots, of which he nailed five three-point jumpers. A product of the famed Lone Peak High program, Jackson has yet to pick up a single scholarship offer but that is due to change. The need for shot-makers is not going away which should make the rising junior a priority in the coming years.
Alongside Jackson on the wings is Leonardo Colimerio. The 6-foot-6 wing from Brazil has grown over an inch since we last saw him at the Basketball Without Borders event held during NBA All-Star weekend in Los Angeles. A super versatile wing that can guard up to four positions, Colimerio has yet to pick up a scholarship offer, too. That will change thanks to his two-way abilities and potential as a lock-down defender. He told Rivals.com that Oregon State, Utah Valley, Seattle and BYU are among the schools showing interest.
The group was watched by head coaches from Utah State, Utah, Oregon State, BYU and St. Mary's on Wednesday night.
BRONNY JAMES SET TO OVERTAKE DAD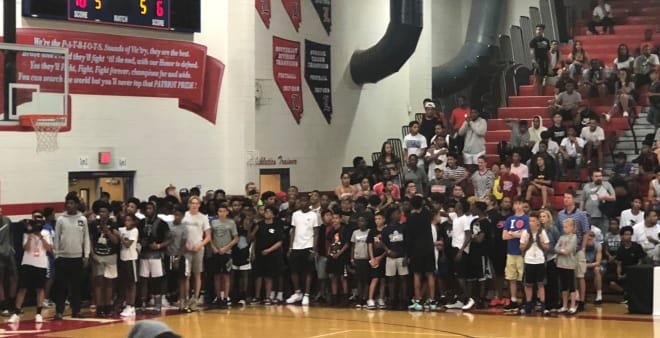 I have been there for the Lonzo-Lavar Ball show; I have seen Zion Williamson fill Vegas gyms to capacity; I have never seen what unfolded on Wednesday night as there was a line of over 200 people trying to get into the gym 30 minutes in advance to see Bronny James play.
For all of those that were excited to see the son of LeBron James, things went haywire as a minor fight ensued, leading to the cancellation of his team's game. This for a 13-under game just gives me a headache thinking about what is ahead, like whenever he takes a high school class. Think of the social media attention and national exposure that Bronny James will receive then!
LeBron James has gone down as the most heavily covered prospect of all time. It is going to be difficult for his son to compete with his father's on-the-floor achievements, but if this is just the tip of the iceberg, Bronny James may be primed to surpass Papa James as the most covered prospect that the national audience has had the chance to enjoy.