Eric Bossi's Las Vegas blog: Wednesday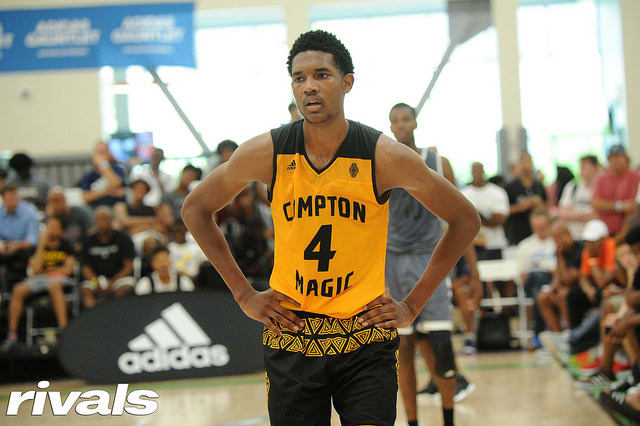 LAS VEGAS -- The third and final live period of July has kicked off and National Basketball Analyst Eric Bossi is live from Las Vegas. The place to be on Wednesday night is the Fab 48 where a ridiculous amount of talent -- 15 five-stars are scheduled to play including Evan Mobley above -- is going to be hitting the floor and the night will be capped by a matchup of the two best Grassroots teams in the land, Team Takeover from Nike's EYBL and the Compton Magic from the Adidas Gauntlet.
MORE: Wednesday's leftovers | Twitter Tuesday | Trendon Watford nearing next stage

COMPTON MAGIC WIN OVERTIME THRILLER AGAINST TEAM TAKEOVER
What a night for grassroots basketball. Thanks to a thrilling overtime game won by the Compton Magic over Team Takeover, the summer's most anticipated game lived up to the hype and then some. Multiple lead changes, tight the entire game, cleanly played with a ton of talent on the floor and not decided until the final seconds. What more could anybody have hoped for?
Leading the way for the Compton Magic was their 2020 duo of No. 25 Johnny Juzang and No. 3 Evan Mobley. Juzang was burning home jump shots all night long and what I was most struck by was his ability to sit down and defend against Takeover's smaller and quicker guards. Terrific effort by him. As for Mobley, he continued to make a case for the top prospect in 2020. He might lack strength now, but man is he skilled on both ends of the floor and has a high basketball IQ. Also coming up big for the Magic was USC bound big man Onyeka Okongwu. He's still working himself back into game shape after an injury layoff but his rebounding, shot blocking and mid range jump shooting were huge all night.

As for Takeover, five-star 2020 point guard Jeremy Roach was a difference maker. He kept working the high ball screen to get to the rim and finish or make a play for a teammate over and over. FIve-star big man Armando Bacot was outstanding as well. He had a huge dunk and and 1 finish late to help keep things close.
Directors and players from both teams deserve credit for making the game happen. Everybody talks about being willing to lace them up against anybody at any time, but when push comes to shove they don't follow through. The Compton Magic and Team Takeover did and as a result the two best teams in the country were able to lock up in what will be remembered as a classic Vegas contest.

TEAM TAKEOVER UP THREE AT THE HALF
It's halftime of Team Takeover and the Compton Magic and so far it has lived up to all of the pre game hype as Takeover leads 37-34.
Leading the way for Takeover in the first half has been Villanova bound Justin Moore who has made timely shots and been strong to the basket. Bigs Hunter Dickinson and Armando Bacot have each had nice moments as well.
For the Magic, Evan Mobley and Johnny Juzang have led the way. Each hitting a three and scoring via the jumper and drives.
I've spotted head coaches from Duke, North Carolina, Wake Forest, Oklahoma State, USC, Tulsa, Long Beach State, Georgia, Notre Dame and Georgetown among the at least 150 or so college coaches in attendance.

COMPTON MAGIC AND TEAM TAKEOVER SET TO TIPOFF
CAREY SHOULD FINALIZE LAST TWO VISITS SOON
Three of Vernon Carey Jr's official visits are spoken for.

2019's No. 1 ranked player already visited Michigan State officially back in February. Recently locked in visits for Kentucky (Big Blue Madness) and Duke (Countdown to Craziness). All that's left now is to finalize visit dates with North Carolina and hometown Miami.
Carey told me that he will look to set them after he gets back from Las Vegas but that it was looking like it may be November for his UNC and Miami visits.
On Wednesday night I spotted head coaches from Duke, North Carolina and Miami on hand and saw assistants from Kentucky and Michigan State.

EACH 1 TEACH 1 ADDS FIREPOWER
Each 1 Teach 1 already has plenty of firepower in top 30 point guard Tre Mann and super athletic combo forward C.J. Walker, they added some serious help for the Fab 48. 2019's top ranked player Vernon Carey Jr. and 2020's No. 2 ranked player Scottie Barnes are running with them this week and it should be plenty entertaining.
Currently, they are matched up with Team Rio who features five-star guards Scottie Lewis and Bryan Antoine along with steady point guard Jalen Gaffney.
In general it's a wild scene in here. Coaches are wall to wall, there's nowhere for anybody to sit and it's tough to accurately paint a picture of the buzz in the building. If there's a school that you root for, go ahead and assume that they are represented at Bishop Gorman High right now.

FUTURE IS NOW AT MATER DEI
Santa Ana (Calif.) Mater Dei is never hurting for high level talent, but they usually have experience and talent. This year, they are going to rely heavily on a trio of sophomores to be but Devin Askew, Wilhelm Breidenbach and Harrison Hornery look like they are going to be up to the task.
I love everything about Askew at this point. He's already got good size, he plays the game fast and he will make you pay with the jump shot. St. John's was first in with an offer and it's hard to imagine that he won't develop into a Pac 12 priority before it's all said and done. He's got the goods.
Breidenbach is a big post player who has skill and a nice feel for the game and has already pocketed an offer from USC. Hornery is a thin face up forward who looks like he will be a floor stretching shooter.

DAHMIR BISHOP THE HEADLINER, CHRISTIAN RAY THE HEART AND SOUL OF K LOW ELITE
A four-star prospect who can get hot and light up a scoreboard, Dahmir Bishop is the best college prospect on a tough Philadelphia based Kyle Lowry Elite squad. However, forward Christian Ray has to be the heart and soul of the team.
I love watching Ray play. He's tough, he's selfless and he continually makes winning plays on both ends of the court. I just got done watching him fight five-star Isaiah Todd on both ends of the floor and while Todd is the highly regarded guy, Ray just went at him like any other dude. Every program needs a player of his type.
Ray told me that Lehigh, Brown and Stony Brook were among the programs that are in pretty good shape for an official visit. Drexel, Bowling Green, St. Francis, Central Connecticut State, Columbia, Binghamton and others have offered but I can't help but think that local programs like LaSalle and St. Joseph's could be missing the boat on Ray. Sure seems like a guy that I would want around my program on a daily basis if what I've seen from him during the spring and summer is any indication of what he's capable of.

DAISHEN NIX PROVING HE BELONGS
Earlier today, point guard Daishen Nix was elevated into the 2020 Rivals125 as a four-star prospect to fill the hole left by Nico Mannion's move to 2019. Judging by his play against a stacked PSA Cardinals team, he proved the move to be justified.
Nix didn't have a crazy game shooting or scoring the ball, but with tons of coaches watching he showed legitimate point guard skills and a a high level feel for passing the ball and controlling tempo.
A native of Anchorage, Alaska who moved to Vegas in 2015, Nix told me that he has offers from Kansas (asst. watching), Minnesota, Washington (Mike Hopkins plus two assistants watched), UNLV (Marvin Menzies watched), UT San Antonio (asst. watched) and UT-Arlington. I have to figure he becomes a major West Coast target in the very near future and would expect more Pac 12 offers to be coming.

COLE ANTHONY AND SEVERAL OTHERS START OUT THE NIGHT
2019's top ranked point guard Cole Anthony and his PSA Cardinals are leading off the first round of games at the Fab 48 tonight as they take on Simply Fundamental featuring class of 2020 four-star guard Daishen Nix.
Joining Anthony on the loaded PSA squad are rivals.com ranked Ismael Massoud, Maxwell Lorca-Lloyd, A.J. Hoggard, James Bouknight and Richard Springs.
Playing on the court next to PSA and Simply Fundamental are the Albany City Rocks and Louisiana Supreme. The CIty Rocks are without top 10 post player Isaiah Stewart but still have shooter Joe Girard and 2020 four-star Symir Torrence. For Louisiana Supreme, I'm looking forward to getting my first look at wing Gregory Hammond who has been getting a lot of recent love from high major coaches.
From where I'm sitting it's impossible to see all of the coaches but so far I've spotted head coaches from Colorado, UMass, Iowa, Georgetown, Syracuse, East Carolina, Georgia Tech, Auburn, Seton Hall, Washington, Wake Forest, North Carolina, Miami and Utah plus assistants from Cincinnati, Arizona, Creighton, Providence, Kansas, Texas, Tennessee, Georgia, Virginia, Michigan State, Marquette, Indiana, Charlotte, UConn, Virginia Tech, Illinois, Rhode Island, VCU, Wichita State, Harvard, Sacred Heart and I'm sure at least another 30-40 schools are here at the moment.