Eric Bossi's Las Vegas Blog: Thursday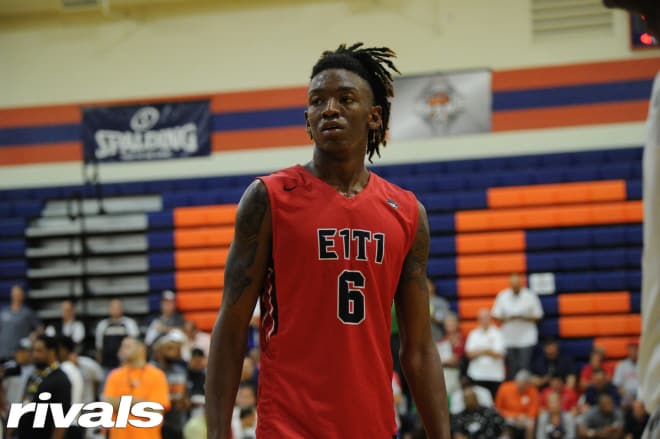 SOME QUICK THURSDAY SCOUTING NOTES
I want to finish up my Thursday blog with some thoughts I didn't get to throughout the course of the day.

I thought that 2020 five-star Jaemyn Brakefield had a solid outing for Louisiana Supreme against Team Thad. He's embracing the role of skilled four man and can stretch teams out with his shooting. The one thing that I would like to see him do a little more of is pound the offensive glass for some easy buckets.
One of my favorite games to watch all day long was at the Fab 48 between Las Vegas Elite 16's and Dream Vision 16's. Both teams know each other well, there has been some crossover of players and the fans were into it. There was lots of talent but VE's 2021 point guard Zaon Collins and DV's 2020 combo guard Dominick Harris really stuck out. Collins was electric off the dribble and got to the lane at will. He's small and skinny, but he sure is tough and with time winding down and everybody expecting him to drive to the hoop, he calmly flipped the ball to wide open four-star shooting guard Noah Taitz who drained a corner three at the buzzer for a one point win. As for Harris, Gonzaga has a good one in the already committed four-star. He can play some on or off the ball, shoots well from deep, is sneaky good off the bounce and looks like he has the tools to one day be a very high level defender.

New Jersey point guard Al-Amir Dawes is really playing at a high level when it matters most, in front of coaches. Corey Evans wrote about him on Wednesday but I was impressed by his playmaking and shot making on Thursday. It's a point guard's job to elevate the play of those around him and I feel like Dawes is really doing that with his New Jersey Playaz team. It's been a really productive July for him with UConn, St. John's, Wichita State, Clemson and TCU all jumping in with offers over the past month.

TYRELL JONES IS A BAD DUDE
For whatever reason, we hadn't gotten a good enough look at 2019 point guard Tyrell Jones to truly consider the three-star prospect for the Rivals150. That's on us and that is changing in a big way this week.
Because watching him play, all I can think is that he's a bad dude and certainly somebody who deserves serious consideration for the rankings.
The Showtime Ballers guard is fast, he's confident, he can drill a shot and man does he play with some serious toughness.
College coaches are jumping on the bandwagon too. Auburn, Ole Miss, Tennessee, Xavier, Ole Miss, Clemson, Buffalo, Houston, Wichita State, Mississippi State, Oklahoma State, Virginia Tech, St. Louis and several others have jumped into his recruitment and I can't blame them.
So, I asked Jones what he does that has schools going so crazy over him and he kept it pretty simple.
"I run the pick and roll, I'm fast and I get my teammates involved," said Jones. "I shoot the ball, I'm tough and I always play hard."
Jones told me that he will need some time after July to sort things out and come up with an actual list but he did tell me that Auburn stands out as one team who will make any list he comes up with. So, it shouldn't be a surprise that Bruce Pearl and an assistant were watching. Among the others that I was able to spot watching his floor and presumably taking a look at Jones included Florida, Tennessee, VCU, Xavier, Georgia, Arizona State, SMU and Mississippi State just to name a few.

THINGS OPENING BACK UP FOR C.J. WALKER
Back in early June at the Pangos All-American Camp, top 50 combo forward C.J. Walker told me that he was narrowing his focus down to a group that included Arkansas, Florida, LSU, Louisville and Tennessee. Things have changed a bit since then.
Walker has been one of the most talked about prospects during the month of July because of his athleticism, energy and production. Oregon has jumped in, Pitt, Texas, N.C. State, Missouri, Texas A&M and many others have offered too.
Within the last week, Kentucky, North Carolina and Arizona have all reached out to express interest and indicate that they'd like to see about moving forward with his recruitment.
Walker hasn't yet set any official visits and doesn't have an official list -- that should come sometime in August -- but, if I were a betting man I would say that LSU and Alabama at the least look good for official visits. Also, don't look for Walker to use any of his official visits to Florida schools because he can easily drive to make unofficial visits.

WILL BAKER, TEXAS HARD WORK AND PHILLY PRIDE HAVE AN AUDIENCE
Seven-footer Will Baker is likely going to be chopping his school list sometime in the near future. But until that happens, he's going to draw crowds of coaches and playing for a Texas Hard Work team that also features 2020 four-star wings Tramon Mark and Micah Peavy along with potential 2021 big timer K.J. Adams who already has offers from Texas, SMU and Texas A&M.

On the other side, the Philly Pride are headlined by Rivals150 combo forward Donta Scott.
So far I've spotted head coaches from La Salle, North Texas, Nebraska, Florida, Texas A&M, Texas, Texas Tech, UAB, Stanford and Charleston along with assistants from Georgia, Baylor, UCLA (where Baker took a June official visit), Seton Hall, UTEP, Missouri State, Houston, Wichita State, Arkansas, Purdue, Bradley and Virginia.

MARQUISE KENNEDY IS RISING
Around the Midwest, point guard Marquise Kennedy of the Illinois Wolves has turned into one of the more coveted and evaluated floor generals.
I can see why. Kennedy isn't the strongest guy around, but man is he quick, he competes and watching him play I feel he elevates those around him with the way he approaches things. He's got quickness, he can knock home jumpers and watching his development over the last year, he's coming on strong.
Over the past few weeks he's picked up offers from Bradley, Tulsa, UNC Greensboro, Loyola (Chicago) and some more. Right now, he looks like the ideal upper end mid major prospect, but with his upside and a lack of high level point guard options in the Midwest it won't surprise me if he starts drawing high major sniffs.

MANNION TALKS NEW INTEREST AND TIMETABLE FOR DECISION
Last week high scoring five-star point guard Nico Mannion made his move from the class of 2020 to 2019 official. Now he's looking to take the next step in his recruitment.
Down to a top 10 of Arizona, Duke, Kansas, Marquette, Oregon, UCLA, USC, Utah, Vanderbilt and Villanova, Mannion had planned to cut his list soon after making the 2019 switch, but some new schools trying to jump in has put a pause on that.
"I'm trying to get my list cut down pretty soon," Mannion told Rivals.com. "I was pretty ready but then Kentucky and North Carolina got into the mix so I wanted to talk to them a bit."
While neither Kentucky or North Carolina has offered yet, Mannion has spoken directly with John Calipari and should be speaking with Roy Williams after the weekend.
Though the new interest may have caused a slight delay in cutting his list, Mannion will be doing so soon enough. He would like to get down to at least five or six schools and he's hoping to do within a week or 10 days after finishing up in Vegas.
I asked him directly if there were any schools that would for sure make his final list and he did provide some insight.
"It's hard to say right now," said Mannion. "Arizona, Duke and probably Villanova and then the other spots are hard."
Mannion said that he speaks with the schools in his top 10 on an almost daily basis and that even though he'll be cutting his list, he's not likely to sign during the early period. For now, Mannion said he's targeting late 2018 or early 2019 for his decision.

JUST HOW GOOD IS ANTHONY EDWARDS?
So, just how good is 2020 guard Anthony Edwards? That's the question I've been asking myself for the past hour or two after watching him play this morning. Because, even though we currently have him ranked extremely high at No. 6 nationally, I'm having a hard time thinking that there are really five players in his class better than him. I'm not sure there are more than two or three.
Simply put, Edwards is a monster. No, he didn't have his best shooting game this morning but him missing is pretty much a high school defender's only hope of stopping him. Is he a two? Is he a point? He's not really either, he's just a dude that you give the ball to, get out of the way and watch him get buckets and make others better.
That's the thing, he makes others better too. Sure he takes the lion's share of shots, but he's so good at creating open looks that he doesn't take bad ones and he's a very unselfish player and an outstanding passer. With his strength, explosion when he needs it and comfort with the ball in his hands, I can't help but see some young James Harden to his game.
Auburn, Georgia, Florida State, Georgia Tech, Florida and others such as Memphis, Virginia and Virginia Tech have also offered, and more are coming quick. Kansas (Bill Self watched Thursday) has offered, Michigan State has offered, Kentucky and Duke are jumping in and per Edwards' summer coach Winfred Jordan, North Carolina has now offered as well.
Basically, his recruitment is starting to look exactly the way you would expect a top five player's recruitment to look and Edwards is proving without a shadow of doubt that he deserves to be ranked as high as he is and that we need to find a way to move him up more.

A TRIO STANDING OUT FOR ISAIAH WONG
One of the better scoring point guards in the class of 2019, four-star Isaiah Wong helped We R1 survive a late scoring onslaught from 2020 stud Antony Edwards.

Wong is slick with the ball, draws fouls while scoring and can play either the one of the two. I asked him where he was in the recruiting process and he said that he'll be setting official visits soon. According to Wong, a few programs are in great shape to receive visits.
"Miami, Villanova and UConn," said Wong when I asked if there were any schools that he for sure wanted to visit officially. "Maybe Clemson too."
Miami's head coach Jim Larrañaga was on hand with a pair of assistants while each of Villanova, UConn and Clemson had assistant coaches on hand.
Another school that Wong said to watch out for down the stretch is Pittsburgh and head coach Jeff Capel was on hand.
When asked again if any schools were recruiting him the hardest, Wong repeated that Miami, Villanova and UConn were so it's hard to imagine they aren't his top three, even if he didn't say it.
On the next level, he sees himself as a point but is fine playing some off the ball.
"I feel most comfortable as a point guard," said Wong. "But if they have somebody else who needs to play at the point I can play off the ball too."
Wong said he will decide in time for the early signing period.

ATL EXPRESS AND WE R1 DRAW BIG CROWD
One of the premier scorers in the country regardless of class, Anthony Edwards is a big deal. the 6-foot-4 scoring machine is pretty much unstoppable at the high school level and along with his ATL Express teammates he's drawing a crowd against Philly area based We R1.
We R1 features Villanova committed big man Eric Dixon, coveted four-star combo guard Isaiah Wong and four-star center Qudus Wahab among others.
Another to keep an eye on in this one is Express shooting guard Chase Hunter who has been picking up several high major offers of late.
There's a huge contingent of coaches here and so far I've spotted head coaches from Pitt, Miami, Kansas, Syracuse, DePaul, Monmouth, Houston and LSU to go along with assistants from Virginia Tech, Florida State, Ohio State, Oklahoma, Virginia, Wichita State, Arkansas, Auburn, Kentucky, Indiana, Tennessee, Michigan State, Clemson, Georgia, Florida, Louisville, Loyola (Chicago), South Carolina, Rider, Old Dominion, Villanova, UConn, Arkansas State, North Carolina, Temple, Richmond, George Washington and many more.