Eric Bossi's Las Vegas blog: Friday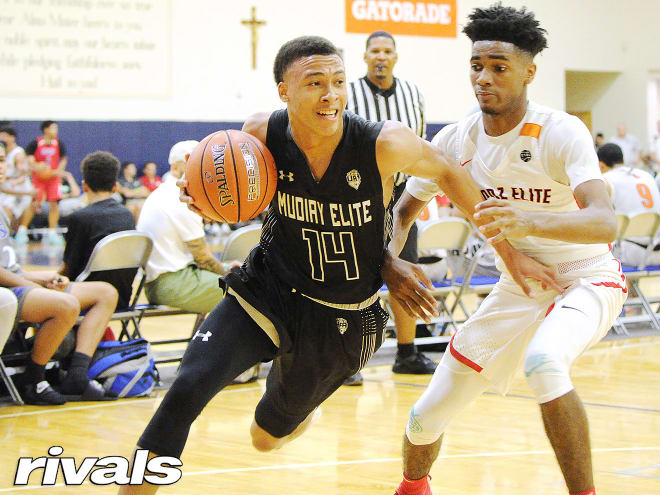 DC PREMIER TAKES HOME 17U TITLE AT UNDER ARMOUR FINALS
In a battle between two tired looking teams, DC Premier took control early and spent the rest of the night fighting off a scrappy effort from We R1 in a battle of East Coast powers at the Under Armour Finals.
From where I sat, the guy who did the most to help himself in finals was 6-foot-7 combo forward Ricky Lindo of DC Premier. It seemed like he was all over the floor on both ends making plays and the live bodied athlete just missed a double double 14 points and nine rebounds. What most impressed me, though, was his ability to help clean up mistakes as a rim protector and his four blocks only tell part of the story of how good he was defensively. A high academic kid, Lindo has offers from several Ivy League programs and others like La Salle, Loyola (Md.), Bowling Green, East Carolina, Saint Louis, Long Beach State, UMass, Lehigh and more.
For We R1, their most reliable scorer Isaiah Wong had a tough night shooting the ball but what the four-star told us about his recruitment on Thursday -- that UConn, Villanova and Miami were standing out -- looked to be true judging by the coaching crows. Jay Wright was there with three assistants (four-star power forward commit Eric Dixon is also on We R1), UConn's Danny Hurley was there with an assistant and Miami's Jim Larrañaga was flanked by an assistant were all on hand to watch Wong.

Other programs whose head coaches I was able to spot included Syracuse, Auburn, Rhode Island, Virginia Tech, Rhode Island, Loyola (Md.), Bucknell and La Salle. I also saw assistants from Louisville, Pittsburgh, UMass, Northeastern, Long Beach State, Drexel, South Carolina, VCU, Maryland, Siena, Georgetown, Hofstra, Marist, Bryant, NJIT and Quinnipiac.

BOBBY MAZE ELITE IMPRESSES IN 16U UNDER ARMOUR SEMIFINALS
To finish off my Friday in Las Vegas I've made way back over the Under Armour Finals. First order of business was watching Bobby Maze Elite take out West Coast Elite to advance to the finals of the 16U division.

From the looks of what I saw, I'll be watching a lot of these kids down the road. Now, they weren't necessarily the top performers or high scorers in the title game, but 2022 combo forward Brandon Huntley-Hatfield, 2022 point guard Jaden Bradley and 2020 wing Darlingstone Dunbar really stood out as prospects.
Huntley-Hatfield has a very high ceiling for future growth. He's got good size already, very long arms, is a good athlete and looks to be a high IQ and skilled player. He can shoot the three, runs the floor and is already a great passer. I'm pretty interested to watch how he develops through the years.
B. Maze's other 2022 star Jaden Bradley is something else too. He didn't have a great night shooting the ball, but he's big and fluid, has feel and is clearly a big time talent relative to his age and that he hasn't even started high school yet. Auburn and Wake Forest have already offered.
Dunbar has reclassified from 2019 and is a smooth and easy moving athlete who has a nice looking jump shot. He looks to be a pure scorer and with his size, plus an extra year to develop schools will come calling soon.

COACHES HOLD CONVENTION FOR DRIVE NATION AND LOUISIANA SUPREME
If it seems like I've seen a lot of Drive Nation over the past few weeks it's because I have. But, it has been for good reason. There just aren't many (if any) other teams out there with as many high level players who appear to have wide open school lists.
Samuell Williamson, Drew Timme and Jahmius Ramsey each ranks in the top 40 nationally and carries huge school lists. Four-star point guard Avery Anderson has a lengthy one while three-star forwards Montavious Murphy and Victor Iwuakor are each being chased by many.
The Louisiana Supreme squad they are playing is no slouch either and after seeing him play a few times I'm liking center Hunter Dean as a good and tough big with some mobility. HIgh school teammates Gregory Hammond and Damiree Burns have also been a lot of fun to watch and look to be helping themseives this week in Vegas.
Now for the coaches list, I did my best to spot as many as I could and keep in mind that most of these head coaches have assistants with them and most of the schools with only assistants here are rolling with at least two. Head coaches I've spotted are from Louisville, Michigan State, Louisiana Lafayette, Arizona, UAB, Texas A&M, TCU, Alabama, Little Rock, Baylor, Marquette, Georgia, Texas Tech, LSU, Tulsa, Michigan, SMU, Oklahoma State, UTSA, Illinois and Kansas State. As for assistants, these schools (at least) are here., Harvard, Florida, Miami, Florida International, UT Arlington, Kansas, Memphis, Texas, Princeton, Purdue, Arkansas State, Little Rock, Incarnate Word, Oregon, Oregon State, Texas State, Tennessee, Gonzaga, Oklahoma, Indiana, Richmond and more.

HAMPTON REFLECTS ON USA BBALL, LOOKS FORWARD TO FALL
The top ranked point guard in the class of 2020, R.J. Hampton was part of USA Basketball's gold medal winning 17U team at the FIBA World Cup in July. He was thrilled to win a gold medal and loved the experience, he just wishes that he could have contributed more.
"The experience was great," said Hampton. "But it really taught me about how you have to preserve yourself and your body. I wanted to be out there so bad.
"To go through nine days of training camp with those guys and then only be able to play in two games because of injury was hard."
Still, Hampton wouldn't trade his experience for anything and he's back on the floor here in Vegas with his Mudiay Elite team. He won't say it, but they just don't have the firepower that other teams do so there's a lot of pressure on him to do a bit of everything. But, the bright side of it is that he can. While he's a scorer first, he's still a big time passer and he's learning to step up and be more vocal as a leader.
Hampton is also paying attention to who has been watching on the sidelines during July.
"I've seen Texas and Kansas at every game," said Hampton. "Memphis, Duke, Kentucky, TCU is always there, SMU and Michigan has been at like every game too."
When he gets back home, Hampton says that he'll be looking to schedule visits. He's looking to get to Michigan in August, said he will hit Texas for a football game, is looking at Kentucky for Big Blue Madness and said he'd also like to get to Duke and Kansas for games this season.

CHRISTIAN BRAUN'S RECRUITMENT TOOK OFF THIS MONTH
Things have really taken off for rising senior small forward Christian Braun during the month of July.
Having grown to about 6-foot-6 now, the skilled and hard playing wing for Mokan Elite began the month of July with offers from Missouri State, Loyola (Chicgao), Lehigh and Ole Miss. Since a big time performance at the Peach Jam, Braun has now added offers from Minnesota, Wake Forest, Kansas State, Tulane and Saint Louis. Additionally, Texas Tech, Oklahoma and Purdue are now showing interest.
A hard worker who is well coached on the grassroots and high school level, Braun had faith that his time would come.
"I'm not surprised," said Braun about the new attention. "I think that I was put in a good position to succeed so I've been taking full advantage of my opportunities."
Braun told me that he has been to Kansas State unofficially and Bruce Weber was watching with an assistant on Friday -- as were Travis Ford and Richard Pitino among others -- but he's not yet thought about his official visits and won't do so for a bit.
For now, he's just trying to finish out July strong with the same formula that has proven successful for him to date.
"I just go out and play hard," said Braun. "Ever since the Peach Jam that has really opened everything up for me."

MOKAN AND MEANSTREETS ATTRACTING BIG FOLLOWING
Staying at The 8, Mokan Elite (with former star Trae Young on the bench supporting) and Meanstreets have attracted a huge following.
Headlined by five-star prospect N'Faly Dante, Mokan also features heavily coveted top 50 forward Malik Hall and Rivals150 guard Isiaih Mosely. This month, wing Christian Braun has seen his recruitment take off as well as he's been earning high major offers (Minnesota, Kansas State, Wake Forest, Saint Louis and more) over the past few weeks.
For Chicago-based Meanstreets, four-star shooter Brandon Newman, four-star combo forward Tray Jackson and class of 2020 four-star guards D.J. Steward and Tyler Beard are drawing tons of attention.
So whose here to see them? A lot of coaches, that's who.
So far I've seen head coaches from Kansas, Kansas State, Michigan State, Iowa, Missouri, Mississippi State, LSU, South Carolina, Saint Louis, Minnesota, Indiana, Valpo, Notre Dame, Creighton, Colorado and Louisiana Tech. I've also seen assistants from Virginia Tech, Cal Poly, UT Arlington, Illinois, Oregon, Oklahoma, Milwaukee, USC, Xavier, Oregon State, San Diego State, Colorado State, Nebraska, Purdue, TCU, Saint Mary's, Middle Tennessee State, Western Illinois, DePaul and Northwestern, just to name a few.

HOUSE GOES OFF IN FRONT OF FUTURE COACH
Bobby Hurley had to have liked what he saw from his four-star committed guard Jaelen House.
Showing shades of his father -- scoring machine Eddie House -- House had things cooking offensively on Friday morning for Team Whynot. He's not a crazy athlete, he doesn't have extreme size or athleticism but House sure has skill scoring the ball and confidence for days and those things can carry him far.
At Arizona State, Hurley lets his guards play a pretty freewheeling and aggressive style. House should be a perfect fit for that style.


THINGS TAKING OFF FOR JALEN GRAHAM
One of the best stories of the month of July is that of Jalen Graham. The bouncy, shot blocking four man from Phoenix began the month of July with no Division One scholarship offers and little in the way of interest. That's all changed. Significantly.
I was able to catch up with Graham after he and Team Whynot won a close one over Team Melo and to say things have taken off is an understatement.
Graham told me that since putting himself on the radar at the Peach Jam at the beginning of the month he's landed offers from Oklahoma, Texas Tech, Illinois, Weber State, Montana State, Fresno State, Grand Canyon and Northern Arizona.
"It's kind of crazy really," said Graham. "It's amazing, it's a powerful thing to have happen for me."
Graham is still fielding interest and things are so new to him he's in no rush, but he is starting to build some relationships and said that so far Oklahoma and Texas Tech were sticking out as programs that he would be interested in visiting officially.

JUSTIN LEWIS HAS BIG GAME, THINKING POSSIBLE VISIT
Playing for Team Melo in The 8, 2020 four-star forward Justin Lewis had an inspired effort against Team Whynot.
Lewis attacked the rim strong, was big on the glass, showed some athleticism in traffic and did everything he could to help his team secure a win. He wasn't able to get a win, but there's no doubt he has to feel good about his effort. Lewis wasn't a one-man team either, 2020 five-star forward Isaiah Todd had a big game as well. His jumper looked good and with his size and length he can be a real matchup nightmare facing the rim and causing teams to try and figure out whether to guard him with a wing who will be giving up height or a big man that will give up quickness.

Lewis told me that he has offers from Georgia Tech, Georgetown, Maryland, Texas Tech, Boston College, UNLV and St. John's among others and that he's been to both Maryland and Georgetown unofficially.
He doesn't have a date locked in just yet, but Lewis would like to check out West Virginia sometime in the next month.