Eric Bossi's Great American Shootout Blog: Saturday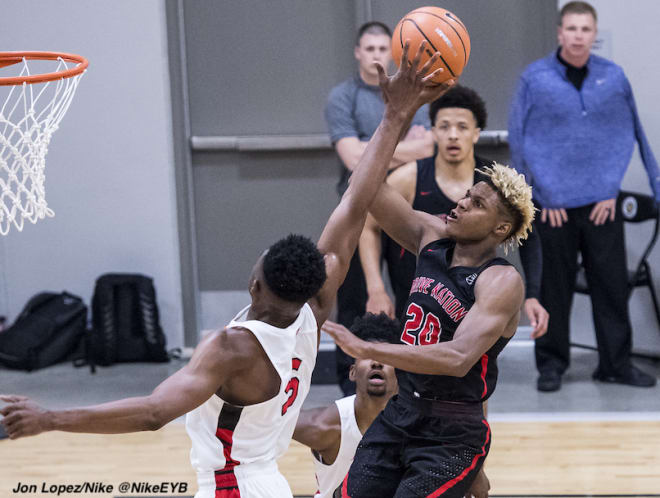 D.J. THORPE LOCKING IN VISITS
One of the most impressive players today has been three-star center D.J. Thorpe. His T.J. Ford Basketball team took two tough losses but Thorpe was quite productive in both.
A 6-foot-8 center who can step out and shoot to the three point line, Thorpe was also establishing and holding position before making tough finishes in traffic. He's got great hands, a good motor and has gotten much stronger over the last year.
Thorpe told me that he has already scheduled official visits to Kansas State (Bruce Weber watched) and TCU (assistant watching) and that he's close to locking one in with Texas A&M (Billy Kennedy watched) while Virginia has also offered and is coming on as an option.
Thorpe is definitely a kid whose name I will have to throw into the discussion when we meet after the summer to update the Rivals150.

DONOVAN WILLIAMS RECRUITMENT HAS BLOWN UP
I'm not sure anybody in the class of 2019 has seen their recruitment blow up like 6-foot-5 shooting guard Donovan Williams has.
In June, schools started to really pick up interest as Arizona State, Virginia Tech, Miami, Kansas State and DePaul joined Houston and SMU as programs to make offers. Then Williams tore up the Peach Jam and the avalanche of offers started.
"It started at the Peach Jam I got Texas, Oklahoma, Illinois, Texas A&M, Northwestern, Missouri and then Texas Tech offered me last night," Williams told Rivals.com. "It's showing me that all of my hard work in the fall and the winter and spring is paying off and that I'm on the right path."
Because the offers have come so fast, Williams is telling the truth when he says that he needs to finish up the month of July and then figure out his next step in regards to visits. On Saturday head coaches from Texas, Texas A&M, Kansas State and SMU watched while assistants from Arizona State, Arizona, Illinois, Oklahoma, Texas A&M, Missouri, Texas Tech, Miami and many more were in the crowd.

COBE WILLIAMS COMMANDS RESPECT
Every now and then, it's pretty easy to see that a matchup matters a little bit more to some than others. Watching point guard Cobe Williams of Dallas Showtyme Elite go out and lead his team to a win over the Houston Hoops, it was obvious that his effort level was turned up a little extra.
Last night, Williams earned his first offer from Texas Southern and he's out here at the Great American Shootout commanding respect. Not every coach will offer, not every media source will write about him but i can't imagine anybody watching him compete, get to the rim, make timely shots and lead is team not having respect for the way he plays the game.
Surely, more offers will be on the way and Williams said that he's heard from San Diego, North Dakota, SMU, Texas Tech, Oral Roberts, Northern Colorado and New Mexico State among others.

HEFNER LOOKING INTO AUGUST VISITS
6-foot-4 shooting guard Hayden Hefner can score in multiple ways. The 2020 prospect can get to the bucket where he's an athletic finisher and he's also a confident jump shooter. He had a nice outing today for the Houston Defenders 16U team.
Hefner told me that his most recent unofficial visit was to Rice a few weeks ago and that the Owls have now offered. Tulane is another recent offer and they join Houston, Oklahoma, Texas A&M and Incarnate Word as programs that have offered.
He hasn't locked in exact dates just yet, but Hefner said that he's spoken with both Texas A&M and Oklahoma about getting on campus during August.

RAMSEY AND TIMME HOLDING OFF ON SCHOOL LISTS FOR A LITTLE LONGER
Drive Nation's stacked EYBL team found themselves in a deep hole against a tough Urban ASAK squad in front of a huge crowd of coaches. That's when Jahmius Ramsey and Drew Timme came to the rescue.
Ramsey scored time and time again on drives to the hole while Timme used his size and skill to score at the rim. Timme ended up winning the game late on a drive in the waning seconds of overtime.
When I mention that the crowd of coaches was big it helps to paint the picture. I saw head coaches from Texas, SMU, Ohio State, Stephen F. Austin and Texas A&M along with assistants from Memphis, Oklahoma, Kansas State, Louisville, Colorado, Nebraska, Michigan, LSU, Butler, Oregon State, Purdue, Oklahoma State, Texas San Antonio, Colorado State, Baylor, Oral Roberts, Indiana, Arizona, TCU, Miami, UT Arlington and San Diego.
Both Timme and Ramsey said that they will be looking to cut their lists and set official visits after they finish their summers in Vegas next week.

2020 JAMAL SHEAD HAS BREAKOUT MOMENT
Three-star point guard Jamal Shead picked himself a nice time to go off for Urban ASAK. Playing against Drive Nation and all of their highly ranked players, the 2020 guard was the best player on the floor for much of the game.
Blessed with speed and quickness, Shead harnessed that to get to the rim when he wanted. He supplemented those drives with some nice pull-up jumpers. Currently, Shead has an offer from Texas State but he will have more coming in the near future.

PLENTY OF INTRIGUE WITH TEXAS IMPACT DUO
Texas Impact 4:13 has themselves a nice squad and two players in particular caught my eye. Point guard K.J. Cunningham and class of 2020 big man Jonathan Aku.
Cunningham is a solid and steady point who sets things up by getting the ball moving and then when it's time to score he can get to the rim or step back to hit a jump shot. He's got offers from Longwood, UMass-Lowell, UT Arlington and Air Force while others like Tulsa, Oral Roberts, Utah State, Old Dominion and Stephen F. Austin.
Then there is Aku. A native of Nigeria, he arrived in the States a bit over a year ago and is making a big impression as he learns the game. He's pushing 6-foot-10, can run the floor, has pretty good feet and plays with a motor. Because he's new to the game his offense is still a bit raw but he's got time to address all of that since he's a 2020 prospect. LSU, TCU, Tulane and UT Arlington have already offered and there will be many more coming soon.

CADE CUNNINGHAM IS THE MODEL OF EFFICIENCY
I would be hard pressed to find a much more sound and well rounded wing in the class of 2020 than Cade Cunningham.

The 6-foot-7 small forward got my day started off right as I watched him make the correct play time and time again. He shoots it when he should shoot it, hits open teammates when they are open, he plays defense and he rebounds. Most of all, he makes everybody around him better.
Cunningham told me that he took an unofficial visit to TCU in June and that Texas and Texas A&M (who both had head coaches watching on Saturday) along with Kansas and Oklahoma are trying to get him on campus for unofficial visits.
However, Cunningham isn't too caught up in visits or offers at the moment.
"Everybody knows that I am not announcing my offers anymore," said Cunningham. "I'm not focusing on that stuff right now and not getting caught up in all of it. You don't even know if all those offers will still be there when it comes time to decide anyway."
Playing alongside Cunningham, thin big man Montreal Pena is going to be one to keep a close eye on in 2020. He can really run the floor, he has good hands and he can play above the rim. He's picked up recent offers from TCU and UTEP and has seen North Texas, Oral Roberts, Baylor, Texas A&M, UT Arlington and Northern Colorado among other programs.