Eric Bossi's Summer Jam blog: Wednesday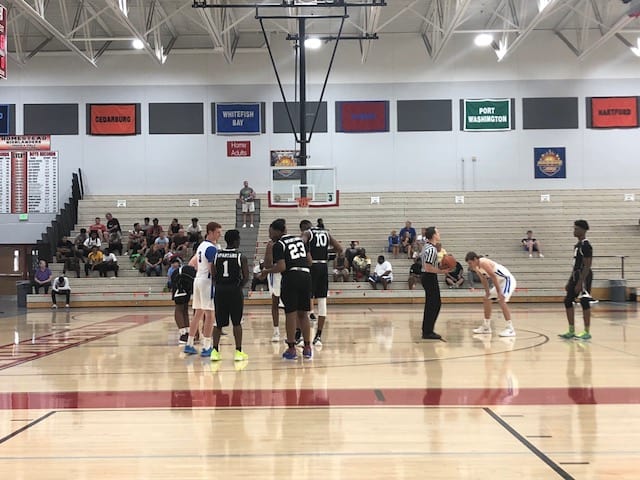 CLOSING NOTES FROM WEDNESDAY NIGHT
On Thursday I'll be turning over live blog duties to Corey Evans who is out in Southern California to cover a handful of events. But, I'll be in Wisconsin for two more days with plenty of coverage and before I close out Wednesday's blog I wanted to finish with a few scouting thoughts.
.... I'm glad that we moved Kahlil Whitney to five-star status during the update to our 2019 rankings at the beginning of the month. But, he could still go a little higher. No, there's no such thing as a sixth star or anything like that, but he could legitimately compete for the national top 15 by summer's end. The way he's raised his level of play since the end of the high school season is equal parts getting to be the main man and getting in the gym and working. His athleticism and strength remain his calling card, but his jumper and handle are improving. Illinois, Florida State, Oregon, Syracuse, St. John's, Oregon, Pittsburgh, LSU, Louisville and many others have been mentioned with him but Kentucky's John Calipari was in to see him on Wednesday night and I wouldn't be surprised to see Kansas look to get involved.
.... It would be tough to have a much better wing/combo forward combo on a 16U team than Milwaukee based Phenom University has in 2020 top 10 Jalen Johnson and potential top five 2021 Patrick Baldwin Jr. These two colts have size, they have skill, they have a great feel for the game and they seem to be all about team. Either could go and be the man demanding 20 shots a game but they play on a very good team and take turns making shots from deep (Baldwin) and doing a little bit of everything, especially passing in the case of Johnson. I've got two more days left at Summer Jam so I'm sure I'll get to them and their team more, but the hype you may have read about them is very much deserved at this point.

.... From what coaches and our very own Corey Evans told me, Zach Harvey had a very strong showing in Atlanta last week. He had another nice outing at Summer Jam on Wednesday. I looked up late in the second half of his KC Run GMC team's game with the New York Rens expecting GMC to be down at least 10-15 points and they were within one and it was thanks to Harvey. The 6-foot-4 guard was very aggressive driving the ball to the rim, set up teammates for jumpers and played with tremendous energy in a loss.

.... I'll finish with a couple of more guys from the New York Rens (scroll down through the blog and I discuss Lance Ware and Jonathan Kuminga). Kofi Cockburn hasn't yet cut his list down to 12, but it will be coming soon. In the meantime, he was downright dominant around the rim all night long. He's definitely a throwback to pre pace and space basketball, but it's hard not to find room at any program for a guy as massive and as increasingly skilled offensively as he is. Then there's 2020 four-star Ethan Morton. He doesn't fit the profile of your typical point guard because he's not super quick and he's pushing 6-foot-5, but his feel for the game and passing are certainly on par with that of a high level point guard. The tendency is to want to call him a shooting guard and he'll certainly play plenty of that in college due to his size, but he's an intriguing PG option.

HARLOND BEVERLY DRAWS A BIG CROWD
There aren't many guards in the Midwest -- though the Michigan native is headed to Montverde (Fla.) Academy for his senior year -- being more heavily recruited than Harlond Beverly of the REACH Legends. On Wednesday night, the slender four-star combo guard drew quite an impressive crowd.
Hanging out in the stands to see him play were Michigan State's Tom Izzo, Baylor's Scott Drew, Xavier's Travis Steele, Purdue's Matt Painter and assistant coaches from at least Missouri, Florida, Nebraska, Northwestern, Michigan and VCU, among others.
In a bit of a grind-it-out game, Beverly impressed with a few high-level awareness plays down the stretch and showed that he can play the one or the two. It's that versatility that has the coaches coming back.
Beverly told me that he felt like Baylor, Texas, Xavier, Michigan State and Florida were among those that he felt were doing a good job of making him a priority. However, he was also pretty clear that he's not yet made any kind of decisions about where he definitely wants to visit -- other than removing Ohio State, which would have received a visit had it not landed five-star D.J. Carton.
"I'm not going to make any decisions on official visits until I get down South," Beverly said. "I think I have to report to Montverde by, like, Aug. 14th and once I get down there we'll start to figure that all out."
IT WOULD BE WISE TO BUY STOCK IN TERRENCE SHANNON JR.
It doesn't take much of a trained eye to realize that top 75 wing Terrence Shannon Jr. of the Mac Irvin Fire is a legitimate high-major prospect. He's got a great motor, makes plays in transition and seems to expand his game each time out. But, the more I peel back the layers of how he got to be the player he is and how much room he has for growth, the more I feel big-time programs should be buying stock.
Consider this: Shannon is still only 17, even though he graduated in the spring. Because of his youth, he's headed to Woodstock Academy in Connecticut for a prep year. On top of being young and still maturing, this upcoming prep year will be Shannon's first ever as a full-time basketball player. Throughout his high school years in Chicago he played football as well, and he starred as a quarterback and wide receiver.
It all adds up to extreme upside, and if I were a betting man I'd bet on him being much better than he already is by this time next year.
During June, Shannon took an official visit to Florida State and enjoyed the experience.
"It went very well. The coaches showed me a really good time," Shannon said of the visit. "I liked the campus and everybody that I met down there, and it felt like a good place."
That leaves Shannon with four official visits left to use this year, and he's also seen Illinois, Louisville, DePaul and Loyola (Chicago) - and has offers from all of them, and others like Saint Louis, Wake Forest, Virginia Tech and Ole Miss.
Now that he can focus on basketball full time, Shannon is hoping to really take off.
"I feel like I have a lot of room to get better; a lot," Shannon said. "Now that I'm only going to be playing basketball I'll be able to really work on getting my dribbling and my jump shot where they need to be."

KUMINGA IS A BIG-TIMER IN 2021
When Rivals.com releases an initial ranking of the class of 2021 in late August or early September I supposed that it's possible we could get past five players without listing Jonathan Kuminga. But if we do those in front of him are going to have to be special prospects. He was sensational for the New York Rens on Wednesday night.

The 6-foot-7 combo forward from the Republic of Congo told me he won't turn 16 until October, and that makes him one of the most athletic players I have ever scouted who is too young to drive. Not only is he freakishly bouncy, he's wiry strong, tough, has post-up game, makes jumpers and plays with a killer mentality.
Kuminga told me that he has already seen St. John's, West Virginia and Xavier unofficially. After the Peach Jam he picked up offers from the Mountaineers, Maryland and Pittsburgh. I would expect him to end up with double-digit, new high-major offers before the end of the summer.

LANCE WARE RAISING LEVEL OF PLAY
In our rankings update earlier this month, Lance Ware made a nice jump. The bouncy and quick 6-foot-8 power forward is playing like he wants to try and make another move up the list.
Playing up on the New York Rens 17U team this week at Summer Jam, Ware has been great against KC Run GMC. He's attacked the glass, he's been aggressive to the rim and he's played with intensity on both ends of the floor.
Currently, Ware has high-major offers from Maryland, Seton Hall and Providence. Look for more to be on the way with this type of play.

KC RUN GMC AND NEW YORK RENS ATTRACT HUGE CROWD
One of the best parts about a non-shoe company event like the Summer Jam is that we get to see teams from different shoe companies matched up against each other. The current matchup between KC Run GMC of Under Armour's Association and the New York Rens of the Nike EYBL is a great one.
First, there's a ton of talent on the floor. We get a five-star big man matchup of KC's Jeremiah Robinson-Earl and the Rens Kofi Cockburn. Run GMC also has top 50 combo guard Zach Harvey, while the Rens also feature 2020 four-star wing Ethan Morton, 2020 four-star combo forward Lance Ware, 2020 four-star big man Kareem Reid and likely 2021 five-star to be wing Jonathan Kuminga. Unfortunately, five-star combo guard Jalen Lecque missed tonight's game.
No surprise here, but the college coaching crowd is thick. Arizona, Kansas, Kentucky, Purdue and Northern Kentucky have head coaches on hand. Among the schools that I've spotted assistants from are Cleveland State, Oregon, Florida State, Central Michigan, St. John's, Indiana, UCLA, Loyola (Chicago), Boise State, Creighton, Bradley, SIU-Edwardsville, Washington State, Iowa State, Missouri, Illinois, Colorado State, Wright State, South Dakota State, Marquette, Nebraska, Xavier, UConn, Minnesota, Rhode Island, Cincinnati, Butler, Florida, Pittsburgh, North Dakota, Georgetown and many, many more.

2021 MICHAEL FOSTER WILL TAKE HIS TIME BEFORE ANOTHER COMMITMENT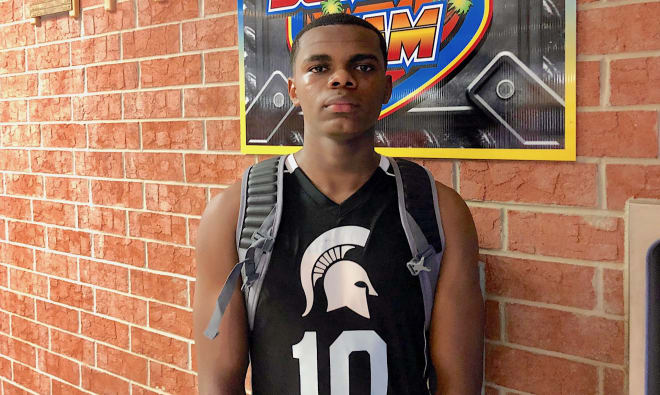 One of the very best rising sophomores in the country, 6-foot-8 forward Michael Foster, raised eyebrows during the winter when the then freshman from Milwaukee (Wisc.) Washington offered up a verbal commitment to Arizona State head coach Bobby Hurley.
The commitment didn't stick, however, because Foster realized he needed to take time to look at all of his options. But there were no hard feelings from Arizona State, and he still holds the Sun Devils in high regard.
"I feel like I'm a great player and everybody says that I have a bright future," Foster told Rivals.com. "I liked the way they coach and develop their players, so I thought that it would be good to go ahead and commit to Arizona State.
"After that, people told me that if I decommitted and took my time with things I would have many more options and that I have three years to look into everything. So I opened it back up, but I still really like them."
Since opening things up, plenty of programs have been looking to get in touch. LSU and Texas A&M have offered, and Arizona, Kansas, Kentucky, Purdue, Iowa, Wisconsin, Marquette and many others have reached out. Also, the Sun Devils remain an option.
For now, though, Foster is simply focusing on his game and trying to reach his vast potential.
"I can score and I'm a big body who has a lot of skill and potential," said Foster. "I play hard, I run the floor and I can rebound.
"I also want to get into the low post more and do my thing down there. Later, I want to work on my ball-handling and try to develop those point-forward skills."
POTENTIAL NO. 1 PLAYER IN 2021 KICKS THINGS OFF
I've got a chance to get things started off right as potential No. 1 in the class of 2021 Michael Foster takes the floor in his hometown for the Milwaukee Spartans against the Minnesota Comets.

A 6-foot-8 forward with athleticism, skill and range on his jump shot all the way out to the three-point line, Foster is one of two locals -- along with smooth-shooting Patrick Baldwin -- who has a chance to compete for the top spot when we introduce 2021 rankings.

Foster should get some extra help this weekend, as class of 2019 four-star wing Terry Armstrong (still traveling to Milwaukee) is expected to play with him this weekend.
Coaches are just starting to roll in but I've already spotted head coaches from Denver, Milwaukee and Utah State, along with assistants from Wisconsin, Xavier, Wake Forest, Mississippi State, Notre Dame, Illinois, Georgetown, Florida State, Northwestern, UMKC, North Dakota State, Wisconsin-Green Bay, Cleveland State, Valparaiso, Lehigh, Bradley, Holy Cross, South Dakota State, Butler, Colorado State, Boise State and several more.