Corey Evans' adidas Blog: Friday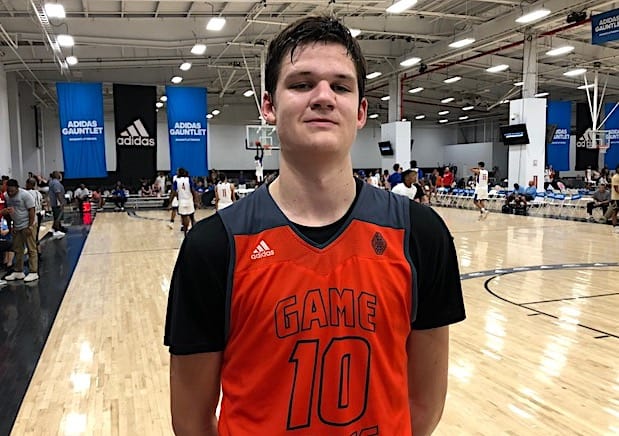 LADERA RANCH, CA. – Another full day of hoops is in session at the adidas Summer Championship on as the three stripes brand began bracket play on Friday. Follow along for all of the action and as Corey Evans is in southern California recapping the things throughout the day.
MORE BLOGS: Bossi from Summer Jam | Evans from Thursday's adidas Summer Championships
UNC SEEING GREEN?
It is a bit ominous that the nation's best sophomore, Jalen Green, fielded just one coach for his game on Friday evening. Whether the blue blood audience is still focused on completing its 2019 class, that they assume that Green is an automatic entry into the NBA Draft if the one-and-done rule is erased, or whatever else it might be, coming to terms with the lacking amount of coaches for his games this week does make one ponder the why factor.
Regardless, one staff that has been a constant for Green has been North Carolina. Wednesday evening, it was Roy Williams courtside and two days later, one of his assistants was on hand for Green.
Heading into the week, there were not many ties between UNC and Green. They had expressed interest but nothing past the we like you stage. However, the fact that the Tar Heels have remained a consistent presence while others have not is definitely worth keeping an eye on.
JANUARY ENTERS THE HIGH-MAJOR LANDSCAPE
The need for bigs that can run, jump, rebound, finish and defend will always be of a priority which makes someone like Antwan January that much more of a worthwhile target this summer.
January has made tremendous progressions within his game and with his body. He rebounded the ball in high amounts on Friday but also displayed the ability to score off of the face and rip and over his shoulder whenever a defender was between him and the basket.
Rightfully so, January has begun to see his recruitment take off. Texas A&M, Nevada and Ole Miss have offered in recent weeks, where Texas and Texas Tech have begun to show greater interest.
He told Rivals.com that he is hoping to pick up a few more offer in the coming weeks before narrowing things down in August where he will then schedule his first few official visits. I would expect for such hopes to come true as January looks the part of one of the better frontcourt prospects on the west coast who is playing his best ball yet.
WHO IS EMMANUEL KUAC?
Emmanuel Kuac has more than made a name for himself this week in southern California. A 6-foot-7 wing that doesn't know how not to compete, Kuac is a super intriguing prospect that could quickly emerge as a worthwhile target for the better programs nationally.
While he doesn't look to shoot it very much, a top asset in any high-major recruit nowadays, Kuac makes up for things via his motor, ball skills, athleticism and playmaking abilities as a point-wing type. He has a college ready frame and a tenacity about him that screams glue guy.
Those in the mix include Utah State, Idaho State, New Orleans and TCU. I would expect for plenty of others to pursue as his final weeks of travel ball play come to a close where Kuat looked the part of a Rivals150 prospect in California.
JAYDEN STONE BECOMES A HIGH-MAJOR TARGET
Jayden Stone has been one of the most talked about names during the second live period in southern California and rightfully so. The 6-foot-2 guard by way of Australia has a penchant for making shots within the confines of his team's half-court offense but has more than a solid feel for the game as a secondary playmaker. Add two and two together and what you have is a budding talent that is beginning to draw high-end scholarship offers.
Stone told Rivals.com that Kansas State, Iowa State, Creighton, Rice, Georgetown, Murray State and Auburn have all offered. ISU became the first to do so earlier this year with Murray State and Auburn recently joining the fray. However, Michigan and Purdue have also begun to show interest, two programs that have enjoyed showcasing shot makers during their own recent string of success.
While he is not a member of the Rivals150 just yet, expect for Stone to comfortably slide his way into the rankings next time around. The Aussie guard is not a sleeper any longer and I would expect for his recruitment to expand greatly once his junior summer comes to a close.
FAVORITES EMERGE FOR ANDERSON
Favorites are beginning to emerge within the recruitment of 2019 forward Luke Anderson. After taking an official visit to Xavier in the winter, the Musketeers' interest in Anderson has tapered off some since the coaching change in the 513 which has allowed for a few others to get a leg up in the competition for the Team Knight product.
Georgia, Iowa State and USF sit in fine spot with Anderson. The Bulldogs and the Cyclones will host Anderson for an official visit in September as each had an assistant coach on hand for his game on Friday afternoon. USF head coach Brian Gregory was also in attendance as they will more than likely have their own shot at wooing him during a 48-hour stay in Tampa.
What makes Anderson valuable? He is a mix and match forward that can make shots from each level on the floor, has a strong body in tow and is an underrated athlete at the basket. In up-tempo systems, Anderson excels greatest. Look for USF, Georgia and Iowa State to do their best to secure the early pledge of Anderson in the coming months.
PLAN IN PLACE FOR GUERRIER
Quincy Guerrier is a heavily coveted prospect; there is no way around it. He has been heavily followed this week in California by some of the biggest names in the sport. Why? Well, beyond the fact that he is a physical specimen that can shoot to beyond the 3-point line, defend three positions and score in the low post, Guerrier is going to take an unconventional approach to college. "I am going to enroll mid-year after the fall semester for college," he told Rivals.com. "Who is recruiting me right now is Syracuse, Oregon, NC State, Vanderbilt, Creighton, Illinois, Indiana and a bunch of other schools."
Guerrier already has a plan in place for the next step towards his college decision. "After the adidas Gauntlet I am going to narrow it down more. I had an unofficial visit to Syracuse last year but I haven't taken anything recently," he said. "After this week, I am going to cut down my list and set up my visits."
Throughout the week here in California, Dana Altman, Jim Boeheim, Dana Altman, Archie Miller and Greg McDermott are just a few of the head coaches that have been spotted closely watching Guerrier.
Look for a few visits to be set by the time August rolls around as one program will enroll a ready-made frontcourt contributor this winter.
THUNDER VERSUS LIGHTNING
One of the more intriguing match-ups of the weekend pitted Oscar Tshiebwe against James Wiseman. Tshiebwe, an absolute monster within the blocks that has an evolving skillset with his back facing the basket, was tremendous in the early going. He showed the ability rim run, finish the high pick and roll off of the lob and defensively, is a dominant presence as a shot changer and rebounder.
Wiseman, while it took some time to get going, was able to convert off of a handful of dump-offs and quick post-ups near the right block area. While he gave up over 25 pounds to the physically inclined Tshiebwe, it was nice to see Wiseman attempt to dig in within the low post region, present a target and attempt his patented hook shot over his right shoulder.
Tshiebwe has the explosiveness; Wiseman has the fluidity. Both are tremendous interior prospects in the 2019 class that could pick practically any place in America to attend college.
WVU and Kansas are the two to beat for Tshiebwe; for Wiseman, we all know the story as both John Calipari and Penny Hardaway remained a heavy presence at his games this week in southern California. Wherever they go, each will leave an immediate imprint on not just their league's title race, but potentially the national championship picture.
STANFORD HAS ITS PLAYMAKER
There has been much talk about the resurgence of talent in Palo Alto thanks to the enrollments of Oscar Da Silva, Kezie Okpala, Daejon Davis and Cormac Ryan. While each deserve their own praise and, as a collective group, could take the Cardinal to great heights in the coming years, we cannot sweep under the rug how big of a commitment it was in Tyrell Terry pledging to the program last month.
Terry has continued to wreak havoc as a half-court orchestrator this week as he is the definition of a facilitating agent that gets everyone on the floor into the right spots. He understands how to run an offense but his open floor passing skills might be even better and alongside such quality, rangy athletes at Stanford, Terry should thrive but also make everyone's live so much easier.
Da Silva, Okpala, Davis, Ryan and the rest of the crew are more than capable shot creators but whenever you have a tremendous playmaker alongside them in Terry, the efficiency numbers of Stanford's offense could soar, enabling for the Cardinal to get back to the NCAA Tournament for the first time since 2014.
GAME ELITE IS ELITE
The 16-under squad for Game Elite Gold is one of the best nationally thanks to a contingent of Rivals150 prospects that sit among the best in their respective 2020 class.
Corey Walker is the perfect combo forward that can create his own shot, play in the post but also defend three positions. His position within the top-third of his class' rankings is strongly intact.
Naseem Khaalid, already committed to Florida State, is a do-everything type at the lead guard spot that can defend, create and finish. He will be a good one for the Seminoles.
Brandon Harris is an emerging name that brings loads of versatility to the floor. Buy now. His recruitment is going to expand any day now.
Walker Kessler, yeah, there is not many better in the 2020 class than the big man out of Georgia. He is skilled, he has edges of toughness to him and he is an underrated athlete with a budding skillset.
Head coaches from Georgia, Georgia Tech, South Florida, and Baylor took in the elite group, as did assistants from Ole Miss, Florida State, Kansas State, Umass, Stanford and Memphis.