Summer Jam: Who has gotta have 'em?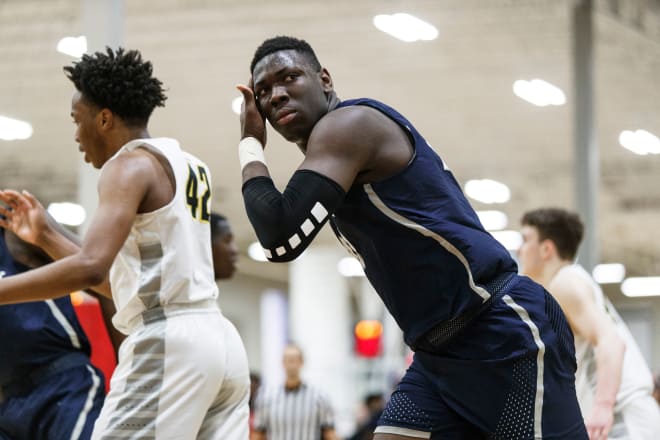 MEQUON, Wisc. -- The Summer Jam at Homestead High School has been loaded with talented players and coaches in hot pursuit of those players? But which players may be most important for one program or another to score with?
After two days in Wisconsin I decided to take a look at potential "must haves" and what makes them so. The chances of pulling any player off and my reasoning for why each guy qualifies as somebody that should be a priority varies, but it's another way look at how important these July live periods are to the success of any college program.

MORE SUMMER JAM: Kahlil Whitney | Bossi's Blog
Whose gotta have him? Kansas

Why? It doesn't take much in the way of mental gymnastics to understand why Robinson-Earl is such a vital recruit for Bill Self and the Jayhawks. Ties to the program, he's grown up just down the road from Lawrence, he played for Self in USA Basketball and he fits their style of play. Robinson-Earl hasn't taken a step in the month of July without the Kansas staff watching but he's going to make them work if they want to land him.

The competition: Arizona, Kansas State, North Carolina, Notre Dame, Oklahoma, Wake Forest, UCLA and others.

Whose gotta have him? Illinois

Why? The high scoring wing has been electric during the second live period and would be a true difference maker the second he touches foot on campus if Brad Underwood can land him. There is a strong relationship between Whitney and the Illini and they've devoted a lot of time and energy to land the five-star wing.

The competition: More and more, Kentucky is looking like a very real competitor with others like Oregon, Louisville, Syracuse, Virginia, Pittsburgh, Florida State, Georgetown and more providing competition.

Whose gotta have him? Georgetown

Why? This is one where I am going a little bit outside of the box. I haven't yet gotten a great feel for where Cockburn could be leaning but the idea of Patrick Ewing coaching a bruising, throwback big man makes sense to me. For Ewing and the Hoyas it would mean a win with an elite talent who had big time schools recruiting him and that could help open the door to serious consideration from other high level talent.

The competition: Kansas, Kentucky, St. John's, UConn, Oregon, Illinois, LSU, Florida State, Indiana, UCLA, Pittsburgh and many more.

Whose gotta have him? Creighton

Why? First of all, Harvey has been as good as any player that I have seen at the Summer Jam. He absolutely crushed it as a one on one creator and big playmaking guard for the last two days. Creighton has been there with him since day one and he could do big things there in a pretty wide open offensive style. He could eventually strike fear in the hearts of other BIg East coaches if they could land him.

The competition: Oklahoma, Ohio State, UCLA and others.

Whose gotta have him? Michigan State

Why? Tom Izzo has built one heckuva program and one heckuva a career on loading up his team with tough kids from the state of Michigan. Sure, Beverly is going away for his senior year and the skinny combo guard doesn't have that physical presence that you often see in a Tom Izzo guard, but he can play and he looks like a leader. Beverly has a personality that is such he could rally his teammates and fanbase.

The competition: Xavier, Florida, Texas, Baylor, Missouri and more.

Whose gotta have him? Purdue

Why? Well, first of all it doesn't seem like Newman has taken a step during the month of July without Matt Painter watching so it's quite clear that he (along Meanstreets teammate Armaan Franklin) is a guy that is coveted by Painter. So, to invest that kind of time in a guy and miss would be tough. But, Purdue needs to lock up a knockdown shooter and there are few in the class of 2019 who shoot it better from distance than Newman does.

The competition: Maryland and VIrginia Tech are his two newest offers while Kansas keeps looking. Indiana, Rhode Island, Xavier and DePaul are all in the mix as well.

Whose gotta have him? Missouri

Why? From the very first moment I met Cuonzo Martin several years ago while he was still an assistant at Purdue, he made it clear to me that he wants his guys to be tough. Jackson is tough as they come despite a relatively slender frame. He's been to campus and the Tigers are in heated battles for other combo forward targets like E.J. Liddell and Malik Hall. Ideally they could land any two of those guys, but getting at least one is imperative.

The competition: He's visited Oklahoma officially while Minnesota, Virginia Tech, Xavier and DePaul are among the others who have been prominent.

Whose gotta have him? Maryland

Why? With twins Makhi Mitchell and Makhel Mitchell already committed, Maryland doesn't have to have another big guy. But man, Walker would give them a totally different element because of his athleticism and ability to attack big men off the dribble. He's local and while he's not close to a finished product, he's got upside to become a fixture.

The competition: Minnesota, Kansas, Illinois, St. John's, Seton Hall, Rhode Island, VCU and others.

Whose gotta have him? Wisconsin

Why? Because why not? I get that the competition for Johnson is going to be filled with bluebloods, but luring him to Madison would be an absolute game changer. He's strong, he's tough, he's skilled and a pretty big message would be sent if he stayed home. I don't think anybody would give Wisconsin a tough time if he left the state, but if he stayed?

The competition: Arizona, Duke, Kansas, Kentucky, Marquette, Wake Forest, Illinois, LSU, UCLA, Arizona State, Florida and so many more. He will truly be able to go anywhere that he wants.

Whose gotta have him? Minnesota

Why? Minnesota hasn't had the best success in keeping true blue chip hoops prospects home and there hasn't been another homegrown player that Richard Pitino hasn't had more time to show love to. He can play the one or the two, he's tough as nails and Gophers fans would go wild if he stayed home. At the very least, they can't let him leave for another Big Ten program.

The competition: Baylor, Iowa State, Pittsburgh, Xavier, Marquette, Georgia Tech, UCLA, UNLV, Wake Forest and more.

Whose gotta have him? Pittsburgh

Why? Whether it has been as an assistant at Duke or a head coach at Oklahoma and VCU, Jeff Capel has proven to be a big time recruiter. He's already been very good at Pitt in putting together a nice 2018 class without much time to work with. Getting two years to work on a Pennsylvania kid who will be heavily recruited will be a big test. Morton's skill and passing could make him a huge part of what Capel wants to build.

The competition: Purdue, Indiana, Wisconsin, Oregon, Vanderbilt, Northwestern, Marquette, Stanford, Virginia, Ohio State, Penn State, West Virginia and many more to come.