Adidas Summer Championship: Zeke Nnaji becomes a priority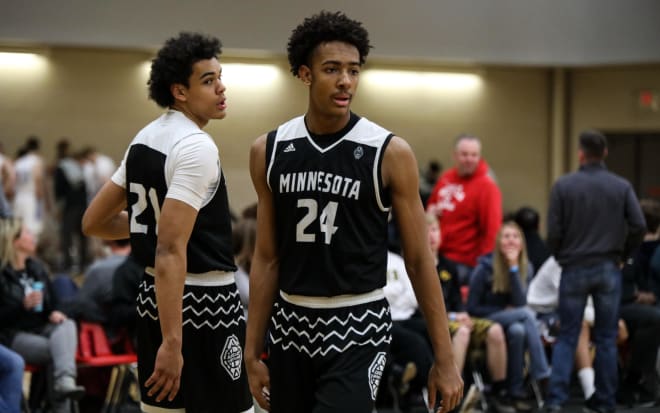 LADERA RANCH, Calif. – What a difference a year has made in the recruitment of Zeke Nnaji. The top-50 big man failed to sport one scholarship offer at this point last year; now, he has 20. The bluebloods are circling as the top Big Ten programs have placed a priority on Nnaji.
"It has been very humbling because every day, I have been working my butt off, just trying to prove myself to everyone," he said. "Now that I am starting to get some recognition, it is just great to see that all of my hard work is beginning to pay off."
Of the 20 scholarship offers, UCLA, Arizona, Minnesota, Wisconsin, Indiana and Ohio State sit as the programs in touch the most often, he told Rivals.com.
MORE ADIDAS SUMMER CHAMPIONSHIPS: Evans' Friday blog
SUMMER JAM: Bossi Awards | Which schools need which prospect the most? | Bossi's Blog
RANKINGS: 2018 Rivals150 | 2019 Rivals150 | 2020 Rivals150 | 2018 Team | 2018 Position
IN HIS OWN WORDS
Arizona: "Their development and success in getting guys to the next level. They have had so many great players and they have developed guys that some people have never heard of but have developed them and gotten them to the next level. I just think that they can really help my game. I know that I am not there yet but I know they can help me get stronger, help my knowledge and IQ, and also help me with my craft."
UCLA: "They have always been a great program. John Wooden and with so many of their offenses and their great history, that is just a school that everyone wants to go to."
Minnesota: "I have a lot of my guys that have committed there in Jarvis (Thomas), Gabe (Kalscheur) and Daniel (Oturu), they are just telling me how great it would be to have a team made up of all home guys."
Wisconsin: "They have always had a great history with big men with Frank Kaminski, Sam Dekker and a lot of those guys are successful at the next level and playing well. I think that they understand how to develop me, especially as a big man, since that is their specialty."
Indiana: "They like my versatility. I know I am not strong enough for the next level but that is something that I am working on every day and getting into the weight room."
Ohio State: "They really would like for me to play with DJ (Carton). To me, he is a really great player. I see a lot of him and talk with him. He is just a really great player and a very good passer. I think that we could play well together."
WHAT'S NEXT?
Nnaji will complete his final month of travel ball with the D1 Minnesota 17-under squad.
Thereafter, expect for a cut list to be published and a signing to occur in November.
"I will probably make a top 10 around mid-August, early September, or maybe a top five and then take some officials," he said. "By the time that my high school season starts, I want to be committed."
RIVALS' REACTION
Nnaji is a big man that has made great strides within his game over the past year and has a much higher ceiling compared to others found in the top third of the Rivals150. He can shoot, score in the post, rebound and defend in space, which makes him a valuable commodity for the top programs nationally.
UCLA and Arizona offer something a bit different compared with the rest of the Big Ten schools in pursuit, though OSU, Indiana, Minnesota and Wisconsin may have been recruiting him for a longer period and can offer the chance to play closer to his home base.