Anthony Edwards makes case for No. 1 at Under Armour Challenge
ANTHONY EDWARDS IN THE CONVERSATION FOR TOP 2020 RANKING
For the last two updates of the 2020 rankings on Rivals.com, we've had Jalen Green sitting at the top of the list. He's more than worthy of being there and is a terrific prospect in his own right. However, some of the performances from Anthony Edwards this weekend make me believe his jump from No. 11 to No. 6 overall may not have been enough of a jump.
Averaging 22.2 points per game this weekend, Edwards showed his freakish athleticism with some dunks that satisfy the mixtape guys, but when you look closer at his game, it's more than just the wow factor he brings. He has a very smooth jumper. He's a really good decision maker and a really good passer. Defensively, he can lock in and be as good anybody. And not to mention the fact that he's a physical specimen.
He had a number of head coaches peaking in on him this weekend. Georgia's Tom Crean was right behind his bench on Wednesday night for his first game. Tom Izzo was seen multiple times. Leonard Hamilton watched him Friday night, and the Seminoles have long been considered the leader for Edwards. Depending on how rules change with the NBA, there is always the possibility he never plays a college basketball game.
TOP COACHES FLOCK TO JOSH GREEN 
No prospect had a bigger crowd of coaches following him around this weekend than five-star shooting guard Josh Green. Granted, he has teammates on West Coast Elite who attract coaches too, but it was quite obvious who Roy Williams, Jay Wright and Sean Miller were keeping tabs on as they graced the sidelines during his games.
The No. 10 overall prospect didn't disappoint in front of some of the country's best coaches. The 6-foot-5 native of Australia brings tons of versatility to the table. He handles the ball, passes at a high level, and this weekend he was hitting shots. Defensively, he might be as good of a prospect as any wing in the entire class with his length, athleticism and great instincts.
Arizona, Florida, Kansas, Kentucky, North Carolina, USC and Villanova are among those in the mix for Green as he moves towards his senior year.
CLASS OF 2020 GUARDS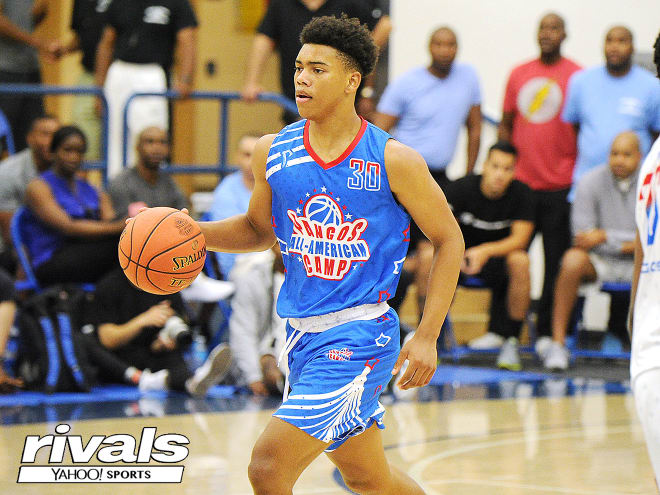 We already highlighted Anthony Edwards and his elite talent, but the Under Armour circuit is deep with really talented guards in the 2020 class, and they were all on top of their game this week.
In a head-to-head matchup with Edwards, Jaden Springer played right with him and led his team to an impressive win. Springer, while not as physically imposing as Edwards, locked down on him defensively and made all the right decisions offensively. He's as good a finisher as any guard in the country.
Coming off an injury from playing with Team USA, R.J. Hampton came back and had a productive week. With John Calipari and Will Wade courtside, the Texas native showed off his elite scoring prowess and made some really high-level passes. Likewise, Jalen Suggs put on a nice show in front of Roy Williams on Friday afternoon. If Under Armour can keep all these talented guards on its circuit, the travel season in 2019 will be really strong.
DONTAIE ALLEN EMERGES 
This will likely be a July to remember for Dontaie Allen when he looks back at his career years from now. He's become a prospect who - all by himself - can attract a long list of high-major coaches to the sidelines of his games after being lightly recruited until recently.
Allen, a 6-foot-6 wing, was the top scorer in the 17U division at the Under Armour Challenge and also finished in the top five in rebounds and assists. That tells you all you need to know about his game. He brings a little bit of everything to the table when he steps on the court. Florida offered this week as Mike White watched him closely. Allen, a Kentucky native, also had John Calipari keeping tabs on his progress, and word is the Wildcats could offer soon.
CHASE HUNTER BECOMING THE HUNTED 
Atlanta Xpress guard Chase Hunter received a couple high-major offers from Auburn and Mississippi State very early in his high school career, but his recruitment slowed over the past year. A flurry of offers came in April as well, but it's now that he's really becoming a highly coveted priority prospect for coaches at the top of college basketball.
Oklahoma's Lon Kruger watched him and offered this week. Michigan State's Tom Izzo watched him and put a phone call in. Tom Crean saw him go for 26 points on Wednesday night. Josh Pastner and several high-major assistants have tracked him this week as well.
Hunter, a 6-foot-3 guard, is one of the better athletes around, but it's his improving skill-set that has coaches intrigued. His jump shot is becoming more and more consistent. His ball handling is probably the area he's made the most progress. And defensively, he's the type of player who can defend multiple positions and take the other team's top player out of the game - or at least slow him down. He's definitely somebody who needs to be considered for the next Rivals150 update.