Peach Jam: Cole Anthony is up to the challenge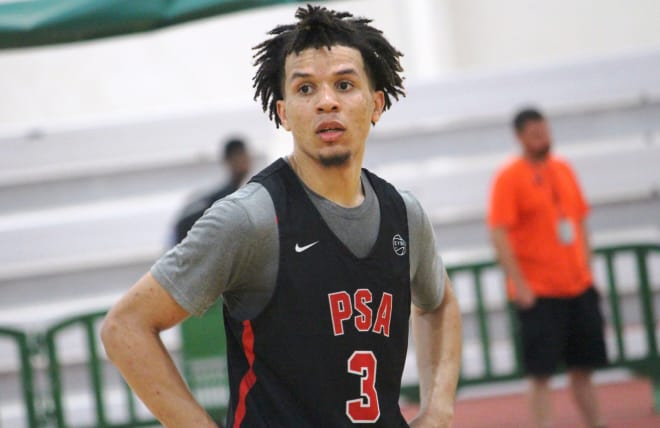 MORE PEACH JAM: E.J. Liddell sets first visit | Jalen Lecque shines
NORTH AUGUSTA, S.C. -- The top-ranked point guard and No. 2 ranked player overall in the class of 2019, Cole Anthony has never run from a challenge. In fact, he meets them head on.
As the son of an NBA player and a guy who has been ranked highly for some time, the 6-foot-2 floor general usually plays with a target on his back. This grassroots season and at the Peach Jam with the PSA Cardinals, things have only intensified as opponents have done anything that they can to throw him off his game.
"That's cool, do what you gotta do," said Anthony. "I'm going to go out there and play my game, get my teammates involved and do what I have to do to win the game. Forget the rankings, that's my goal.
"Teams are going to focus on me so it allows me to open my teammates up. My teammates have been playing well."
That his father Greg Anthony is a valuable resource isn't lost on the younger Anthony.
"My dad just has so much knowledge, he has a diploma in basketball," said Anthony. "He knows the game, has played the game and has lived me dream. Just being able to talk to him every single day and fee off his energy and feed off of some of his knowledge is a blessing."
Anthony has been pretty steadfast about not naming a list of schools and he politely declined again when asked on Friday although programs like Arizona, Duke, Georgetown, Kansas, Kentucky, Louisville, Michigan, North Carolina, Oregon, Pittsburgh, St. John's, Villanova, Wake Forest and several others are believed to be involved or trying to be.
However, Anthony did speak directly to whether he would be willing to play with a guy like five-star Kentucky commit Tyrese Maxey who he just played with on USA Basketball's 18U team. He also spoke briefly about Bill Self of Kansas who coached them on the team.
"That would be awesome," said Maxey of potentially playing with Maxey at Kentucky. "I really liked playing with Tyrese for the short time that we played together so that would be awesome."
As for Self and Kansas?
"I've talked to Bill Self a few times, I love the program," said Anthony. "He's obviously done a really good job, he's a Hall of Fame coach. I'm a fan, I'm a fan of his right now."
Most likely, Anthony is going to play his senior year at a new school and he's doing so because he wants to win a high school national championship. He also wants to do that in college.
"I want to be able to come in as a freshman and not just be on the team but impact the team and have a chance to win a National Championship as a freshman."
As for a decision, Anthony is in no rush and it's likely he won't decide before the spring of 2019. As for putting together a true list of schools, Anthony said that he'll probably get to that during August.
"Me and my dad will probably start to lock in after the summer quiets down a little bit. In mid August I'll be staying with him for a while. He lives in Florida so we will probably sit down and really start to talk about it."