Adidas Gauntlet Finale: Eric Bossi's Saturday takeaways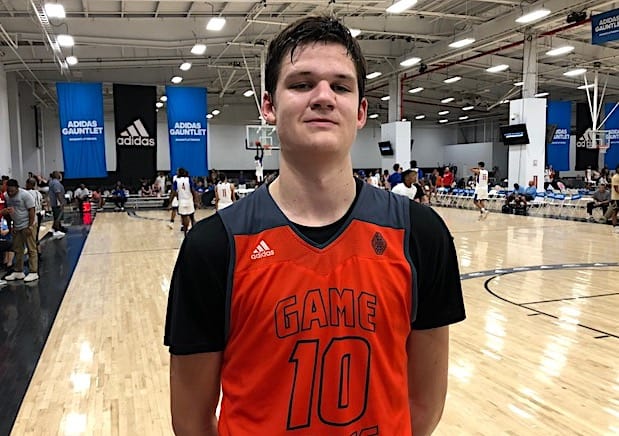 WALKER KESSLER IS A BIG-TIME TALENT
Without a doubt, the best prospect that I watched on Saturday was seven-footer Walker Kessler of the Game Elite 16U team.
He has it all. Kessler is skilled, can shoot with deep range, plays hard, rebounds and has plenty of athleticism to go with everything else. The only problem I had watching him play was that he wasn't getting the ball enough. He's too advanced and too good on the 16U level to not get a touch each time down the floor.
Kessler told me that Illinois, Memphis and St. John's have offered this week and that North Carolina is showing increased interest. Georgia, Vanderbilt, Wake Forest, Auburn, Stanford, Florida, Xavier and others have already offered. By the end of the summer, Kessler could push for the national top 10 in 2020.
Among the schools I spotted in attendance watching him Saturday night were Memphis, Illinois, St. John's, Georgia, Auburn, Florida and Xavier.

ANTHONY WALKER HAS BIG UPSIDE
Last week, 6-foot-8 forward Anthony Walker debuted in the 2019 Rivals150 at No. 147. He's making a strong case to rank somewhere in the top 100 the next time we update it.
Walker is a long and bouncy athlete who can really move from one end of the floor to the other. He's capable of playing above the rim and is a good rebounder, but what myself and many college coaches like about him is his ability as a face-up player. Walker handles the ball pretty well, shoots with range to the three-point line and looks very natural facing the basket on offense. He's still a little rough around the edges, but he is starting to get production that matches his potential.
Rhode Island, Arizona State, Maryland, VCU, Illinois, East Carolina, Virginia Tech and UMass were all watching him on Saturday, while Kansas' Bill Self, Virginia's Tony Bennett, Seton Hall's Kevin Willard and Nebraska's Tim Miles were among the head coaches watching him on Saturday.
JAYLIN WILLIAMS COMING ON STRONG, WILL CUT LIST SOON
Give it up for combo forward Jaylin Williams, who has really turned things up this summer. On Saturday, he did a little bit of everything for Game Elite Gold while scoring 17 points.
He's got superior body control, and while he's still somewhat slender he has a great body to work on and he's adding to his game each time out.
The real news here is that Williams is going to be cutting his list and looking to set up visits shortly after July. He hasn't yet announced any favorites, but if I were a betting man I would say that Arizona State, Auburn, Cincinnati, Florida, Georgetown and Louisville are the programs in the best shape. Each of them watched Williams in a win over the Las Vegas Knicks.

DWON ODOM'S SPEED IS A WEAPON
Dwon Odom has something that few other players in the country can match: extreme speed. Playing for the Atlanta Celtics, Odom showed that he's as fast from end to end with the ball as anybody else in the country, regardless of class.
That speed came in handy when he used it to race the length of the court in less than four seconds to draw a foul, make a free throw and avoid overtime in a one-point win over Dream Vision. Not only is Odom fast, he's extremely athletic around the rim and he plays with a lot of physical toughness.
Georgia, TCU, Mississippi State, Auburn and Xavier are among his early offers, and he's going to have more by the end of the month.

SEVERAL UNDERCLASSMEN STAND OUT
Last week, 6-foot-5 2020 point guard Dalen Terry made a big jump in the rankings. It was warranted, and I think his recruitment is about to go next level. He's too big, too skilled and has too much upside for more programs to not jump all over the Compton Magic 16Us point guard. Cal head coach Wyking Jones was on hand with an assistant, Arizona and Arizona State watched, and many more will be watching by the summer's end.
A top 100 player in the class of 2020, Zach Loveday is a mobile big man with lots of upside. He runs the floor extremely well, is laterally quick and he looks like he can score facing the rim all the way out to the three-point line. He does need to get stronger. Florida, Indiana and Xavier have all offered and had assistants watching. Purdue has offered, as well, and head coach Matt Painter was on hand and Virginia's Tony Bennett was among the others who were taking a look.
Coming off of.a strong showing for his home country of Puerto Rico during the Fiba 17U World Cup, Rivals150 point guard Andre Curbelo showed why he's picking up offers in a hurry. He's not the biggest point guard, but man is he clever, and he plays with an energy that is infectious and inspires the belief of his teammates. Florida and Illinois are his most recent offers, and the Gators' Mike White was on hand.

Class of 2021 point guard Khristian Lander of the EG10's 15U team looks like a no-brainer high-major target. Standing around 6-foot-1, Lander has blazing speed, quickness and a tremendous level of skill and feel for such a young point guard. Purdue's Matt Painter, along with assistants from Iowa, Notre Dame, Indiana and many others were watching.
Another impressive Hoosier State prospect from the class of 2021, 6-foot-7 forward Trey Kaufman of the Louisville Magic, looks like he may have high-major potential himself. He's patient in the post, has touch, can make mid-range jumpers and has the type of frame and body type that will carry muscle without costing him athleticism as he gets older.
Finally, Michael Foster is too good to be playing at the 15U level. A legitimate contender for the top spot in 2021's initial rankings later on this summer, Foster almost looked bored playing against his peers. At that age level, he can do pretty much whatever he wants, whenever he wants and he knows it. He can shoot with range, he can dominate the glass, he can handle and score in transition and plenty more. That kind of talent and overmatched competition isn't always a great mix. I'd love to see him play up a level to give him more of a challenge and to see if he ups his energy and competitive spirit against older players.