What I liked: Eric Bossi from Sunday's Magic Memorial Day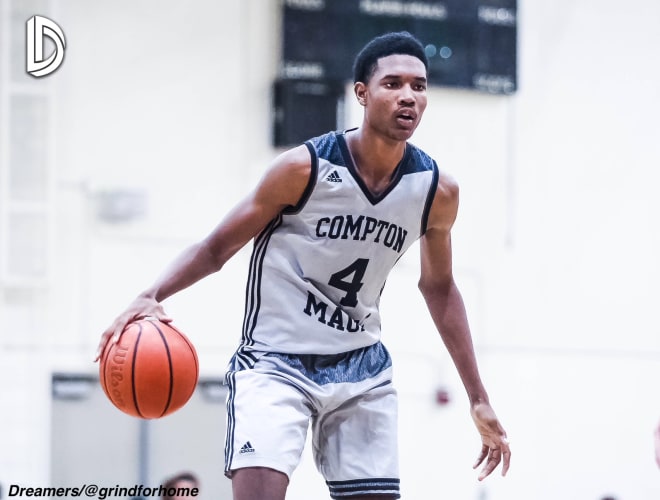 ORANGE, Calif. – The Magic Memorial Day event on the campus of Orange (Calif.) Lutheran High was loaded with high-level talent from out West. Here's what I liked from my Sunday in Southern California ...
... THE UPWARD MOBILITY OF EVAN MOBLEY
I've already written plenty about Evan Mobley this spring but he deserves some more mention. Already ranked No. 12 in the class of 2020, Mobley is deserving of consideration for the national top five in his class.
When it's all said and done, that might be a bit too conservative.
Back in the fall, I saw Mobley and thought to myself that he was right on the verge of developing into a truly elite prospect. The strides he has made in nine months make him a no brainer big-time prospect. He's pushing 7-foot, he can run, he has great hands, he's a skilled scorer and he's developing into a rim protector. I was still pretty new to the business when I first evaluated Chris Bosh years ago, but Mobley is starting to remind me of what I remember Bosh looking like at the same age.
His older brother, Isaiah Mobley, is no slouch either and already announced his commitment to USC, where their father is an assistant coach. It's only a matter of time before Mobley commits and the only fly in the ointment could be the NBA allowing high schoolers to enter the draft in 2020. Because if that happens, Mobley is looking like he will be a legitimate candidate to go straight to the NBA.

... MAX AGBONKPOLO AS SOMEBODY BIG TIMERS SHOULD PRIORITIZE
Barring something drastic happening between now and the next 2019 rankings update in June, wing Max Agbonkpolo is going to be making a significant climb and he's one of the best prospects on the West Coast. He's starting to become a priority for high level programs in his region, he needs to be a priority for teams from across the country.
Every bit of 6-foot-7 and maybe even a bit bigger, Agbonkpolo has high level skill, is a fluid athlete and is one of the better passers in the country. His upside as he grows into his body is significant.
Texas and Virginia are out of region teams who have jumped in and Agbonkpolo has been on the campuses of Arizona, San Diego, San Diego State and USC. He mentioned Washington and Arizona State as a pair of Pac 12 schools he would like to see along with Texas and Virginia.

... THE ABILITY OF BOTH GACH TO CONTRIBUTE AS A LATE PICKUP
Down to a final three of San Diego State, Texas Tech and Utah, 6-foot-7 wing Both Gach has a chance to be a very quality late 2018 pickup.
Normally at this time of year, programs are reaching for talent but Gach looked like a legitimate high major prospect on Sunday. He can really handle the ball and creates scores and open passes via the dribble. He has quickness, he can shoot and he plays with a good motor.
He is a bit older than most of the competition that he was playing against so that has to be factored in a bit, but he's one of the few guys left who looks like he could play good minutes early.

... DALEN TERRY'S POTENTIAL AS A BIG POINT GUARD
Dalen Terry still has a lot of physical maturing to do and he will have to continue to work on running a team, but I like his long-term potential as a big point guard.
At 6-foot-5 Terry handles the ball well, has very good vision and defensively he seems fine sticking with smaller, and sometimes quicker, guards. He can score it a bit too and because of that he's a versatile prospect with big upside.
UNLV, California, Grand Canyon, Utah and USC have already offered and Terry has been on campus at Grand Canyon and Arizona State.

... THE EDGE OF DRAKE LONDON
He didn't even play his best when I saw him on Sunday, but the physical edge that 2019 guard Drake London plays with is impressive and will help him when he gets to college.
Of course, it's not surprising that he's looking for contact considering that he's also a high level football prospect.
London said that he's leaning heavily toward trying to play both football and basketball in college and he's looking for a program open to that. He'll fit in a visit to Virginia around his trip to the NBPA Top 100 Camp in June.

... AND A LITTLE BIT OF A LOT OF OTHER THINGS
... The Las Vegas Knicks were fun to watch on Sunday. They got off to a slow start in the morning and made a furious rally fueled by lots of interchangeable athletes who were playing as hard as they could and really selling out. Three-star guards Sedrick Hammond and Nick Blake were a big part of it. Hammond is athletic, has good size and can play the one or the two while Blake can heat up from deep or finish above the rim in traffic. The guy who really caught my eye, though, was big man Orlando Robinson. He's picked up a ton of high major attention recently and while he's got some work to do in the weight room and with offensive polish, he is a very good defender and rebounder. He's 6-foot-9, long and has good instincts as a rim protector. He's going to get watched closely in July.
... From the class of 2020, four-man Coleman Hawkins looks like a potential Pac-12 player. At 6-foot-8 with good skill and a body to grow into, most impressive is Hawkins ability to stretch defenses as a jump shooter.
... Finally, I'll finish with a couple of 2019 guards who have good upside. From Arizona, Jalen Williams is 6-foot-3 with long arms, a good jump shot and a nice feel for the game. He's still growing and is going to be an interesting guy for upper end mid-majors to high majors to track in July. From Long Beach, Giordan Williams is a bouncy 6-foot-2 point guard with a good looking jump shot and a great motor. He looked like an easy call for Mountain West and West Coast Conference teams and if what he showed on Sunday translates in July then his recruitment should take off. When you have his ability to shift to an extra gear and stick an open jumper, you have a lot of value.