Top 35 junior Jahmius Ramsey is as tough as they come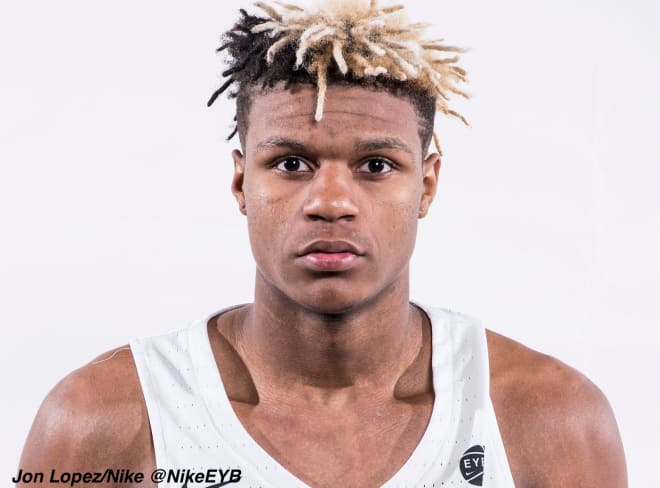 Not many players in the class of 2019 - or any high school class for that matter - play with as much physicality and toughness as top 35 guard Jahmius Ramsey.
A 6-foot-4 combo guard from the Dallas area, who plays his high school ball at Bradenton (Fla.) IMG Academy, has been stellar in the Nike EYBL with Dallas-based Drive Nation.

Offers have flooded in from Florida, Indiana, Louisville, Virginia Tech, Oklahoma, Oregon, Baylor, Texas A&M, Illinois, Virginia, Kansas State and many others for Ramsey. He is as tough as they come, and reminds me of a former five-star from the same area: Marcus Smart.

"I've heard that comparison before and I've also heard (Russell) Westbrook, because I choose one way and go finish," Ramsey told Rivals.com. "That's who I would say I play like as well. Maybe not as aggressive with yelling. But one way, go and finish."
MORE: Rutgers lands Rivals150 guard Paul Mulcahy | RaeQuan Battle making a name for himself | Four-star Elias King commits to Xavier
Two of Ramsey's most recent offers were Indiana and Louisville. Both offered after seeing him in April.

"Indiana, they offered about two weeks ago," said Ramsey. "They want me to come in and have an immediate impact. Especially after Romeo Langford leaves.
"(Louisville's) Chris Mack, make that coach Mack, had been recruiting me at Xavier. So I already have a relationship built up with him."
Prior to new schools getting involved, Ramsey said there are a few others who have caught his eye with their persistence.

"Virginia Tech, Florida, Texas A&M, Baylor - those were the main ones making me a priority," said Ramsey. "I've been to Texas A&M. It was good. I've been there three times, Baylor twice and Virginia Tech once. I like Baylor, I like their colors. I like the way they play, everything they have. It's all good.
"(Virginia Tech) Coach Buzz (Williams) is amazing. It's bigger than basketball with him, it always is."
Ramsey doesn't have any immediate plans to cut his list or take a list. Look for that to happen some time at the end of the summer.