Ondigo emerges as one of last quality big men available for 2017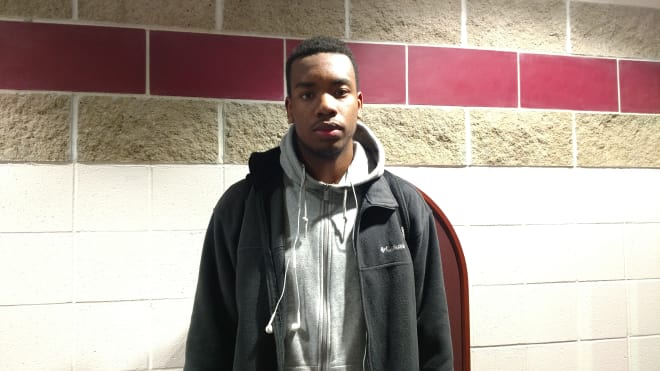 The Putnam (Conn.) Science Academy basketball program was thrown into the spotlight last month thanks to the variety of options allotted to its star guard, Hamidou Diallo. Now that the five-star has enrolled at Kentucky, talent still remains within the program, as three-star Malik Ondigo has showcased during his final year of prep basketball this winter.
A native of Arizona, Ondigo has shown major progress this winter as a productive, half-court big man that can also do many things for his team on the defensive end. While many programs, including Memphis, Texas Tech, Washington State and several others continue to pursue, the 6-foot-9 center's progressions have made him one of the top available big men left on the board.
IN HIS OWN WORDS
Putnam discussed his improved play and his recruitment at the National Prep School Invitational over the weekend.
"It is a lot of work. It wasn't me not being able to do certain things, but more about getting more confident and playing hard."
"Texas Tech, Memphis follows me every weekend, Colorado and a lot of others.
"I am completely open. Last weekend, I picked up two more offers from Minnesota and DePaul, so things change every week. The more looks I keep getting, the more I will put things off much more. By the time the end of the season happens and more coaching changes and firings happen, we will have a better feel for everything."
WHAT'S NEXT
Look for the attention directed towards Ondigo's way to remain on the uptick thanks to the two-way abilities out of the Putnam Science Academy product and the dearth of quality big men still available. When it does come to a timetable for a decision, expect for things to heat up near the springtime. "We are waiting until I go back home in March to talk it over with my family, but I will be a late signee in April," Ondigo said.
RIVALS REACTION
Ondigo began his final year of prep basketball with a decent amount of suitors, but the attention wasn't up to par. Now, the 6-foot-9 center has shown that he can score with efficiency from 15-feet and in while protecting his basket on the other end of the court. As he had stated, Memphis, Texas Tech and Colorado look to have put in the most time for him, but thanks to the recent offers from Pitt, Minnesota and DePaul, things could greatly change in the weeks ahead.