Las Vegas: The Bossi Awards
LAS VEGAS -- July's three live periods have come and gone and after a five-day trip to Las Vegas, national basketball analyst Eric Bossi hands out his final set of event awards for the summer.
MORE VEGAS: Bossi's Blog | Whitney emerges | Evans' notebook
THE MAGIC MEN - Compton Magic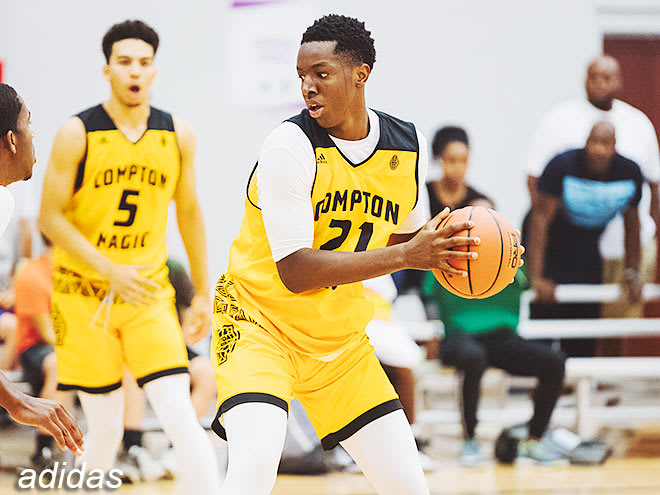 Pretty much all of the eyes in the high school basketball world were glued to the Fab 48 on Wednesday night where Team Takeover and the Compton Magic, the summer's two best teams, faced off in a battle of grassroots hoops Titans. It took overtime before the Magic could emerge victorious, but with that win they earn the right to be called the team of the summer.

Anchored by their impressive front line of USC bound 2019 forward Onyeka Okongwu and Isaiah Mobley, along with Mobley's younger brother Evan Mobley, who ranks No. 3 overall in the class of 2020, the Magic were able to fend off Takeover's combination of size and swarming guards. It was a game that lived up to considerable hype and I imagine it would have been one heck of a seven-game series. But, it doesn't work out that way in summer basketball and the Magic made the most of their one shot to claim ultimate club team bragging rights for the summer of 2018.
THE NATURAL - Jalen Green
The No. 1 player in the class of 2020, shooting guard Jalen Green makes things look as easy on the offensive end as any player I have ever seen in nearly 20 years in the business. Don't get me wrong, you can't get to his level without putting in some serious work, but his fluidity, extreme athleticism and the way he seems to make things up on the fly make him a natural scoring machine. Nobody goes to their (off) left hand better than Green does and it's absurd how easy he makes his sky-walking, spinning and high-scoring act look.
IN YOUR FACE - Anthony Edwards
Currently ranked No. 6 in 2020, Anthony Edwards is doing his best to challenge Green for that No. 1 spot and even if he doesn't overtake Green, there's no question he's moving up. An elite scorer himself, Edwards is more of the in-your-face, get physical and get nasty type of wing scorer. Sure he's got skill and he can make jumpers with the best of them, but the ferocity with which he turns corners, attacks the rim and plays right in the face of his opponents gives him a style that is uniquely his own.
STOCK BOOSTER - Tyrell Jones
An unranked three-star prospect headed into the final live period, Tyrell Jones will absolutely be ranked in the next edition of 2019 rankings. The point guard has maybe the most appropriate nickname, Turbo, of any player in the senior class because he can turn on the jets and plays with a level of speed that puts him in a class by himself. Jones can also lock you up defensively and is a dangerous jump shooter with range. He racked up double digit offers during the month of July with the latest coming from Louisville, Georgia and Minnesota due to his play in Las Vegas with the Showtime Ballers.
THE HIGH-LOW - Ziaire Williams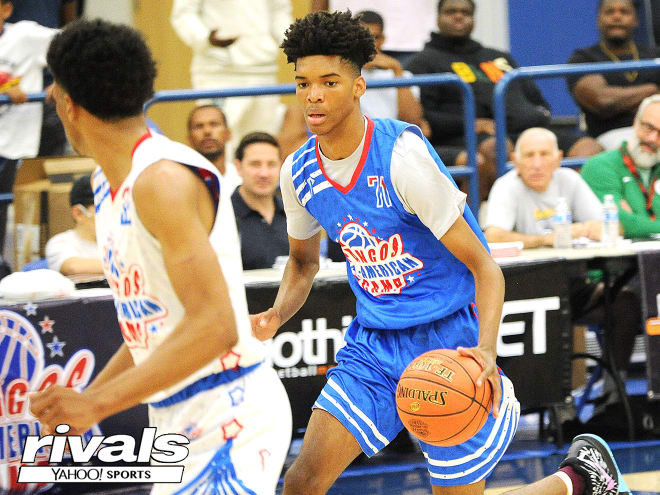 The High/Low award goes to the guy who is ranked highly but is still a bit too low. I can't think of a better way to describe 2020 small forward Ziaire Williams of BTI Select. Williams has always had size and skill and teased with upside, but in Las Vegas he figured out how to put it all together on a consistent basis and the results were scary.

In one 15-second stretch he hit a defender with a hesitation dribble and floater on the break, raced back down the floor to block a shot, get the rebound and then pushed the ball to find a teammate for a layup with a pretty no-look pass. The next time he touched the ball? Splashes home a deep three-pointer. There simply aren't many 6-foot-7 16-year-olds who can do that because well, they shouldn't be able to.
TEAM MVP - Ricky Lindo
There was a lot of talk about the Compton Magic and Team Takeover and for good reason, they were awesome in any event that they played in all spring and summer. But, let's not short shrift what DC Premier did to end the summer. Premier won the Under Armour Finals and the Fab 48 in Las Vegas, capping off what has been a dominant three-year run for their group of 2019 prospects.

I was able to watch them in the title games of each event they won and there is no way they could have done it without a major effort from combo forward Ricky Lindo. Currently an unranked three-star, he showed me that he's a winner and when it was all on the line he did all of the little things plus scored. If I'm a high-major looking for a guy with intangibles, I'd be thinking a lot harder about a guy like Lindo after the way he ended the summer.
THE BIG SMOOTH - Samuell Williamson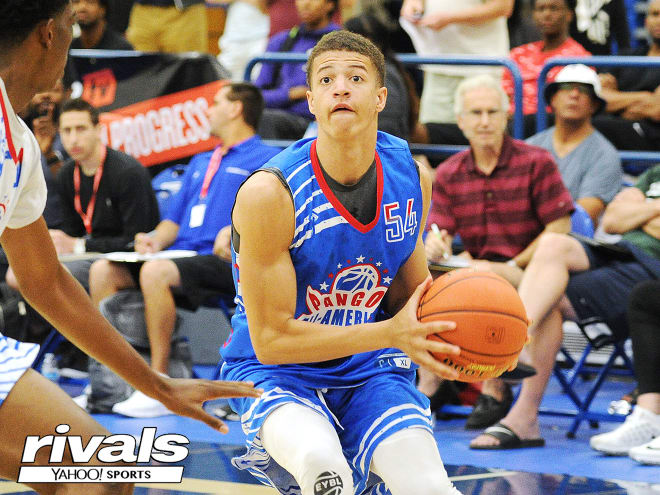 Does anybody in high school basketball make things look easier on the offensive end than Samuell Williamson? There are plenty who can come close, but few who look as polished as Williamson does. I know that he doesn't always put up huge numbers and part of that is playing for a loaded Drive Nation team and part of it is that he has a game that is set up to excel on the higher levels of basketball. He's a mid-range killer, has deep range and is a tall wing who is going to be a deadly post up scorer when it is all said and done.
STILL THE ONE - Vernon Carey Jr.
Nothing has been decided about who will emerge from the summer as the No. 1 player in the class of 2019. James Wiseman certainly made his case during a head-to-head matchup with current No. 1 Vernon Carey Jr. at the Peach Jam and No. 2 Cole Anthony finished his summer the way he started it, as the most productive all-around player in the country.

But, Carey made sure to leave his mark on Las Vegas and made a strong case to remain in the top spot. Making a first ever appearance with Each 1 Teach 1 (after playing the last few years with Nike Team Florida) Carey put on a display of skill and power that is hard to match. He looked like a better version of Wendell Carter and having trimmed up some during the summer, Carey finished things up by taking his game to a new level.
WEST COAST WAKE-UP CALL - Daishen Nix
Just a couple of weeks ago we stuck 2020 point guard Daishen Nix into our 2020 rankings as a four-star prospect. He made us look good for that decision with his play for Simply Fundamental. A native of Anchorage who now calls Las Vegas home, Nix showed a tremendous combination of skill, size and feel for the game.

Want him to score? He can do that. Want him to run your team? He does that as well. He also does something that always stood out to me from guys like Kendall Marshall and Lonzo Ball in the past, he advances the ball via the pass rather than dribbling the life out of it. If he isn't a West Coast priority after the way he played in Vegas – and credit to Washington, UNLV and Grand Canyon for offering – then I don't know what it will take.
LATE KICK - Al-Amir Dawes
Credit Al-Amir Dawes for finishing things out strong. Grassroots basketball is definitely a marathon and he had a strong kick that allowed him to chase down some of the competition and finish things strong for the New Jersey Playaz. He's a scorer who has learned to elevate the play of those around him and I don't think it's any coincidence that the raise in the level of his play coincided with his teammates playing at levels they hadn't played at during April or May.
WARRIOR LIFE - Chris Moore
I can promise you two things about 2020 forward Chris Moore of Arkansas-based Woodz Elite. He will no longer be on the outside of the rankings looking in when we update them. I'm not going to spend time worrying about whether he's a power forward or a wing because he's a dude. And, pound for pound, he is as tough as any player in America, regardless of class. I guess that's actually three things, but you get my point. All Moore does is impact winning games for his teammates and in an era of positionless basketball, it's more about putting him on the floor and letting him produce than worrying about labeling him. The guy is tough, the guy is about winning and he's the type of kid you want in the trenches with you.