Las Vegas Sunday: Whitney shows strengths, Midwest prospects emege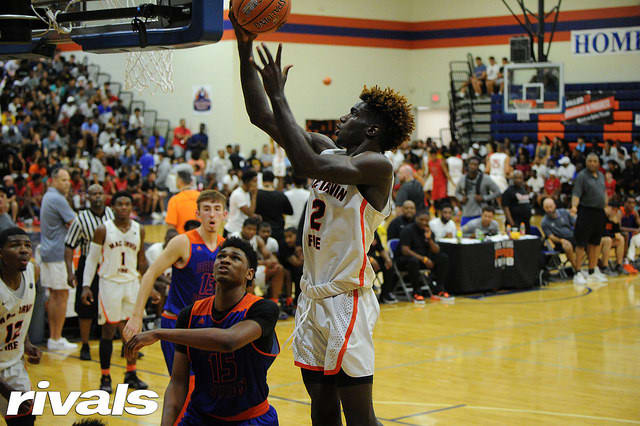 LAS VEGAS – The final day of the travel season, fireworks were not in short supply. A few sleepers out of the Midwest emerged but it was the play of Kahlil Whitney that stole the show on Sunday in Las Vegas.
MORE VEGAS: Bossi's Blog | Evans' notebook
IS WHITNEY THE BIGGEST ALPHA OF THEM ALL?
There may be better long-term prospects in the 2019 class and even that is up for debate but, whatever the case, there might not be a bigger 'dog' in high school ball than Kahlil Whitney.
He has been one of the better breakout performers of the travel season as he began things as a solid four-star prospect hovering around the middle of the Rivals150. Over the past four months, Whitney has put it all together, creating a cornucopia of athleticism, ferocity, toughness, ball skills and an evolving perimeter jumper. Add it all up and what you have is one of the best two-way wing prospects in America.
While Whitney is a more than strong producer on the playing floor, it is his hard-nosed mentality, grit, and alpha-dog mindset that really sets him apart. He is headed to Kentucky on August 3 for an official visit and there is a thought that his recruitment could end before he returns to his native Chicago. Illinois and Louisville are heavily in contention but wherever he might land, someone is going to pick up a day one leader in the locker room that will not be afraid of the biggest of platforms.
A LATE YEAR ADD FOR THE POWER RUNG
Settling in for an 8am contest featuring the Kingdom Hoops program, I was joined by a handful of assistant coaches from Minnesota, Kansas State, Wofford, Loyola Chicago, Siena and Marist. A team that has good talent for the various levels within the division-1 level, Minnesota and Kansas State came to see potentially their last piece of its 2018-2019 roster, that being Nathan Johnson.
A 6-foot-7 senior that could enroll in college next month, Johnson is someone that can play either forward position. Known primarily for his shooting skills, he can do more than just that as he brought a heady approach to the frontcourt. He can attack the closeout, move the ball efficiently within the half-court and put it on the floor before scoring off of the straight-line drive attack.
Currently, Johnson is planning on attending Hargrave Military Academy in the fall for a prep year. He could play things out a little longer to see if a power conference program is willing to jump in with an offer. Minnesota, Kansas State and Boston College are just a few keeping an eye on him as he could ultimately develop into a floor stretching forward for this coming season.
NEWS & NOTES
Washington has a sneaky one with RaeQuan Battle. He entered the travel season back in April with a limited recruitment and after a few solid sessions on the Nike EYBL circuit, Mike Hopkins made it a point to lock up the local product before his recruitment go too far out of hand. This week in Las Vegas, I have heard from a number of coaches remark with how impressed they have been with Battle's projections for the next level. He is a shot making wing with sneaky athleticism where he should become another quality long-term piece in Seattle.
Marcus Domask has begun to pick up scholarship offers as things are now up to 11 in all and he might have the chance to add a handful of newer ones in the coming days. The headliner for the Ray Allen Select 17-under team, Domask is a tough and smart off-guard that can shoot, pass, and defend. Following his team's win on Sunday, he told Rivals.com that Bucknell, Milwaukee and Green Bay have been recruiting him for the longest and that he will visit Wright State, Indiana State, and Akron next month. I would not be surprised to see some of the higher levels and even those within the Big 10 give a sniff.
Jaden Shackelford continues to cement his standing as one of the top shooters in America. He has hearing heavily from Georgetown, Pepperdine, UNLV and Kansas State, as each staff has watched him over the past two days as Lorenzo Romar brought his entire staff to see him in his final travel ball contest. However, following his team's win from the night before, Alabama placed their first phone call into him. The Tide need a premier shooter, as do many others, a reason why I see a slew of power conference programs jumping into the mix for rising senior.
Making the switch to the PSA Cardinals' program, AJ Hoggard, a member of the 2020 class, has steadily seen his recruitment improve. Such schools as Wake Forest, UConn, Temple and La Salle have already offered but he told Rivals.com that the new staff at Ole Miss has done the best of late in recruiting him. A member of the 2020 Rivals150, Hoggard also said that there is a chance that he could reclassify into the 2019 class, though making such a decision remains far down the road.
Arguably one of the top two or three standouts of the week in Vegas, Lester Quinones was tremendous once again on Sunday. The 6-foot-5 wing is the embodiment of a competitive shot maker that should see his game translate flawlessly to the highest level in college. Arizona decided to jump in with an offer for the top-65 prospect on Sunday morning as he was watched closely by assistants from St. John's, UConn, Pitt, Maryland and Seton Hall throughout his two contests at the Fab 48 event.
Maryland has a really good one headed its way with top-50 center Makhi Mitchell. The rising senior was tremendous all weekend long and while many of his contemporaries were slowing down to due fatigue and exhaustion, Mitchell was just getting started thanks to his much more refined physique. He first led his DC Premier unit to the Under Armour Finals championship before capping his travel ball career with the Fab 48 title. He also won the MVP trophy at the latter event as he looked the part of a day one producer and capable starter for Mark Turgeon's program beginning in the fall of 2019.