Las Vegas Saturday: Ramsey to wait, a new star arises in Akron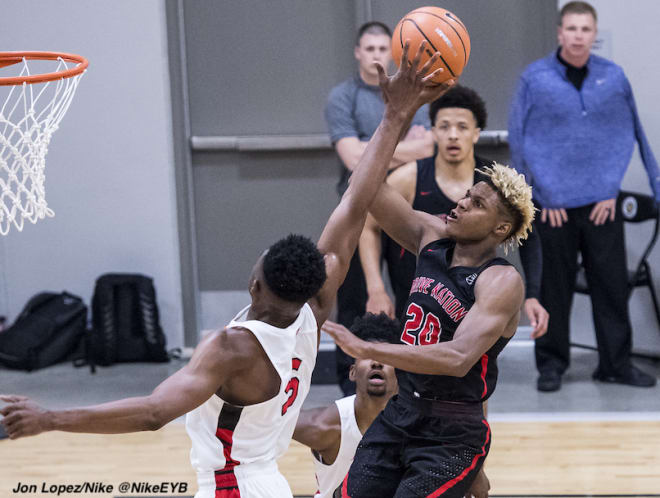 LAS VEGAS – The final full day of travel basketball season was one final chance for the rising senior class to impress the college coaching audience with their play. On Saturday, Jahmius Ramsey detailed his timetable for a decision, Cade Cunningham proved his value as a five-star recruit, and magic may be striking twice in Akron.
MORE VEGAS SATURDAY: Bossi's Blog | Johnson down to six
RAMSEY TO WAIT
One of the top two-way players in all of high school basketball, Jahmius Ramsey leads one of the more open-ended recruitments. He has been a priority for a number of the local SEC and Big 12 programs for the past year but after another impressive showing on Saturday night, one that he competed in after having surgery three days ago to repair a broken nose that he suffered last week, it is easy to see why some of the best programs continue to jump into his recruitment.
Michigan, Memphis and TCU are among the latest to express some sort of interest in Ramsey which has only further determine that he is in no rush to make a college decision. He told Rivals.com that, barring anything unforeseen, that he wants to take his college recruiting process into the spring.
No visits have been planned and none will be, as he told Rivals.com. He does not want take any of his official visits until after his high school season completes at IMG Academy where he then will sign in the late period.
Louisville was thought to be the team to beat following his visit to campus last month and that can still be so but the longer things play out, the more difficult it might be to hold others off for his commitment.
CADE GOES POSITIONLESS
Where everyone, regardless of their size and actual true position on the playing floor, want to be a point guard, Cade Cunningham actually has a fair argument for having the ball in his hands. The standout rising junior has one of the most mature games in his class nationally where his feel, intellect, versatility and playmaking skills sit among the best for someone that stands over 6-foot-5.
He was more than solid on Saturday morning, creating for others on the drive, hitting teammates in stride within the open floor and settling into the half-court offense whenever the situation called for it. While he is not an overly explosive athlete, he is someone that has mastered the change of speeds off of the dribble-drive, has quality body control off of his feet on tough conversions, and, just as he did during his team's tough win, wants the ball in his hands at the most crucial of moments.
Head coaches from Michigan, Virginia, and Oklahoma State, along with assistants from UCLA, TCU, Texas, UNLV, and Texas A&M watched the five-star product out of Texas. Duke has yet to offer but they have kept close tabs on Cunningham as he is quickly emerging as not just a top prospect for the local Big 12 and SEC programs, but also for the most respected throughout America.
A NEW STAR IN AKRON
Like most 16-under games on a Saturday in Las Vegas, the atmosphere was not the liveliest. That changed quickly and it was not just due to the amount of talent on the floor thanks to the WACG bunch. The GOAT himself, LeBron James, walked through the door with a handful of friends, one of those being Maverick Carter, to take in the uberly-talented team featuring the potential number one prospect in the 2022 class, Chris Livingston.
A native of Akron that will be returning home for his high school ball this fall, Livingston is already being proclaimed as one of the best prospects to hit a high school playing floor within the past several years. He did struggle some on Saturday, settling for perimeter jumpers and forcing things that were not always there, but then again, whenever someone like James is watching, I don't care how old you are, you're going to press with the eyes of the king on you.
Standing over 6-foot-5 and with fine length and athleticism to him, Livingston has oodles of upside and potential in the backcourt. Already, UAB and Akron have offered and next month, he told Rivals.com that he will take an unofficial visit to Ohio State, his favorite school growing up
While there may be a shadow that Livingston will have cast upon him, though not as big as James ever had, the talent and raw abilities will place the rising freshman into the spotlight from this day forward.
SHACKELFORD IS A SNIPER
There just cannot be many better shooters in high school ball than Jaden Shackelford. Call him a specialist or whatever else you want but when you are that good at one specific thing, a major premium must be placed upon you, a value that is beginning to increase as the summer winds down.
He began things with six made 3s in the first 10 minutes alone, navigating off of various ball screens, hitting pull-ups from 20-feet and nailing spot-up looks in the early offense. His ability to get the shot that he wants and convert is some of the best one can within the high school stratosphere.
A southpaw out of California, Shackelford has seen Kansas State, UNLV and Georgetown among the few in the hunt for the rising senior. Seeing that the sport has become so geared towards shot makers, things should only expand when it comes to scholarship offers and the chance for Shackelford to pick a place that offers al that he might be looking for.
ETIENNE PROVES A POINT
Alongside top ranked guard Cole Anthony, Tyson Etienne has oftentimes been overshadowed by the brilliance of the five-star prospect. For one night, it was Etienne making the noise for his PSA Cardinals bunch as he hit one three timely 3s down the stretch to push his team over the top for the W, a spurt that might bring a few more schools into his recruitment.
Tough, competitive, capable of playing either guard position and, most of all, someone that can really make shots, Etienne has not struggled finding worthy college suitors. Following his night session, Etienne told Rivals.com that Maryland, Seton Hall, VCU, Cincinnati, Wichita State, Auburn, and Marquette are just a few of the schools that have kept in close contact with him of late.
No official visits are set for Etienne as of yet, though he will partake in an unofficial visit to VCU on August 1. From there he will begin to trim his list to an easier navigate his growing list of schools before coming to a decision and signing during the early period in November.