What I Liked: Corey Evans from USA Basketball U18 trials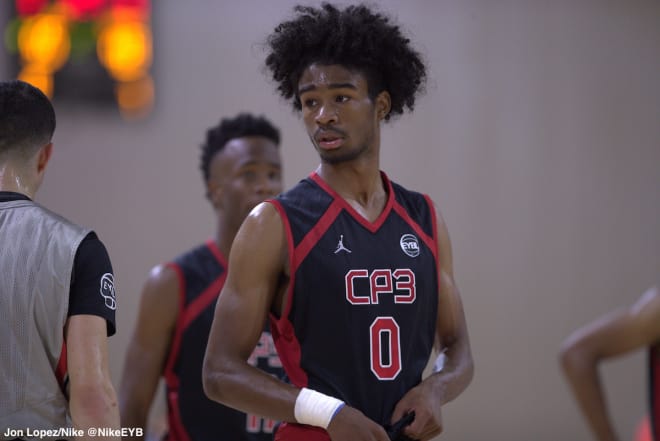 COLORADO SPRINGS, Colo. – USA Basketball has drawn 33 talented players from the classes of 2017, 2018, 2019 and 2020 to Colorado Springs for the under-18 trials, leading up to the FIBA Championships on June 10 in Canada. While three more sessions remaining before final cuts are made, a few have already stood out. Here is what I really liked …
… Coby White's scoring punch
While North Carolina will have some major shoes to fill in the backcourt with the graduation of guard Joel Berry, it will not struggle to replace his scoring with the enrollment of Coby White. Confidence is never lacking with White and it showed on Friday as he came out on fire, hitting a number of pull-up perimeter jumpers off the high ball screen and also scored an impressive out of area putback, exerting quality energy whenever he wasn't the first to hoist up the shot. The questions in Chapel Hill next year will be whether White can fully transition into the lead guard position, or at least provide secondary facilitating skills with Berry gone. For UNC's sake, if Kenny Williams or Seventh Woods can slide over onto the ball primarily and allow for White's true strengths to shine, the Tar Heels may have their next multi-year leading scorer.


… The development of Ayo Dosunmu's jump shot
The primary drawback regarding Ayo Dosunmu has hovered around his jump shot, or lack thereof. His development was publicized greatly last summer as he wreaked havoc with his slippery scoring skills in the lane and dominance in getting to the foul line. However, shooting just 23 percent from beyond the arc on the Nike circuit left pause for concern as to how his game might translate to the college level. From the looks of him this week, those questions should be silenced some. We are not saying that Dosunmu is going to walk into Champaign and overnight become a 40-plus-percent perimeter shooter. However, his much more refined and mechanically sound jumper raises Dosunmu's ceiling that much more, leaving a solid impression to those in Colorado.
… Jeremiah Robinson-Earl's involvement
Jeremiah Robinson-Earl has been primarily known for his polished skillset and elite hands that have made him so productive around the basket. In Colorado Springs, Robinson-Earl remained an effective interior piece but he made an even larger impression with his constant involvement in the 50-50 plays. A 6-foot-9, strong and mobile big man that can play either position in the frontcourt, Robinson-Earl has been a heavily pursued prospect since his freshman year. Kansas remains the favorite and being coached by Bill Self at the USA Basketball training camp might not hurt the Jayhawks, but one thing is for sure and that is Robinson-Earl continues to impress with his tremendous instincts, well-oiled motor and the capacity to produce regardless of competition levels.
… Kamaka Hepa's defensive potential
Heading to Texas this fall, the potential of Kamaka Hepa should not just be valued for what he can do on the offensive end. During the early sessions in Colorado Springs, Hepa has already shown the ability to properly hard hedge a ball screen, use his recently added strength to defend in the post, and also slide his feet on the perimeter contain. A deadly offensive weapon that can shoot, dribble and pass, Hepa is a tremendous college prospect but his early showings at the USA Basketball trials make one believe that he has a decent chance of making the final roster of 12. His game is tailor made for Shaka Smart's up-and-down system in Austin.

… the footwork out of Armando Bacot
The grinding, let the big man go to work isn't your typical setup within international realm. With that being said, the idea that Armando Bacot could make the final cuts entering the weekend didn't seem too good. However, Bacot showed just why he is so heavily regarded as the five-star center looked his best yet this spring during the course of the first two sessions. Not many displayed the absurd amount of counter moves in the post that he does as he scored on impressive conversions while heavily guarded and with either hand. While not an above-the-rim athlete, Bacot makes up for things with an underrated feel for the game, someone that can pick apart opposing defenses facing the basket. He remains open with his recruitment as UNC, Duke, Oklahoma State, Georgia and Virginia Tech as the top contenders.
… Talen Horton-Tucker's quirky skillset
Just who will run the point guard position for Iowa State next season? That is up for debate but the infusion of talent that Talen Horton-Tucker will give should ease some concerns. While he is far closer to a small ball power forward than a facilitating agent, Horton-Tucker has continued his mastery of the high ball screen, displaying tremendous potential as a playmaking point-wing. His tremendous improvement from three years go until today is among the best that we have seen and it has not stopped yet. He has unique, quirky abilities in putting the ball through the basket, whether it is backing the smaller defender into the low-post, scoring off the ball screen, or nailing the catch-and-shoot jumper. The definition of a utility knife, THT, as he will become known in Ames, is a tremendously versatile prospect.