USA Basketball: Jaden McDaniels recaps emergence & new offers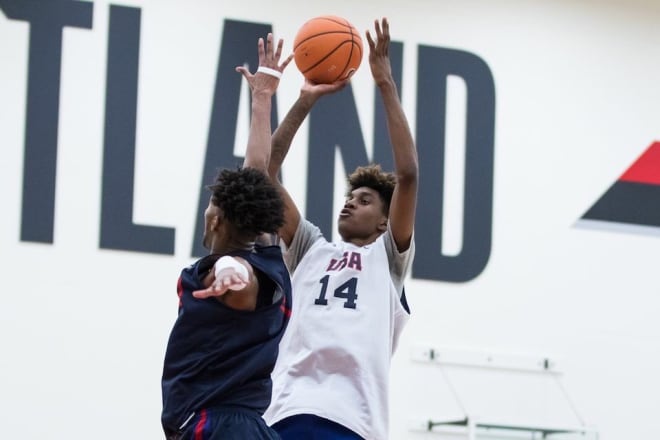 COLORADO SPRINGS, Colo. – Arguably the hottest name of the spring, Jaden McDaniels has gone from a regional target to a priority for the top programs nationally. A 6-foot-8 small forward prospect that is averaging over 19 points and nine rebounds on the Nike EYBL circuit this spring, McDaniels will soon see his name among the elite within the 2019 Rivals150.
A late addition to the under-18 USA Basketball trials this week in Colorado Springs, Rivals.com caught up with McDaniels as he recapped his past few weeks, his latest offers and how he sees his recruitment playing out.
Corey Evans (CE): Things have really picked up with you over the past few weeks. What has it all been like for you?
Jaden McDaniels (JM): I have just been working out and trying to get better every day. It is just train, work out every day and do it all over again.
CE: What new schools are in touch with you now since April?
JM: Kansas, UCLA, and Oregon mainly.
CE: Any of those offers?
JM: All three of those did.
CE: What does the UCLA offer mean for you?
JM: It is just exciting. It is pretty close and a nice place. There is a lot of good people that have come out of UCLA, so it is a really nice place out there.
CE: How about the Kansas offer? What does that mean for you?
JM: I was just excited to get it. They always go to the tournament every year and go deep within it. So that was cool, I just thought this could be something crazy. I just talk to them every once in a while.
CE: Coach Bill Self is here coaching you this week. I know we are just one session in but what have you gotten from how he coaches and works a practice?
JM: He is demanding but at the same time it isn't to the extent that you are mad at him. He isn't controlling but rather trying to help you get better and not just cussing you out.
CE: The last time we talked, Arizona, Texas and Oklahoma were the three that stood out. Anyone else becoming more involved?
JM: San Diego State, Oregon and Michigan.
CE: The new Oregon offer, what are your thoughts there?
JM: As soon as I got it, I just thought about all the gear, it being close to home with it just being a three-hour drive and it is just exciting.
CE: Michigan hasn't offered yet, but with its recent string of success, what are your feelings with the Wolverines?
JM: It is just exciting because my cousin (Juwan Howard) used to player there and they just say that you had family they had come through here and teasing me, so they are definitely an option.
CE: Lastly, San Diego State is always going to be there and with your brother (Jalen McDaniels) recently pulling his name out of the drat and returning, what are your feelings with them?
JM: It is a good place. They have taken good care of my brother so I just think they are a good option and for him, I think it was good that he came back because they are going to work him and push him to get better from last year.
CE: What is next for you? Any visits?
JM: Nothing scheduled for now.
CE: Do you want to play this thing out slowly?
JM: I want it to go slow. I am in no rush.