Wednesday's Leftovers: More Twitter mailbag on Louisville, TCU, more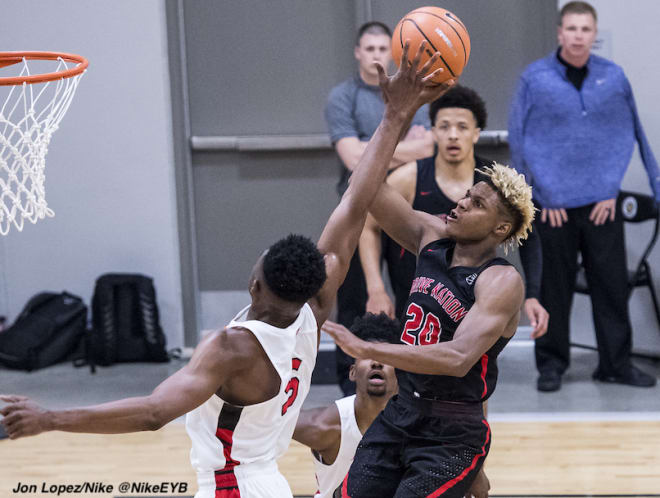 Since we were unable to hit on all of your questions in yesterday's #TwitterTuesday, here is the first installment of Wednesday's Leftovers. Topics today include the recruiting boards at Louisville, Iowa State, Cincinnati, TCU and Marquette, along with the top breakout from the first evaluation period.

MORE: Twitter Tuesday mailbag

There is some time to go but Louisville is in a good spot for Aidan Igiehon, Rocket Watts (who recently included the Cards within his final eight), Terrence Shannon, Jahmius Ramsey, David Johnson, Matt Hurt, Jaelyn Withers, Kahlil Whitney, Qudus Wahab, Victor Iwuakor, and Isaiah Stewart, where they also recently offered in-state wing Dontaie Allen who will take visit to the program next month.
They are going to miss on several of such top targets but Ramsey, Watts, Johnson, Whitney and Withers are the five that I would be willing to bet on that they'd be involved with until the very end. Louisville already owns the commitment of four-star guard Josh Nickelberry.
While Caleb Mills had his coming out party in Atlanta, it would be difficult to not slate Dontaie Allen here. The Kentucky native has begun to garner stronger Kentucky interest but thanks to leading the UA Challenge in scoring at over 26 points per game, he brought in new offers from Texas, Louisville, Auburn, Oklahoma, Florida, Illinois and Pitt. He is ranked No. 46 nationally, but that will change drastically next month as Allen is one of the best isolation scoring wings in his class nationally.

There isn't a desperate need for Marquette to fill any sort of point guard void, as long as Markus Howard doesn't leave early for the NBA Draft after next season. Marquette remains in a good spot for Jalen Gaffney, a combo guard that can really shoot it, along with James Bishop, one of the top scoring guards along the east coast, though he will have to develop into more of a facilitator, that is if Marquette is recruiting him as a lead guard. They're also among the finalists for five-star 2020 guard Nico Mannion, who could reclassify into the 2019 class this summer.
Georgetown has thrown out a wide net this summer as it is not in the lead for any rising seniors. However, it is targeting Will Baker, Kofi Cockburn, Akok Akok, Aidan Igiehon, Isaiah Stewart, Donta Scott and Jaiden DeLair in the frontcourt, along with Anthony Harris, Jalen Gaffney, and Lester Quinones in the backcourt. They will only have to replace Jessie Govan and Kaleb Johnson after this season, so there is not a pressing concern in the 2019 class for the Hoyas, so they can survive swinging and missing at some of their top targets.
KyKy Tandy, Samuell Williamson, and PJ Fuller are three of Iowa State's top targets in the backcourt this summer. Of the three, Tandy may be the most realistic. Although, the Cyclones do remain in the hunt for five-star guard Kira Lewis, Alabama could be difficult to beat. Drew Timme and Luke Anderson sit as two of their top targets in the frontcourt with the Cyclones in a prime position for Anderson as they have been a favorite for him for the past year. As always, expect for Iowa State to be a frequent contender for some of the very best on the transfer wire, too.
Cincinnati just offered Caleb Mills but their interest in the Carolina native has intrigued him, as he told us last week in Atlanta. I would expect for Mills to become a priority of the Bearcats' as the weeks wear on and while they do sit in a good spot for KyKy Tandy, it is Samari Curtis that they are in the best position for. Before committing to Xavier during the winter months, UC was among the favorites for him; now that he is back on the board following his decommitment, Cincinnati has picked things right back up where they had left off. Also, keep tabs on James Bishop as the Bearcats remain in the hunt for the big-time scorer out of Baltimore.

Penn State has done a great job of getting involved early with some of the top prospects along the east coast and, more importantly, those within the Philadelphia area and the loaded DMV region. It may struggle to put together a class that was as good as the one it assembled in 2015 with Tony Carr and Lamar Stevens, but it remains a presence on the recruiting trail, something that has been impossible to accurately state for the past 10 years or so.

Abdou Tsimbilia, its most recent pledge, was highlighted in our awards column earlier this week and should be a fine four-year asset within the paint for Pat Chambers. I am expecting for PSU to accrue more talent that would help them chase NCAA Tournament berths.