UAA Friday: Caleb Mills emerges as a high-major prospect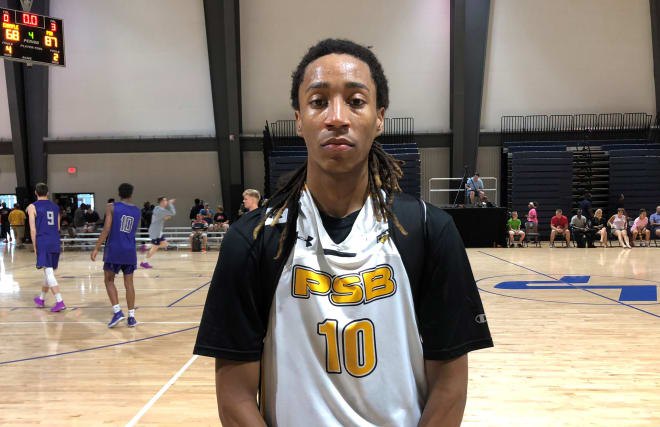 RELATED: Corey Evans' Friday Under Armour blog
CARTERSVILLE, Ga. – Caleb Mills is on the cusp of his national break out after his performance Friday evening in Atlanta. A 6-foot-3 guard out of Asheville, N.C., Mills now carries 21 scholarship offers as he recapped his summer thus far and discussed a few of the schools involved within his recruitment.
"It has not been too hectic but the recognition from all of the colleges is great," he said. "The interest has been basically the same for all of them; they have said that I am a priority for them."
VCU and Murray State were the most recent to offer, joining the giant crowd that includes Cincinnati and Houston. Wake Forest has also begun to show strong interest.
IN HIS OWN WORDS
Houston: "They are saying that they like my game. I haven't been shooting it well but I picked it up this past game and got back to how I usually shoot so I just wanted to come out and show them that I can play.
"They said that they are a guard-heavy place that uses a lot of ball screens and it is going to be fast-paced, which is how I like to play."
Cincinnati: "That is one of my most serious offers. They offered me and told me that I was a priority and that they need someone like me next year. It is a very good program over there that gets guy drafted so it is just a good overall that gets to the tournament."
Wake Forest: "That is a great program. It would be great to get that offer from them but whatever they feel is best for them they should do but it is definitely a good basketball school that I would have a lot of interest in."
WHAT'S NEXT?
Mills will complete his senior summer this month with the PSB Elite 17-under squad.
Thereafter, look for him to narrow his school list and begin to take visits, leading to a late summer commitment.
"I have been on a few unofficial visits in the past to the ones that offered me first, like Appalachian State, Liberty and High Point," he said. "I am trying to get some visits lined up for August. I am not exactly sure to where yet but I want to try and visit all of the schools involved if I can.
"I am probably going to commit before my senior year begins, sometime around late August or early September."
RIVALS' REACTION
The 2019 guard crop is not the best as college coaches continue to scour the nation for any rock unturned which makes the emergence of Mills that much more intriguing. Practically the entire every Mid-Atlantic mid-major has offered Mills. His size, shot making and playmaking are difficult to come by in one specific prospect, assets that could catapult his recruitment to the next level.
Look for more offers to roll in for Mills in the coming weeks before the July evaluation periods come to a close.