The Evans Awards: UA Challenge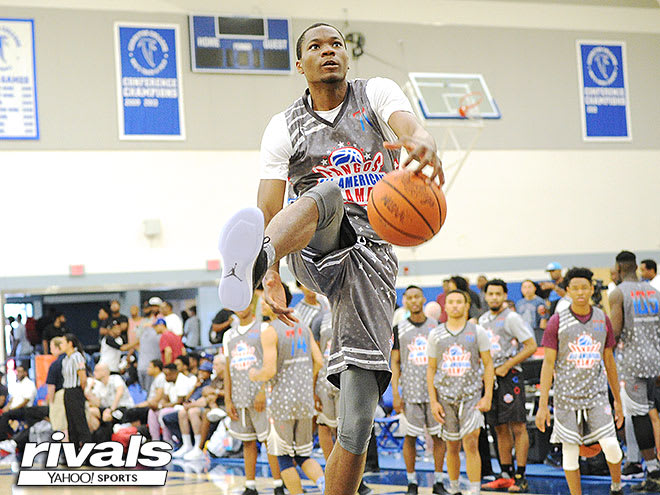 MOST IMPRESSIVE
Precious Achiuwa was the prime catalyst for his New Heights' run throughout the week. While he did attempt 14 3-point jumpers, it was his ability to slice to the basket using his unique body control that really stood out. Achiuwa got to the line over 40 times this week and made over 60 percent of his field goal attempts. He looks the part and plays like it, cementing his standing as a top-10 prospect in the 2019 class. UConn, Pitt, St. John's and Kansas, among others, continue to prioritize Achiuwa.
BEST IN THEIR NEW DIGS
Will Baker made the switch to the Under Armour circuit this month and he started the weekend off with a bang, showing off parts to his game that had never been seen before. The lefty has battled through injuries this spring, but now fully healthy and unleashed, Baker showed off his entire repertoire. He facilitated his team's half-court offense, ran high-ball screen sets and knocked down jumpers to the perimeter. It was all impressive considering his height.
MOST ENTERTAINING BACKCOURT
No disrespect to anyone else, but the Nico Mannion - Josh Green combination might be one of the most entertaining duo that I've watched in the past five years. The West Coast Elite backcourt came up short in the semifinals partially due to an injury that sidelined Mannion but their chemistry and ability to think a play ahead is something else. Whenever the game speeds up, Mannion and Green turn into appointment television. They are well-deserved five-star prospects thanks in part to their ability to play within a variety of schemes.
TOP BREAK-OUT
Even though his recruitment has already started to take off, it's hard to not list Dontaie Allen here as the top break-out performer of the weekend. He filled up the stat sheet, averaging more than 26 points per game and showcased that he has a more than willing passer. West Virginia, Vanderbilt, Xavier and Virginia Tech seem to be four of his top suitors, but if his in-state Wildcats were to offer, things could change drastically.
TOP STOCK BOOSTER
The state of North Carolina has become known for producing under-the-radar talent late in the recruiting cycle and this year is no different. Caleb Mills descended upon the UA Challenge with the goal of racking up offers from the high-major platform and, thanks to his play, his primary objective was met. Clemson, Xavier and Florida State joined the fray and more are due to follow in the days ahead. Mills finished top-five in scoring and made 11 of his 18 perimeter jumpers, highlighted by his 36-point outing on Friday.
MOST UNDERAPPRECIATED HIGH-MAJOR ADDITION
Heading into the July evaluation periods last week, not much attention was given to the commitment of Abdou Tsimbilia. That's unfortunate, because the strides that the Mid-Atlantic Select big man has made over the past four months is something that deserves praise. Headed to Penn State in the fall of 2019, Tsimbilia is not someone that Pat Chambers will draw up specific plays for immediately in Happy Valley, but he has intangibles and is the type of big man that blocks shots, rebounds and wins his fair share of 50-50 plays.

MOST COLLEGE PRAISE
The 2020 class has plenty of elite talent at the top. Jalen Green currently carries the No. 1 ranking thanks to his jaw-dropping athleticism and scoring prowess, but R.J. Hampton, Evan Mobley and Scottie Barnes remain in the fight for the pole position.

In Atlanta, it was Anthony Edwards that drew praise from coaches and scouts alike. While Edwards didn't match the 30 points per game averages that I had predicted heading into the weekend, he did show off improved defense and passing skills. I had stated to one high-ranking coach that Edwards could be the next Brad Beal; his retort was that Edwards is ahead of where the now max-contract guard was at the same stage. High praise for one of the top guard prospects in high school ball.
NEXT BLUEBLOOD TARGET
There have been whispers out of North Carolina that Jaden Bradley, a rising ninth grader, had the chance to be one of the best the state had produced in recent years. Based on my first look at him, I would say that the BMaze Elite product more than looks and plays the part.

A member of the 2022 class, Bradley currently holds offers from Wake Forest and Auburn but that is really just the tip of the iceberg for the native of Rochester, N.Y. Headed to the Cannon School in the fall, Bradley impressed with his unselfish ability to make others better but also his understanding of taking the correct shot. Bradley is an a sure-fire five-star prospect that will be coveted as an underclassman by blue blood programs.