Wednesday's Leftovers: Dishing on Purdue, Ohio State, Iowa State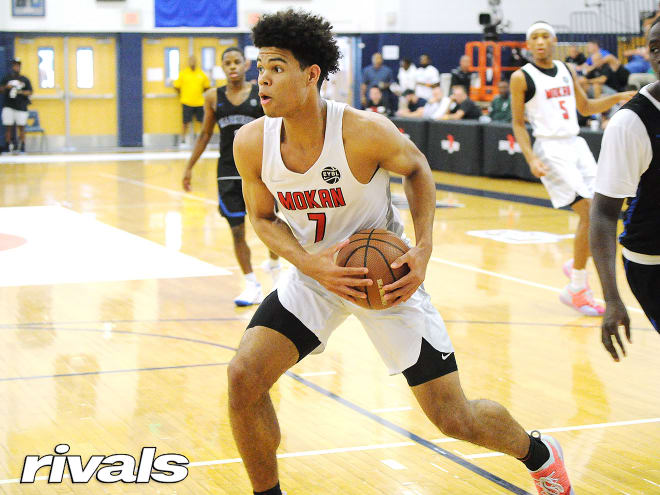 Malik Hall recently cut his list to a group of five, and the Boilermakers are joined on it by Michigan State, Texas, Oregon and Oklahoma. Purdue sits in a very good spot with Hall, and while I cannot guarantee that the Boilermakers are going to get him, I do believe they have as a good of a shot with the top 50 prospect as his other four finalists.
Armaan Franklin and Brandon Newman, teammates on the Meanstreets squad this past summer, will both spend an official visit on Purdue the weekend of Aug. 31. Franklin is down to Purdue, Indiana and Xavier, while Newman has yet to narrow his list. I would be surprised if Purdue does not land one of the two Rivals150 guard prospects.

Yes, but that could be said for practically every program in America. The Tar Heels will likely have four scholarships to fill after this season, thanks to the graduations of Luke Maye, Cam Johnson and Kenny Williams, along with the one-and-done year from freshman Nassir Little. The Tar Heels already hold the commitments of Armando Bacot and Jeremiah Francis. Best case scenario, a frontcourt prospect in the form of Matt Hurt, Will Baker, Jeremiah Robinson-Earl or Vernon Carey accepts UNC's scholarship offer, as does Tre Mann, Wendell Moore, Josh Green or Cole Anthony. An argument could be made for taking two more guards, and a Mann-Green backcourt is well within UNC's grasp.

Duke or Michigan State. Getting any sort of information out of James or his camp has remained difficult, but just last week news came out that he was down to a final four group that consisted of the Blue Devils, Spartans, Tennessee and Clemson. His father played at MSU and Tom Izzo and his staff have made him a priority in recent months, though UT and Clemson have been recruiting him the longest. I expect the Blue Devils to land James this fall, although all four still do have a shot.
My gut says Ohio State for EJ Liddell, a top 50 forward who cut his list last week to OSU, Missouri, Kansas State, Illinois and Wisconsin. He will visit the Columbus campus the first weekend of September, and the Buckeyes have found great traction with his recruitment. On the other hand, Rocket Watts, a four-star guard, announced his top nine earlier this month, and on Sunday we broke down the first three official visits that he has scheduled. Many believe that Florida State and Louisville may have the inside track, but Missouri is the major dark horse. Tigers assistant coach Cornell Mann has a great network base in the city of Detroit because of his time as an assistant at Oakland, and the Tigers might be my pick to land the elite scorer.
Terrence Shannon, a top 75 wing, backed off of his commitment to DePaul over the weekend, news that we broke on Sunday morning. Shannon felt that he rushed his initial decision and that it was in his best interest to open things back up. From here, I would expect an onslaught of new programs to jump into his recruitment. He has one of the best ceilings in his class, thanks to his younger age and recent growth spurt that has seen him grow close to a foot since his freshman year. Prior to committing, his four finalists were DePaul, Maryland, Illinois and Florida State. The Blue Demons are not totally out of it, as he had told Rivals.com, but the Illini and Seminoles should be seen as heavy favorites.
Tre Mann's recruitment is far from over. Many, for one reason or another, believe that he is a layup for UNC. While the Tar Heels have picked up major steam lately and have scheduled an official visit with him for Sept. 14, his recruitment remains wide open. Tennessee and Florida have just as good of a chance as the Tar Heels. Kansas is also a sneaky contender for Mann, as he will take an official visit to Lawrence the weekend after he goes to Chapel Hill. UNC is a strong contender, but not an automatic commitment that many have come to assume.
I'll go with Luke Anderson. The three-star forward from Florida hasn't cut his list entirely, but he did tell Rivals.com that he was pretty comfortable with the three programs to which he has scheduled official visits: Iowa State, Minnesota and Georgia. Anderson will visit Ames the weekend of Sept. 7 along with wing Marcedus Leech, who is already committed. While Anderson could visit the other two before coming to a decision, I do like where the Cyclones sit with him heading into the fall.
Rivals150 forward Ismael Massoud narrowed his college list to a group of five over the weekend. The list features Auburn, Wake Forest, Rutgers, Georgia Tech and Harvard. The group offers Massoud a variety of options, whether it is power conference basketball, the chance to become an immediate cog in a program's offense or elite academics. With all five official visits scheduled, the talk over the past few months has surrounded Rutgers. The Scarlet Knights have made Massoud a priority since Steve Pikiell was first hired two years ago, and his close proximity to campus doesn't hurt. Do not discount Auburn, however, as the Tigers may be the sneaky favorite. Rutgers and Auburn are the two to watch, and a signing should come in November.