Wednesday's Leftovers: Dishing on Isaiah Stewart, UNC, Pitt, more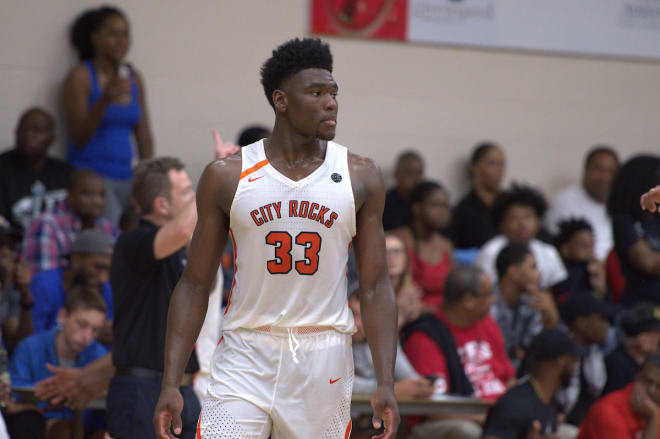 We unleashed a fully loaded #TwitterTuesday yesterday, but there were still some questions that went unanswered. Instead of leaving you hanging, we wanted to get back around to some of your pressing concerns in this week's Wednesday's Leftovers. Analyst Corey Evans addresses the recruitments of Isaiah Stewart and Lester Quinones, the UNC brand, why having a dream school doesn't mean much and how Pitt fans should be feeling right about now.
MORE: Twitter Tuesday | Isaiah Stewart throws a curveball | Rivals Roundtable
No, it has no effect on where Isaiah Stewart ends up. The five-star prospect from Rochester, N.Y., made a surprise official visit to Syracuse this weekend, and by the time he returned home his former travel teammate and friend, Joe Girard, was commiting to the same ACC program.

Sure, Stewart wouldn't mind rekindling the chemistry that he shared with Girard from their time together with the Albany City Rocks program, but Stewart's decision is more about where he feels he can develop best in college and in preparing for the NBA. While the Orange are a finalist for Stewart, Michigan State, Duke, Kentucky and Washington might have a much better shot with the elite paint producer.

I guess there would be some pause for concern if Pitt were unable to land either Qudus Wahab or Anthony Walker, a daunting thought for Panthers fans. Even if the Panthers do miss on both four-star prospects, I would much rather have a coaching staff in place that is prioritizing a select few and attempting to plug the program's holes compared to a staff that is just taking someone just to take someone.

Jeff Capel has shown the desire to focus on priority commitments, and while Walker and/or Wahab would be tremendous for the Panthers, they are much more involved with top-40 forward Akok Akok than many realize, and are also on the final list for Kofi Cockburn. Pitt's biggest need is the frontcourt, and I don't see Capel and his guys striking out on all of their targets remaining on their board.

Lester Quinones, a top-50 prospect who is completing his prep career at IMG Academy, might be one of the most under-recruited prospects from the 2019 class this fall. In today's game, where giant shot-makers have become as valuable as ever, Quinones should be valued even more. However, for one reason or another, many have failed to identify just how good he is and can be.

I spent a day with Quinones last month and was immediately taken aback by just how much more explosive he has become. This is the same kid that was a top-five scorer at the FIBA Under-18 Americas Championships in June and a month later scored 37 points in a travel game against two five-star prospects. Quinones is in no rush to make a college decision, and he has yet to even take an official visit. I would expect him to keep his recruitment open this winter before he becomes a priority for the best of the best, leading to a spring signing.
This is the program that made it to consecutive national title games in 2016 and 2017, right? And this is also the program that could be holding the first pick in the 2019 NBA Draft in Nassir Little? This is also the unit that just celebrated the commitment of five-star center Armando Bacot, and is among the few favorites for the top-ranked guard in America, Cole Anthony?

Yes, UNC is still a destination program. The Tar Heels are going to miss on some of their top targets, just like Duke missed on three of its top guard prospects this fall and recruiting dynamo Kentucky is struggling to find its footing with some of its top priorities in the frontcourt. Roy Williams would love to enroll five-star after five-star, but he has also found great success developing lightly recruited prospects in the mold of Luke Maye and Kenny Williams while also leaning on the talents of those such as Theo Pinson and Tony Bradley.

I remember growing up with a dream school, but once I visited that institution I realized that it didn't match up with some of my other options. There is even more on the line for a heavily regarded, five-star prospect, and while he might grow up dreaming to suit up for a specific program, there is a difference between perception and reality.

This is not about following your heart, but rather a business-minded decision. Assessing the current makeup of the roster, the school's academics profile, proximity to home and relationship with the coaching staff are all important factors. Also, prospects need to decide which situation offers the best chance to excel in college and which might offer the best path to the NBA.

All those considerations are important, as opposed to what the prospect dreamed of when he was an adolescent. Attending one's dream school could make for a storybook ending, but what is even better is putting oneself in the best spot to excel. Choosing the latter should the ultimate concern.
A fun question to entertain. If I am just looking at what I saw at USA Basketball, I would place the 2020 as the best crop of prospects ahead of the other three. Jalen Green, Scottie Barnes, Evan Mobley, BJ Boston and RJ Hampton are each special prospects. Throw in Jalen Johnson and Anthony Edwards - who weren't in Colorado Springs last week - and what you have is a group of seven that displays huge upside, but is also more than capable of changing any given game at this point in time. We have not even touched on Josh Christopher, Greg Brown, Jaden Springer, Cade Cunningham or Isaiah Todd, five others that will be household names in the coming years.

The class of 2019 is decent, as it is bolstered by Vernon Carey Jr., James Wiseman and Cole Anthony, and 2021 is more promising, thanks to Pat Baldwin, Terrence Clarke and Michael Foster. The class of 2022 can be special at the top with Emoni Bates, Dariq Whitehead and Jaden Bradley, but 2020 is the crop with the greatest ceiling of them all.