Rivals Roundtable: Which 5-star will pop next; best HS freshmen ever
After a weekend off for USA Basketball, the Rivals Roundtable is back this week. Analysts Eric Bossi, Corey Evans and Dan McDonald discuss which five-star may be closest to deciding, the best freshmen they've ever seen and which freshman class they are most interested to see this season.
1. Of the 16 uncommitted five-stars, who is closest to committing and how do you read his recruitment?
Bossi: I can't help but feel that we are about to have a run of five-star decisions because so many of these guys are either on their last visits or already done. As I look at the list, the one player who stands out to me is Trayce Jackson-Davis. He's long been considered a lean to Indiana and as far as I can tell its biggest competition has been Michigan State, though UCLA is also included in his final three. Jackson-Davis has been to Indiana, UCLA and last weekend saw the Spartans. I suppose he could elect to extend things a bit longer but I see a commitment coming sooner than later and I still favor the Hoosiers chances to keep him in state.
Evans: The end is near for Oscar Tshiebwe. Arguably the top rebounder in America who averaged over 17 boards per game in July, Tshiebwe has been down to a final four of Illinois, Baylor, Kentucky and West Virginia for close to two months now. However, this is more of a two-horse race between UK and WVU.

While I still believe he will pick WVU since Bob Huggins has recruited him longer and harder than anyone, Kentucky is still Kentucky. It is a bit eerie that they are not the clear-cut favorite for any of its frontcourt targets and the idea that they want and need two big men this fall does not add up. It is only a matter of time before Calipari gets one to fall in the frontcourt, but I still believe Tshiebwe remains loyal and replaces his fellow Congo native, Sagaba Konate, at WVU beginning next fall.
McDonald: I've thought for a while that Jeremiah Robinson-Earl is the type of kid that could pop at any time. After this weekend's visit to Arizona he will have seen all of his finalists, so it stands to reason he should be really close to deciding between the Wildcats, Kansas, North Carolina, Notre Dame and Villanova. Obviously with his ties to the program, Kansas is a serious contender here, but there is a lot of talk lately about Villanova making a big move after his visit there. It could be a rematch of last year's Final Four for Robinson-Earl's signature, and I wouldn't be shocked if we saw a similar result.
2. Class of 2022 Emoni Bates drew raves reviews at USA Basketball. Who are the best players you've seen as freshmen?
Bossi: This is a tough question because I've been doing this for a while. My first thought is actually a guy who predates Rivals.com, JaRon Rush who burst onto the scene as a freshman small forward at Kansas City (Mo.) Pembroke Hill. I was a college sophomore back in the winter of 1994 when I first saw him and he blew my mind with his physicality, extreme athleticism and outlandish production. I thought for sure he was going to be a superstar but unfortunately off-the-court issues derailed him in high school and at UCLA.

If we are looking a little more recent, I have to go with Greg Oden. I actually first saw him play as an 8th grader at a tournament in Kansas City. At halftime, I walked out called my best friend and told him I was watching the No. 1 pick in the 2006 Draft and he laughed me off the phone for calling an 8th grader a future No. 1 pick. My mind didn't change when I saw him as an actual high schooler.
Evans: Bates is a pretty special prospect but let's not sweep under the rug just how good Dariq Whitehead is and was over the weekend in Colorado Springs. The youngest prospect in attendance, Whitehead is the next man up out of the loaded Montverde Academy program and will fight with Bates in the coming years for 2022 supremacy.
Back to the question: Harry Giles and Marvin Bagley showed to me, so early in the process, was sit-down-in-your-seat-and-enjoy-the-show, type of stuff. Giles was probably the best because of just how engaging he was and the aura that radiated off of him. It is so unfortunate the rash of injuries that he has had but I am rooting for him to put such in the past and become a central figure for the Sacramento Kings this year.

Speaking of the Kings, Bagley was just so polished as a freshman. There is going to be some debate about how good he can be on the defensive end and if he can consistently knock down shots to the perimeter, but that second-leap abilities and mid-post scoring skills we see now, yeah, that was already there before he even took his first course in a high school classroom.
McDonald: I remember being in middle school when a young Joshua Smith played against my high school. He was already so freakishly athletic and just completely dominated the game. He ended up being ranked the No. 3 player in the 2004 class and was picked 17th overall in the 2004 NBA Draft by the hometown Atlanta Hawks.
3. Outside the obvious choices of Duke and Kentucky, which freshman class are you most eager to see?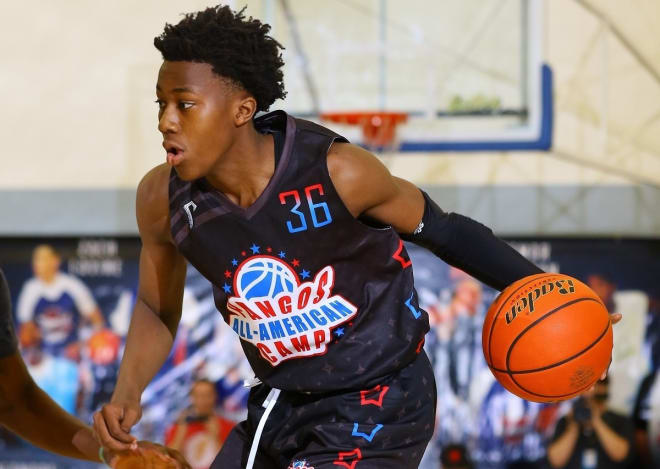 Bossi: The group at Illinois really has me intrigued. On one hand,. you have a pretty surefire big-time player in Ayo Dosunmu, who we know a lot about. I expect him to be a rising star in the Big Ten.
The Illini also have four-star wing Tevian Jones who made a huge jump as a senior and reports from the summer were encouraging that he was really coming on strong as a high-flying wing. After those two, the class is filled with mystery men and a volume scoring junior college guard in Andres Feliz. Could a Giorgi Bezhanishvili or a Samba Kane prove to be a diamond in the rough? I'm interested to see.
Evans: I will take LSU, the third-rated class from 2018. Coach Will Wade not only notched the commitment of the top-ranked player from the state in Javonte Smart, but also went out and landed two of the most productive forwards in Darius Days and Emmitt Williams.

Of course, the gem of the class is five-star center Nazreon Reed.

A team that went as far as Tremont Waters took them last year, things are a bit different in the Bayou this fall. Beyond how Wade mixes and matches the talent is one thing, but the most interesting dynamic is how he gets all of the personalities to mesh as LSU fights to return to the NCAA tournament.
McDonald: I'm curious to see how Vanderbilt's freshman class does this year. I've always been a big fan of Darius Garland and think it's cool that he stayed home to play for the Commodores. He could be a program-changer for Bryce Drew. Simi Shittu coming off an injury might slow him down initially, but he along with Aaron Nesmith should speed up the process of Vanderbilt getting back to the top third of the SEC.