Wednesday Leftovers: Dishing on UNC, Iowa State, Vernon Carey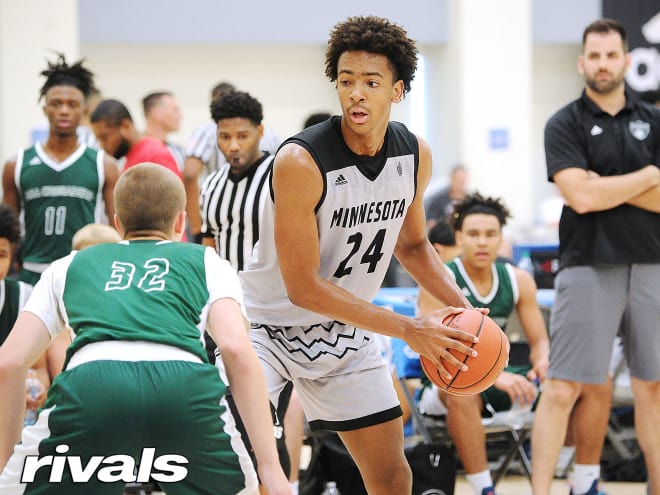 It definitely is not a good thing that Trayce Jackson-Davis decided to forgo a signing this week and instead will keep his recruitment alive heading into the winter months. Many assumed Jackson-Davis was a done deal for the Hoosiers. He could still decide on the in-state Hoosiers, but the fact that he wants to wait a little longer indicates that this is a more open race than many had assumed.
Down to a final three that features Indiana, Michigan State and UCLA, he told Rivals.com that he could potentially take another visit to each before deciding. Do I believe that he will be a Hoosier at the end of the day? I do. But I also believe that this causes a bit of a concern for the people that are in the IU men's basketball offices when it comes to securing the best talent in the state.
I don't see it with Keion Brooks. The five-star wing out of Indiana has not explicitly said whether he will sign this week or not, but either way most of the talk has surrounded Indiana and Kentucky. Michigan State may have a difficult time with him, since they just landed Malik Hall earlier this month. Purdue and UCLA are fighting an uphill battle, too. UNC might be the third horse in the race, but more than likely the Hoosiers or the Wildcats will grab his signature, whether that is in the next seven days or in April.
On the other hand, UNC has a much better chance with Zeke Nnaji. The top 40 forward will head to Chapel Hill this weekend for an unofficial visit. This comes after the Tar Heels entered the picture at the last possible second. He has already visited Arizona, Baylor, Kansas, Purdue and UCLA in recent weeks, and keep in mind it is a wide-open race for his commitment, a decision that will be made on Nov. 23. Still, the Tar Heels are in a prime spot to swoop in at the last minute and snag his verbal pledge.
Vernon Carey completed his official visit tour over the weekend by taking his second tour of Michigan State this calendar year, the first prospect to do so under the newly implemented NCAA rules. All that is left is for a commitment.

His other finalists, Duke, Kentucky, Miami, and UNC have also officially hosted Carey this fall, but he has been adamant about not signing during the early period. Instead, he will do so in the spring, but a commitment is still not too far off.

I would expect a decision to occur in the next 30 days, as Duke, Miami and MSU are the three in the best spot. Michigan State may have the slight lead at this point, but Duke has made up major ground in recent weeks, and I truly believe that Carey does not know where he wants to go, as of yet. The next month of deliberating the pros and cons of his finalists should clarify the choice for the top-ranked player in America.
I understand the frustration here, with UNC missing on Josh Green, Boogie Ellis and Jeremiah Robinson-Earl in recent weeks. But then again, this is still the program that holds the commitment of five-star center Armando Bacot, just enrolled what could be the first selection in June's NBA Draft in Nassir Little and is the favorite for Cole Anthony.

If we are pointing fingers here, though, it could come down to Roy Williams' reluctance to start his freshmen. Little, the second-ranked prospect in the 2018 class, has been brought off of the bench in all three of his games so far, and has only taken 28 shots. Compare that to Duke's star-studded freshman group right down the road: RJ Barrett, Zion Williamson and Cameron Reddish. Each of those players has taken more shots in less than one game (outside of Williamson, who has attempted one less than Little). That can cause some hesitancy on recruits' part when it comes to their outlook on the Tar Heels. The majority want immediate playing time and the chance to be showcased from day one.

Will Little get his day in the sun? You bet, but it still is something that UNC has to overcome on the recruiting trail.
Iowa State should enjoy success in the 2020 class, thanks to the work it completed earlier this fall with its 2019 group. The Cyclones were able to get ahead, due to the early commitments of Luke Anderson, Tre Jackson and Marcedus Leech, thus prioritizing a select few from the junior class and getting each on campus in the past two months.

While N'Faly Dante will be a long shot, the Cyclones have made the proper in roads with top 50 guard Jalen Terry, who took an official visit to Ames over the weekend. Others, including Ty Berry, Dudley Blackwell, Chris Moore and Xavier Foster - each a member of the Rivals150 - are players to keep tabs on, too. Foster, the top in-state junior, took another unofficial visit to the program last weekend, and his recruitment is shaping up to be an in-state battle between the Cyclones and Iowa.
Great question, Ken. You are on to something here. While it is more of an unspoken truth in our industry, we have seen in recent years a number of prospects - both elite and those found outside of the five-star rating - play up their recruitments by throwing the bluebloods on to their school lists just to create an even bigger cache surrounding their name. Heck, there are a slew of five-star prospects this fall that have included a number of elite programs in their final lists, all the while knowing that they had no chances of attending the respective school.

Not only that, some of these programs have not even talked to or recruited the prospects for months at a time. However, to the general public and those that might not be as educated on the prospect, the attempted window-dressing can be an effective way to create a little hype.