Starting Five: Early Signing Period storylines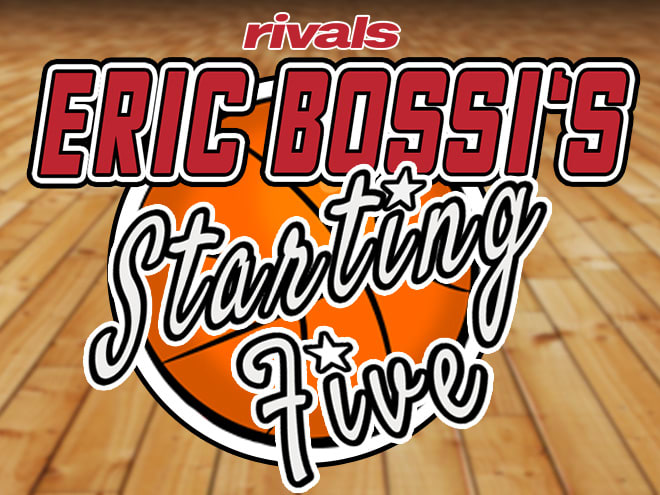 College basketball's early signing period for the class of 2019 begins on Wednesday. In this week's Starting Five, national basketball analyst Eric Bossi discusses the top storylines of what looks to be an early signing period filled with uncertainty about where the top remaining prospects will head and when they will decide.
RIVALS ROUNDTABLE: Nnaji, Champions Classic, more

1. WILL ANY OF THE FIVE-STAR BIG MAN DOMINOES FALL?
Headed into the early signing period, a total of 13 five-star prospects from the class of 2019 remain undecided. A whopping 10 of them are guys that we have listed as either power forwards or centers and of that group, only No. 29 overall Drew Timme (more on him below) has said that he will for sure sign during the early period.
That means there's a lot of confusion and uncertainty for the programs recruiting these guys because No. 1 Vernon Carey, No. 2 James Wiseman, Jaden McDaniels, Isaiah Stewart and many others are considering several of the same schools. Looking at that group, I would peg Wiseman as the most likely to decide and the seven-footer from Memphis' decision is really coming down to Memphis and Kentucky with Penny Hardaway's Memphis squad looking like they could be edging ahead of the Wildcats.
Let's say he goes ahead and gets the decision out of the way, does it start the dominoes falling? Carey has visited all five of his finalists (Duke, Kentucky, Miami, Michigan State and North Carolina) but is still planning to wait. Could he change his mind? Does a pick from Carey inspire McDaniels (visits taken to Kentucky, San Diego State, Texas and Washington) or Stewart (visits to Kentucky, Michigan State, Syracuse, Washington) or any of the other big-timers to go ahead and make a decision?
2. WHAT'S DREW TIMME HAVE UP HIS SLEEVE?
Going beyond just the 13 undecided five-star prospects, Drew Timme is the only undecided member of the Rivals150 (there are 29 of them left) to set a concrete decision date. He'll announce at his high school on Wednesday morning and he's down to Alabama, Illinois, Gonzaga and Texas A&M.
Billy Kennedy had his entire Texas A&M staff out to see Timme on Saturday and they had a full staff complement of coaches out to see him the week before. Maybe that's a hint, but I'm not sure I see this one going in the Aggies favor and I would guess it is between Illinois and Gonzaga and I'd lean towards Timme headed out West. We'll know soon enough.
3. WILL KEION  BROOKS AND C.J. WALKER REALLY WAIT?
There are still two five-star small forwards left on the board and both C.J. Walker and Keion Brooks have taken all of their visits. Walker has seen LSU, Miami and Oregon while Brooks has seen Indiana, Kentucky, Michigan State, North Carolina and UCLA.
Walker had been planning all along to sign early, but on Sunday night when I spoke to people in his circle, they indicated the jumping jack from Florida was now on the fence and could wait things out. For his part, Brooks has remained silent about any plans to decide. Could both of these guys who have taken visits to all of their finalists and gathered all of the information that they could need really decide to wait?

4. DOES CASSIUS STANLEY STAY OUT WEST?
It's no secret that 2019's top ranked guard Cole Anthony is most likely waiting until the spring to make his college choice. After Anthony, who ranks No. 3 nationally, the next highest ranked guard left on the board is Cassius Stanley.
Checking in at No. 31 overall, the super athletic shooting guard at Chatsworth (Calif.) Sierra Canyon has completed official visits to Kansas, Oregon and UCLA and is in decision-making mode. Thought for a while had been that UCLA could end up the most likely landing spot. However, over the last week or so more talk about Oregon or Kansas being his destination has popped up. Somehow pulling Stanley off of the West Coast would be a pretty big score for the Jayhawks.
Sunday night, Stanley's father told me a decision date hasn't yet been set and that the family has to sit down and make a final decision. Though nothing is set, I would be mildly surprised if Stanley doesn't announce a decision in the relatively near future.
5. CAN USC HOLD ONTO THE NO. 1 SPOT?
Heading into the early signing period, USC has had a hold on the top spot in 2019's team recruiting rankings for a while now. The question is, will their class of five-star bigs Isaiah Mobley and Onyeka Okongwu along with four star perimeter players Kyle Sturdivant, Max Agbonkpolo and Drake London survive the early period in the top spot?
The closest team to them in the rankings is Villanova and the Wildcats are just behind the Trojans. But, they aren't expected to add anybody else in the early period.
If anybody is going to overtake them, it is looking like it would be Kentucky. The Wildcats class of five-stars Kahlil Whitney and Tyrese Maxey along with four-star Dontaie Allen currently ranks No. 6. However, landing any one of the several five-stars they are involved with should give them enough to find themselves back in a familiar spot at the top of the team rankings.