USA Basketball: What the coaches saw on Saturday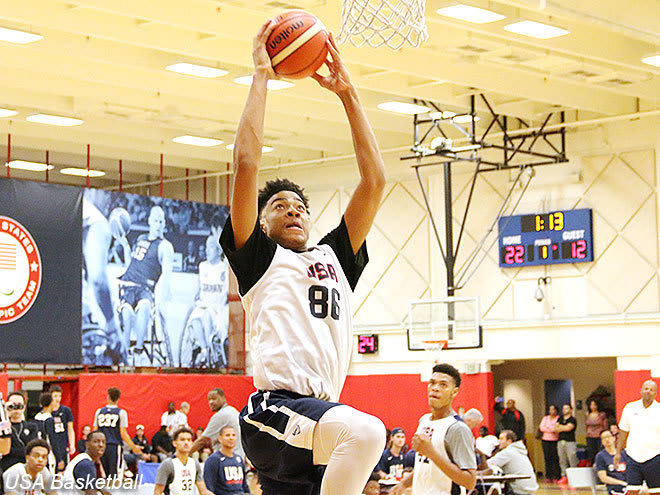 COLORADO SPRINGS, Colo. – The first session of the day on Saturday brought droves of college coaches to see what the United States under-18 training camp was all about. What did the top powers of the game get to see in Colorado Springs?
MORE USA BASKETBALL: Corey Evans' What I Liked | Jaden McDaniels | Friday night lessons
Watford's Measurables 
There might not be a more versatile offensive weapon in today's game than Trendon Watford. Measuring in at over 6-foot-7 and with a 7-foot-4 wingspan, Watford is the ultimate small ball power forward and in a lineup that the Golden State Warriors call its death lineup, a killer five man. His feel for the game allows for Watford to make the appropriate pass, his length allows for him to drive the gaps, and his smooth shooting stroke allows for him to knock down the catch and shoot jumper. Head coaches form LSU, Alabama, Kansas and Indiana, along with assistants from Memphis and Florida State, were each on hand for the uber-versatile Watford.
Robinson-Earl's 15-foot and in game
Robinson-Earl is one of the best 15-foot and in bigs in America. His hands, footwork, either handed scoring in the lane and motor have all been on point. The under-18 camp, run by Kansas head coach Bill Self, has to have made the KU boss salivate over what could be with Robinson-Earl, that is if he were to enroll at Lawrence next fall. A bevy of Big 12 programs and UNC will have a say, too, but Robinson-Earl's game should have no issues translating to the college level.
Underrated passing dimensions from Will Baker 
It wasn't the best of starts for Will Baker in Colorado but during the scrimmage portion on Saturday, the lefty began to settle in. He knocked down a catch and shoot jumper, finished a few lob attempts and also hit the open man with the kick out pass, the most underrated portion of his game. A perfect pawn within anyone's half-court offense, Baker has one of the more diverse skillsets along the frontline and it began to show on Saturday. Coaches from UCLA, Kansas, Texas, Texas A&M, Georgetown, Stanford, Baylor, Georgia and UNC were all in attendance for the five-star during Saturday's first session.
UNC's next double digit scorer
Coby White is going to average double figures in scoring next year at UNC. The five-star guard has never had issues putting the ball through the basket and it hasn't been much of a dilemma this weekend, either. Competing against some of the best that the nation has to provide, White will fill some of the shoes that was left by Joel Berry in the backcourt in Chapel Hill and while he is much less of a facilitator, he is already fairly polished as a scorer, an asset that will be relied upon immediately in a few months.
Tyrese Maxey's DNA
Tyrese Maxey is not someone that is going to wow anyone during the drill portions of a practice but whenever the lights get the brightest and the ball gets tipped, there might not be someone that I would rather have on my team than the Kentucky pledge. With his future head coach John Calipari looking on, Maxey's tremendous downhill abilities, shooting off of the bounce and added playmaking skills made him a standout again on Saturday, as he looks to be one of the most well-rounded guards in America.
Elite athleticism out of Anthony & Lecque
Jalen Lecque and Cole Anthony look to be two of the most athletic guards in high school ball. Each calling New York as home, each also finished with the top vertical leaps at 43 inches a piece. Both excel within the open floor and while Anthony is a better producer off of the jumper where Lecque is known for his dribble drive skills, their athletic measurements have continued to set the bar as to what an elite level athlete is within the high school stratosphere.
Hilton Coliseum's next fan favorite
Steve Prohm is going to have some fun conjuring up ways to use Talen Horton-Tucker beginning this fall. While he does have to continue to get his body in line as he weighed in close to 240 pounds, his plus-ten wingspan, tremendous passing skills, unique post-up abilities in the low post and improved shot making creates for one of the more versatile prospects that will grace a college hardwood next year. Georges Niang became a fan favorite in Hilton Coliseum because of his do-it-all-nature; Horton-Tucker is next in line.
Joey Baker's value at Duke
Joey Baker showed some life on Saturday morning as the future Duke Blue Devil, who will reclassify and enroll in Durham in the coming months, knocked down three perimeter jumpers during the scrimmage portion of the day and also was engaged as a traffic rebounder. While his measurements weren't great as he was noted for a 6-foot-6 height listing with shoes on, he does boast a 33-inch vertical leap, good instincts and a confident stroke, all of which will be put to good use once his college clock begins.
Stanford's next building block
While Stanford has accrued its fair load of versatile, mix and match frontline prospects in recent years, they have also picked up some nice talent in the backcourt. The enrollment of Cormac Ryan should be celebrated but so should that of Bryce Wills. A 6-foot-4 guard without shoes with a 6-foot-11 wingspan, Wills has gotten better as the camp has gone and his immediate value for the Cardinal was enlightened even more. He can knock down, be relied upon as a secondary playmaker and also defend multiple positions on the perimeter. With a Stanford assistant on hand, the Pac 12 program has another building block in tow with Wills.
The speed in Kira Lewis
The fastest player in America, bar none, is Kira Lewis. His shot is pure leather coming out of his hand and while it hasn't found its mark as much as he might have liked this weekend, Lewis' speed is what really separates him from his contemporaries. The Alabama native is the quickest guard that I have seen, from endline to endline, within the past three or four years and an in an up-tempo situation, or whenever things break down on the offensive end, Lewis' value becomes even greater. He has really begun to settle in and with tremendous potential as an on the ball defender and an already deadly offensive piece, Lewis' national emergence this spring has continued in Colorado Springs.