USA Basketball: Eric Bossi's Saturday takeaways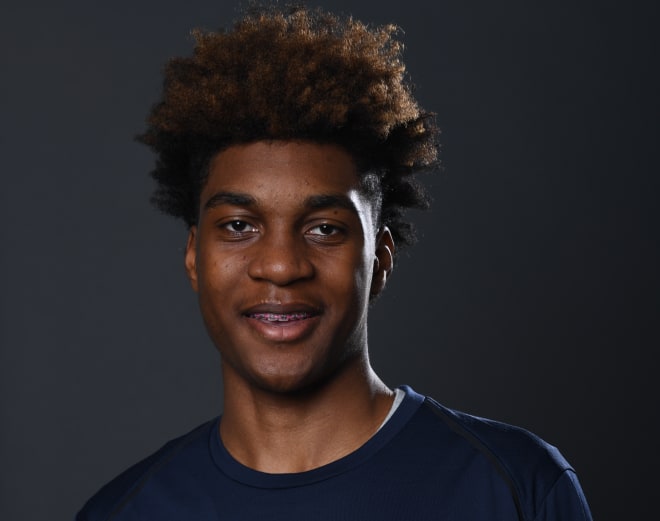 JADEN MCDANIELS SHOWS OUT
I wouldn't blame five-star Jaden McDaniels if he had a little bit of a love/hate affair with USA Basketball. After all, it was his performance during a scrimmage at USA Basketball's Hoop Summit in April that jump-started his ascension to national prominence. On the other hand, he was also cut from the 18U team in June.

If there were any cuts to be made to a team after Saturday night, I have little doubt that McDaniels would have nothing to worry about.
Watching him Saturday night, I kept wondering to myself what can't this kid do. He shoots, he handles, he visualizes matchups and makes the right decision. The only thing he doesn't have is strength, but that doesn't worry me at all in today's game because I know he's going to get stronger and he's made me a believer in his willingness to compete.
Whether it is Kentucky, San Diego State, Texas, UCLA or Washington that wins his commitment, I am fully confident that he'll be a game-changer.

TONY BENNETT WILL LOVE CASEY MORSELL
The more I watch combo guard Casey Morsell, the more I am certain that Virginia head coach Tony Bennett is going to absolutely love coaching him.
The four-star senior just checks each box that the Cavaliers and Bennett seem to covet. He's tough, he's cerebral, he communicates with teammates, he's committed to playing on the defensive end and he knocks down shots. He's also in tip-top physical condition and looks like he could have easily handled a third workout on the day.

I don't know if I saw anybody who was more constantly engaged during drills and when it came time to scrimmage he strapped up and came ready to compete. On top of that the jumper was falling consistently from deep. What's not to like about a day like that?

GOOD EFFORT FROM 2020 ISAIAH TODD
If five-star forward Isaiah Todd has been criticized for anything it has been up and down effort and body language. I was paying close attention to those things on Saturday -- when there were certainly some kids going through the motions -- and I thought he had very good energy and he looked like he was taking direction from the coaches and looking to utilize what they were teaching him.
Not surprisingly, I thought that level of engagement translated into his overall play and a nice performance. At the end of the day, Todd has great size, he's long, he can shoot and he's a smooth athlete who can move between the block and facing up. Those are the type of tools that you have to hang in there with, because when it all comes together for him it could be a beautiful thing. Vanderbilt and North Carolina are his most recent offers.

TIP OF THE CAP TO FLORIDA FOR LOCKING DOWN SCOTTIE LEWIS
Under Mike White, Florida is quickly becoming a recruiting force. Scottie Lewis is just reinforcement of that opinion.
I know that many considered the Gators a leader for him for a while and that he's got some ties to the program with a high school/summer teammate headed there. But, you still have to land the player, and going outside of the Southeast to land a top 15 player can't be discounted in any way when you are thinking about the job that White and the Gators are doing.
You know what else? Lewis really does look to be a very good fit for the Gators. His energy, his ability to pressure defensively and his slashing to the rim off the dribble are all needed in Gainesville.


TYRESE MAXEY IS THINKING LONG TERM
You have to appreciate Tyrese Maxey's feel for what he needs to do in order to achieve maximum success at Kentucky. That's get as much high-level talent to join him, five-star wing Kahlil Whitney and four-star wing Dontaie Allen in Lexington.
A known scoring machine, Maxey has done a really job of working to set up teammates throughout the weekend. Maybe I'm making too much of it, but he has sure been looking to feed five-star big men Vernon Carey, Jr. (visits next weekend) and Isaiah Stewart (visited last weekend), just so they know he'll be happy to share the ball if they were to join him next season.
Not only is Maxey a talented player, he's got personality to burn and I can see him developing into a fan favorite.


THOSE WHO WANT TO COMPETE ARE DOING WELL
Sometimes, there is juice (energy) in the gym. Sometimes there isn't. If I'm being honest, there wasn't as much juice on Saturday as I am used to seeing at a USA Basketball event. For whatever reason, things just seemed to drag a little and for that reason the energy givers really stood out to me as the day wore on. I'm sure I will miss somebody, but I wanted to mention a few standouts from the effort side of things.

I have to think that point guard De'vion Harmon starts from day one at Oklahoma. I don't know where it comes from, but he never seems to be out of energy once he hits the court. He's the type of guy who can get teammates to play a little harder while really annoying those playing against him who have to turn it up or suffer defeat. A strong kid, he's as quick and in as good of physical shape as I have ever seen him.

Another who is in tremendous physical shape is power forward Jeremiah Robinson-Earl. He left his home in Kansas City to attend Bradenton (Fla.) IMG in hopes of getting stronger and facing better competition. He's sure doing a great job of getting himself in the best physical condition possible and the results show. He's just consistent in all areas. Next weekend, he'll take his final visit to Arizona and I would expect him to decide between the Wildcats, Kansas, North Carolina, Notre Dame and Villanova relatively soon.

I wonder just how much trainer's tape it would take for Isaiah Stewart to decide that maybe he needs to take a session off. The five-star big man's rugged style just lends itself to all kinds of dings and minor pains, but he never changes his energy or production. Seriously, I think he'd find a way to talk his way onto the floor even if it meant trainers wrapping him up like a mummy.

How about finishing things off with a 2020 player? Maybe I'm out to lunch here, but I can't remember the last (or any) time I saw the ball rolled out and felt that five-star shooting guard Josh Christopher didn't compete. The physically tough high-flyer who can shoot it a bit just always seems ready to play and play as hard as he can until the final whistle.