USA Basketball Friday: Upperclassmen notables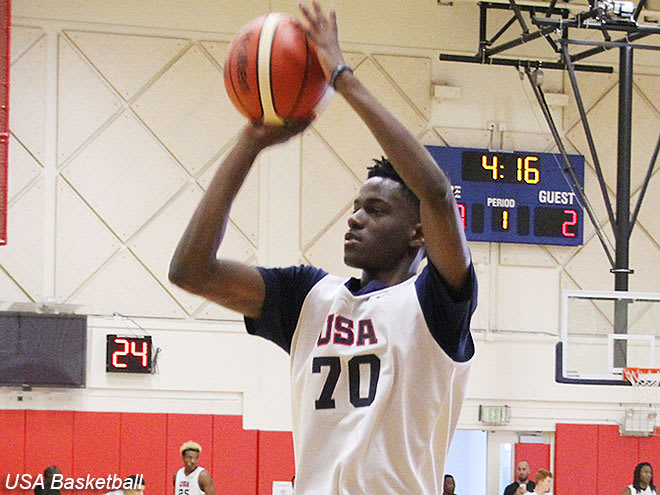 MORE FROM USA BASKETBALL: Bossi's takeaways | Q&A with James Wiseman
COLORADO SPRINGS, Colo. – The first session of the United States Basketball Mini-Camp brought together 87 of the best high school prospects in the country. Splitting up the underclassmen and upperclassmen groups in separate gyms, we take a look at Friday night's notable performers and some of the notable nuggets along the way from the classes of 2019 and 2020.
TOP STANDOUT
Making an early commitment to Villanova, there might not be a better guard prospect for how Jay Wright goes about things than Bryan Antoine. The 6-foot-4 senior can do it all in the backcourt and while he has been rather reliant on having the ball in his hands in the past, it was impressive to see him contribute playing off of it in on Friday. His instincts were on total display where he came up with a number of plays from out of his area, especially on the offensive glass, displaying a tremendous nose for the basketball and the know-how of where and when to be. Antoine's talent level has never been a question mark but what has been is his ability to consistently produce; might he be turning the corner? On Friday, Antoine was stupendous as he proved just why he is a five-star prospect and one of the best in America.
BEST BATTLE
Isaiah Stewart versus James Wiseman was one that, while it didn't last too long, was entertaining to watch as both resorted back to what makes each elite. Stewart, one of the most productive frontline prospects in America, and Wiseman, one of the best when it comes to long-term potential, showed off an advance skilled and feel in the post, each converting a hook jumper off of their dominant hand while remaining as physical as can be in defending their ground and also in working for their spot within the trenches. Stewart's energy remains tremendous but it was nice to see Wiseman match such play with his own rim-running abilities and glass cleaning in the lane. Kentucky is attempting to woo both to the Lexington campus next year but whether they decide to team up or not, there is no debate that both brought it on Friday evening.
WHO RUNS HIS TEAM THE BEST?
It is never easy being thrown onto a team where everyone is attempting to impress the media and coaches alike with their play, especially when you consider that most of those in attendance have minimal experience playing with each other up until this point in time. It is even more difficult whenever you're the point guard and your asked to make the best play on the floor while, at the same time, making sure everyone gets theirs. Jeremy Roach is one of the rare birds that knows how to run his team in an appropriate manner, doesn't turn the ball over, and is all about putting others before himself. Savvy, cool and composed, good luck rattling the five-star junior. There is a reason why Kentucky, Virginia, North Carolina, Duke and Villanova, among others, have made him a priority. Just like an elite level quarterback, Roach is the kind of guy that a blue blood coach can trust with the ball at the most dire of times and expect for the best outcome to occur
IQ TEST
There are tons of talented and heady prospects on hand in Colorado Springs but if there was an IQ-test on Friday evening, Kahlil Whitney would be receiving the highest grades of them all. Already committed to Kentucky and full of moxie, while he will be first lauded for his alpha-male mentality and energy giving qualities, peel back the layers to who Whitney is and it is not difficult to appreciate just how smart and intellectual the top-10 prospect is. It is difficult to find someone that knows how to play help defense, especially when it comes to defending on the perimeter and also in the low post. Whitney did just that, working around his man in denying the entry pass, sliding over to deny the open lane to the basket upon his teammate getting blown by out on the perimeter, and in calling out screens with no abandon for his vocal cords. Not only is Kentucky getting a top of the line athlete and alpha-dog competitor but also one of the smartest guys that the nation has to provide.

CONFIDENCE INTACT
A prospect's first time at USA Basketball is always an eye-opening experience and such was the case in June whenever Jaden McDaniels made his inaugural appearance in Colorado Springs. Despite working through a few kinks and getting better as the week wore on, McDaniels was unable to make the initial cuts for the under-18 team. Fast-forward four months and the confidence oozed out of the five-star on Friday. Whether it was put back plays in traffic, highlight dunks or not second-guessing decisions that he made off the bounce, McDaniels showed up to USA Basketball this time around with the sense that he belonged. One of the highest upsides is a given with the Pacific Northwest product as he will take an official visit to San Diego State next weekend as others are in the works for UCLA, Texas, Kentucky and Washington.