USA Basketball: Q&A with five-star James Wiseman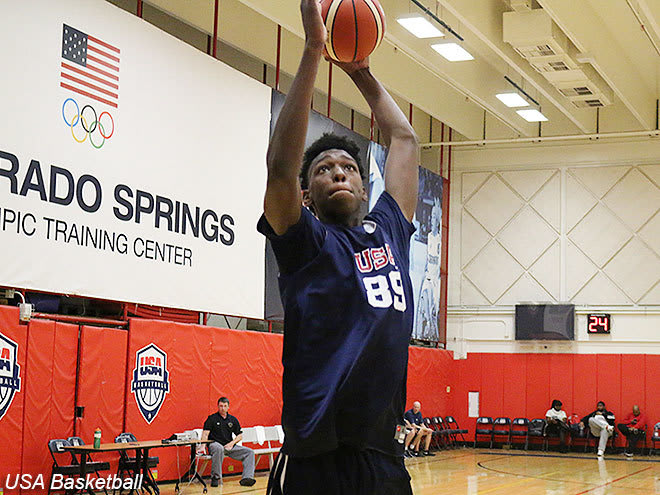 How much does your improved strength help you out?
Wiseman: "It helps me out a lot. I've been working on my upper body a lot since the summer. I'm getting in there after school and trying to get better. It's been great to use that in the gym when I'm working on my strengths and working on my weaknesses. I'm just trying to be an all around player and working every day. I'm trying to be the best version of me."
Now you are in that visit process. You have done in-homes, you have done officials and you have done unofficials, in general how has that been so far?
Wiseman: "It's been great so far I've been talking to a lot of coaches and they are just telling me about how they can help me be a special player. All of them have kind of the same pitches. Hopefully if i were to come to their school they would help me become the No. 1 pick in the Draft, hopefully and really just leading them to a national championship."
Kentucky was the first official visit, how did that visit go for you?
Wiseman: "The visit went great. Coach (John) Calipari is a great guy and the coaching staff is great. The team is great too. Keldon Johnson, Ashton Hagans and all of those guys, I had fun with them."
Was there anything about the visit that surprised you or that you didn't expect?
Wiseman: "Coach Calipari compared my EYBL highlights to his system and when Anthony Davis was there at Kentucky and Karl-Anthony Towns and it was very similar. It was pick and roll, pick and pop and I was like wow, that just amazed me. So I got a feeling that I could fit in their system very well and do great things.
Next you do an official visit to Kansas, how was Late Night as an official visitor?
Wiseman: "I liked the atmosphere and the environment. I was getting feedback from the players about Bill Self and how he really is behind the scenes. Really I mostly talked to the coaching staff about my future and stuff like that."
When you sat down with Bill Self what stood out to you that you didn't know?
Wiseman: "Just him not selling himself like the other coaches do. He was being real with me and telling me what I need to work on and really just really saying about how he would like to develop me into a great player some day."
Memphis last night for Midnight Madness. The first real Penny Hardaway thing, how was it?
Wiseman: "It was crazy, I was getting swarmed by a lot of people. A lot of people taking pictures and stuff and I could barely even get into the arena. It was crazy, I had a good time.
Everybody knows about your relationship with Penny because he has coached you. How does that change now that he is recruiting you?
Wiseman: "It's kind of weird because he was my high school coach last year. But me and him, we have a strong connection. He tells me the same things. He tells me that if I come to the program that he, Mike Miller and Sam Mitchell will develop me into a great player and that I will be able to reach my dreams in the NBA."
You have Vanderbilt and Florida State visits coming up. Vanderbilt, what are you looking forward to there?
Wiseman: "Vanderbilt, that's my home town. I'm looking forward to that and talking to Darius Garland. I talk to him a lot and me and him played in the EYBL together so we have a strong connection. I'm going to talk to the coaching staff and the teammates and stuff like that."
What's Bryce Drew's pitch?
Wiseman: "The same thing as John Calipari and Bill Self, just that they would be able to develop me and I would hopefully lead them to a National Championship."
Leonard Hamilton and Florida State, what enabled them to stay in that final five for you?
Wiseman: "It's just their system. They got a lot of transitional buckets and I like to run the floor a lot. So, I think I could fit into their system and maybe lead them to a national championship as well."
You mentioned that you may not wait all the way until the spring to decide. What are your thoughts on when a commitment might happen?
Wiseman: "The commitment is probably going to happen at the end of this year. Me and my mom and my sister are still talking about it. Soon though."