Rivals150 forward Emmitt Matthews talks LSU, Pac-12 trio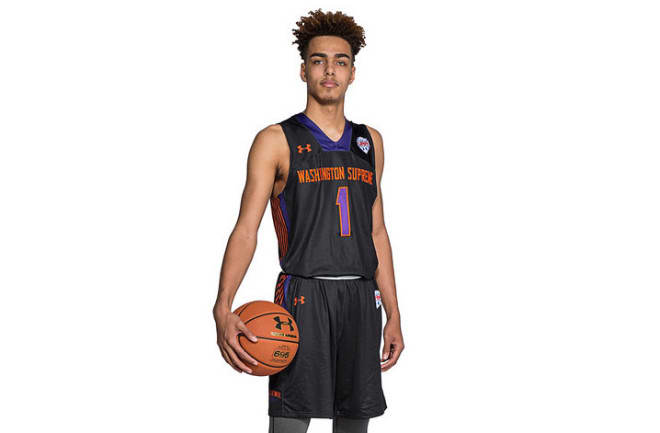 Emmitt Matthews emerged as a high-major prospect this spring while playing with Washington Supreme on the Under Armour circuit, and recently landed in the updated 2018 Rivals150 at No. 148.
A 6-foot-7 wing, Matthews is long and bouncy with a pretty three-point stroke. Those attributes tend to get college basketball coaches excited.
The Washington native says LSU, Oregon State, Washington and Washington State are the schools that have done the most work with him so far. Oregon State is the lone school to get him on campus for an unofficial visit.
WHAT WE LEARNED: adidas Gauntlet | Nike Peach Jam
IN HIS OWN WORDS
LSU: "Coach Greg Heiar started recruiting me at Wichita State and he's at LSU now recruiting me. I don't know a whole bunch about them, but they should be getting better with my class coming in with Javonte Smart. That'll help with a lot of recruits."

Oregon State: "I did an unofficial there back during football season. It went well. It's the only visit I've been on, so it's hard to tell. They just talk about getting to know me and ask about what I want in a school. They say I'm one of their top guys."
Washington: "I like the new staff. I didn't expect coach [Mike] Hopkins to be so energetic and pumped as he was. He's like the Energizer bunny. We've talked a lot about when he was at Syracuse and his experience out there."
Washington State: "They are getting better. I think they will blossom in the next couple years. They just need to get some more guys to come in and help out."
WHAT'S NEXT?
Matthews says he plans to stay open throughout his month and into next month before he starts to cut down his list. He hopes to take some visits during the football season and have a decision out of the way either before his senior season starts or shortly after it begins.

RIVALS' REACTION
Right now, Matthews says he's still open to all the schools. Oregon State has probably put the most effort into recruiting him, and getting him on campus early was important. Hopkins certainly made an impression on him immediately, and he's also intrigued by the idea of playing with Smart at LSU. Matthews has the type of talent where he could see more schools jump into the mix over the next couple weeks and shake up his whole recruitment.